You Might Like
On FacilitiesNet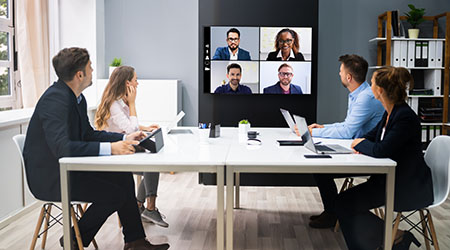 5 Innovative Strategies to Consider for the Post-Pandemic Office
As hybrid work takes root, implementing these five strategies can help ensure your post-pandemic office is flexible and occupant friendly.
What does the office look like in a post-pandemic world? It's a question that corporate leadership teams have grappled with over the past year, and even the most aggressive companies are still in a cautious, but optimistic, phase of gradual reentry. The methods of reentry vary, but often involve conducting surveys of employees, studying how existing facilities are utilized or modified, and observing other companies to see what they're doing next. Many of these efforts involve bringing in consultants for a fresh evaluation of all of the variables involved including culture, brand and design.
Different companies and industries have vastly different needs, but what we do know is that leadership teams are hesitant to invest a lot of capital on major renovations. A safer bet? Converting existing spaces into flexible or multi-purpose spaces that accommodate frequent or unexpected changes in behavior or policy. These spaces are adaptable with flexible furniture options and soft architecture that can be transformed in a matter of minutes.
In addition, the concept of "hoteling" is expected to return in this post-pandemic world, where team members share spaces versus having a dedicated desk or office. This is in line with a hybrid work-from-home model that many companies are choosing to make permanent, which jibes with the approximately 75 percent of the workforce that want flexibility in choosing their work environment. It allows those that do come in a few days a week to sit where they'd like based on what they are doing in the office that day, whether heads down work at a private desk or collaborative work in a meeting room.
When determining how to retrofit the existing office space, there are different spaces necessary based on what type of work teams are doing in the office. Consider the following renovations to enhance a post-pandemic office environment:
1. Project Rooms 

The office should be considered a meeting place where teams can come together to collaborate. Instead of conference rooms with a large table and multiple chairs, consider incorporating project rooms. These rooms are designed for creativity with moveable furniture and whiteboard walls that allow for ideation and brainstorming more fluidly. They also allow a paced approach in completing a project when not all members of the team are present in the office every day.
2. Videocast Rooms 

Zoom calls will still be around, particularly with a hybrid workforce. Consider rooms dedicated to these calls to mitigate disruptions to others at the office. In addition to outfitting rooms with full audio-visual capabilities, consider the acoustics and how to absorb the noise coming from these spaces. These rooms can also have clean or visually interesting backgrounds that showcase the culture of the company.
3. Private Spaces 

Open concepts will remain integral to creating flexible office designs for those returning to work. However, many employees have either grown used to privacy or are seeking privacy as they transition away from complicated work-from-home situations. The type of privacy can be accomplished through both soft architecture and furniture solutions or the strategic "zoning" of workspaces — all made easier by the reduced daily attendance in a hybrid model. The bottom line is that today's workforce wants the ability to choose what they need, how they'll use it, when they want it.
4. "The Porch" 

Because we worked from the couch, desk, kitchen table, bed, etc., many are used to moving around the house throughout the day and truly working from anywhere. Therefore, many employees will look for the same variety during their day at the office. The good news is that interesting seating and working arrangements come naturally with a flexible office model, and if a company sticks with that strategy, new "porches" can be created to prevent workspaces from becoming stale. With minimal effort and investment, modular design features can spark creativity and drive employee engagement during this sensitive period of reentry.
5. Outdoor Rooms 

When large all-company meetings are required, this is the time to get creative with outdoor spaces available at the building. Can you host a meeting in the parking lot, on the front lawn or even on the sidewalk? These untapped outdoor spaces should be considered part of the "office" moving forward.
Considering the current supply chain issues, many materials and furniture pieces are significantly delayed and more costly. Therefore, when retrofitting office spaces, try to find pieces that can be multi-purpose to make up for the delays.
As you are determining what the office will look like, it is important to remember to focus on what the people need versus the company's needs. The space should be purpose-built and centered on fueling the teams in whatever work they are planning on doing at the office. While it will look different, there is, indeed, a need for an office space and it is up to us to design it in a way that is built around the people who will spend time in it.
Mara Hauser is the CEO of Workplace Studio, a multi-disciplinary design studio and creative consultancy specializing in flex office concepts for corporate entities and coworking space operators.
---
---
---
Related Topics: