« Facilities Technology Briefs Home
/
Wireless Lighting Control - DOUGLAS LIGHTING CONTROLS - Facility Management Product Release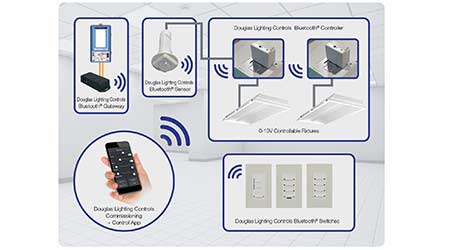 DOUGLAS LIGHTING CONTROLS
website | Company information
The company's complete, stand-alone wireless system controls lights in a variety of commercial applications using Bluetooth. The system devices include Douglas Lighting Controls' Bluetooth Fixture Mounted Controller & Sensor, Bluetooth Fixture Controller, Bluetooth Sensor, Bluetooth Switches, and Bluetooth Dialog Gateway. A complimentary smartphone app provides commissioning and control capabilities for the devices and lighting control system.

Each Bluetooth-enabled device is its own wireless node for sending, receiving and sharing control commands through a wireless mesh network. The system can expand reach and control throughout the network, as each device passes information to the next device.
Douglas Lighting Controls Bluetooth Fixture Mounted Controller and Sensor
The Fixture Controller & Sensor provides automated individual and group control of light fixtures using onboard sensors and Bluetooth technology. It is easily installed for ON/OFF or bi-level light functionality. The daylight sensor provides additional energy savings by adjusting the lights to work with the amount of natural daylight available in open-sided parking garages or from windows.

Configuration of the Fixture Controller & Sensor is done at deck level with Douglas' complimentary smartphone app using Bluetooth protocol to communicate with the device. A Bluetooth mesh network is created between devices for control over a group of Douglas Lighting Controls Bluetooth Fixture Controllers & Sensors.

The Controller & Sensor has a maximum vertical range of 40 feet and is powered from the fixture. Once a device is configured, the system will automatically operate to control lighting based on occupancy in the area and the system settings.

Douglas Lighting Controls Bluetooth Fixture Controller
The Controller converts fixtures into wirelessly controlled luminaires. The device provides individual or multi-fixture control based on the wiring configuration (one-to-one or one-to-many) and can control a full 20A load. Control functionality includes ON/OFF and 0-10V dimming control of the fixture(s) through a wireless control point, eliminating the need for control wires between fixtures and making design and installation easier. Each device is capable of communicating with other Douglas Lighting Controls Bluetooth-enabled devices via the Bluetooth mesh network.

The Controller is installed using the ½ inch chase nipple and the included flying leads. Commissioning is done at deck level with Douglas' app.

Adding the Douglas Lighting Controls Bluetooth Sensor will provide automated daylight harvesting (CLC dimming) control.

Douglas Lighting Controls Bluetooth Sensor
The Sensor is a dual-technology, ceiling-mounted occupancy and daylight sensor. It communicates wireless with other Bluetooth devices within the Douglas Lighting Controls eco-system. The dual-technology sensor uses PIR (Passive Infrared) and Bluetooth proximity detection to identify and maintain occupancy. PIR technology will identify motion, while the proximity detection will identify occupancy by recognizing authorized Bluetooth enabled smartphones in the area.

The Sensor installs into soft ceiling tiles by using a cutting head to eliminate the need for cutting tools. Once the hole is cut and the sensor is pushed into place, rubber ribs hold the sensor securely in place. Power for the Sensor is provided by the Douglas Lighting Controls Bluetooth Controller (part #BT-PP20).

Douglas Lighting Controls Bluetooth Switches
The Switches provide wall station control over lighting in rooms and defined spaces. The product is available in 4-button or 8-button with 0-10V Dimmer and 1-button formats in 120/277VAC and 347VAC models. Each switch is a Bluetooth-enabled device designed to communicate wirelessly with other devices on the Douglas Lighting Controls wireless eco-system.

Douglas Lighting Controls Bluetooth Dialog Gateway
The Gateway shares Bluetooth wireless commands and data from the Douglas Lighting Controls wireless system with Douglas' Dialog centralized controller when a facilities-wide lighting control system is being used.

Douglas Lighting Controls Commissioning and Control App
Use your Bluetooth enabled iOS device to commission light levels, zones, pre-sets and time outs, and control those lights through the app.
posted: 6/8/2017