« Facilities Technology Briefs Home
/
Software
Web Application Enables Managers to Think Outside the Spreadsheet - Xyicon - Facility Management Product Release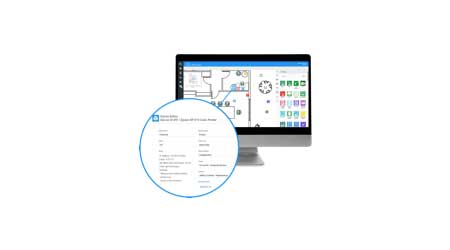 Xyicon
website | Company information
Xyicon, a provider of innovative software solutions, has harnessed its expertise in visualizing and managing a myriad of devices and equipment for high-performance buildings and other modern facilities with SpaceRunner — a new web-based application that serves as a "visual spreadsheet" for the many different "Things" associated with any floor plan, location map or building image.
SpaceRunner equips building operators and facility managers to "think outside the spreadsheet" by displaying equipment, assets, and related data for any "Space." SpaceRunner incorporates powerful "Xyicons" — smart, location-specific icons – that make it easy for facility operations teams and third-party service providers to:
• Empower any user who struggles with manual spreadsheets and conventional paper floor plans to map and manage physical assets in the cloud.
• Provide users with an easy-to-use software application that gives equipment details to keep complex, multi-element projects organized, managed, and maintained.
• Enable collaboration among people and teams with a web-based central repository of "Spaces" and "Things."
"Today's building, facility, and property managers are faced with deploying and managing an incredible amount of equipment," says Xyicon, CEO and Founder Jason Chavez. "These professionals typically struggle to maintain multiple, detailed spreadsheets and conventional paper floor plans for high-performance buildings, multi-tenant communities and other large facilities. To keep pace with the complexity of the modern era, a new generation of software tools is needed. SpaceRunner allows users to map out and tag a 'Space' with smart icons representing equipment or assets placed on X and Y coordinates. These 'Xyicons' are dynamic data containers that enable any building operator or facility manager to harness the power of SpaceRunner and join the 'Internet of Things' revolution."
SpaceRunner Transforms Major HOA Energy Retrofit
Rayco Energy, a San Francisco Bay Area-based energy service company, has integrated Xyicon's web-based SpaceRunner to visualize essential lighting systems for large-scale energy efficiency and building modernization projects. Instead of managing information on manual spreadsheets, Rayco Energy's operations teams have deployed SpaceRunner to view floor plans and layouts, map the location of equipment and share essential data online for advanced space-lighting and energy-efficiency systems.
"Rayco Energy is using SpaceRunner so our operations teams can operate more efficiently and collaborate better with our clients' facilities management teams to manage, service and maintain our LED lighting and energy retrofit solutions throughout their lifecycle," says Rayco Energy Director of Operations Keven Hempel. "Our teams love SpaceRunner's easy-to-use interface to manage lighting and energy-efficiency assets. With SpaceRunner, we are able to gain a better understanding of the details and location of lights, controls and other systems across an entire property."
SpaceRunner for Visual Asset Management in High-Performance Buildings
For commercial buildings, multi-tenant facilities and other large properties, SpaceRunner automates planning and management tasks that conventionally have been performed with complex, tab-filled spreadsheets or shared manual documents. As a powerful web-based "visual spreadsheet," SpaceRunner enables the display of important data on floor plans. Using SpaceRunner, facilities teams and their service providers can not only map, view and share essential component data, but also track maintenance, reduce costs and deliver a measurably higher level of service across an entire property, community or commercial building.
RELATED CONTENT
FEATURES:
QUICK READS:
posted: 1/11/2016