« Facilities Technology Briefs Home
/
Plumbing & Restrooms
Sensor Faucet Self-Generates When Water Runs - Toto USA - Facility Management Product Release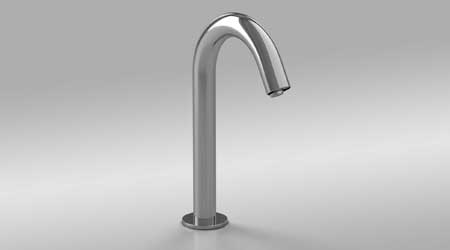 Toto USA
website | Company information
A decade ago, Toto introduced EcoPower, the world's first hydropower sensor faucet and initiated a technological revolution in the plumbing industry.
EcoPower's energy source is completely self-generated. The chrome fittings create their own electricity every time water spins their small internal turbine. Stored in a series of rechargeable capacitors, this auto-generated electricity powers the faucets' operation.There is no need to hardwire them to a building's electrical system (which significantly increases installation cost) or for routine disposable battery replacement (an ongoing maintenance expense harmful to the environment). With as few as 10 uses per day, the original EcoPower faucets' backup battery lasted up to 10 years.
New Platform for New Era Today, Toto introduces striking technological innovations that dramatically enhance EcoPower's effectiveness. The new EcoPower faucet platform eliminates the need for daily use to power the faucets' operation—without decreasing its back up battery's life. This new platform also significantly increases the faucets' ease of installation.
To eliminate the need for daily use to recharge the capacitors, Toto decreased the voltage of EcoPower's micro-sensor from five volts to three, which requires less energy to operate. Available only from Toto, the new three-volt micro-sensor is positioned just under the spout's hood, increasing its infrared light pulses' accuracy and intuitiveness. Hands must be detected before water is discharged, and the water flow stops immediately once hands are removed. EcoPower faucets discharge only the water that users need, eliminating water waste.
Like the original, the new EcoPower faucets conserve water, too. Their predetermined flow rate metes out 0.09 gallons per 10-second cycle or 0.5 gallons per minute (gpm), which is 64 percent below the 0.25 gallons- per-cycle baseline set by the federal government for high-efficiency faucets. However, because the average use-cycle is less than 10 seconds and the water shuts off as soon as hands are removed, these hydropower faucets' estimated water consumption per user is closer to 0.1 gallons per cycle. Users will enjoy EcoPower's quick, effective rinse.
Reducing Hazardous Waste Replacing sensor faucets' disposable batteries costs time and money — and generates hazardous battery waste, which is harmful to the environment. Toto's new EcoPower faucets' patented rechargeable solid core manganese dioxide lithium battery will last up to 10 years without replacement, helping reduce toxic battery waste.
Ease of Installation Toto's new EcoPower faucets require only one controller for both single supply and thermal supply models, making installation a breeze. Their smart-sensor technology automatically optimizes the sensor's detection range to the lavatory on which they are installed. They do not require manual adjustment. Moreover, no manual adjustment is needed when a new lavatory is installed. They operate effectively with any style, size or shape of lavatory — mirror finish, irregular shapes, or small units. They will not erroneously detect foreign objects (such as paper towels) for hands and release water.
New Spout Styles Toto's EcoPower faucets' redesigned Axiom and new tall Helix M spout styles are classically modern with a clean, uncomplicated look. Their timeless styling and flawless performance is always modern and lasting.
Decreasing power and water consumption with Toto's new Axiom and tall Helix M EcoPower Faucets not only benefit home and business owners by returning lower water and energy bills, but also municipalities, schools and universities, health care centers, and sports arenas, to name but a few of their applications.
RELATED CONTENT
Content Category: Plumbing & Restrooms
FEATURES:
QUICK READS:
posted: 4/6/2016