« Facilities Technology Briefs Home
/
Roofing
Roof Walkway System Provides Abrasion, UV Resistance - Progressive Materials - Facility Management Product Release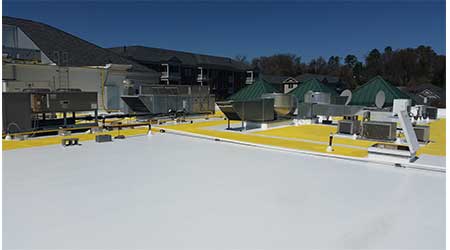 Progressive Materials
website | Company information
Excessive foot traffic, dropping tools, storing equipment, and general wear and tear can all result in significant damage to your roof and decrease its overall performance. Most roofs are great at resisting the weather, but problems often arise once people get on the roof. The Pro-Grip Walkway System is designed to both enhance the abrasion resistance of your roof surface while also providing a non-skid walking surface.
There are many other systems designed to protect your roof and help it stand up to the wear and tear caused by regular use. In fact, many of these other systems work very well, but they all share the same problems: none of them are as simple as ours and they don't last for the duration of the warranty period.
Other systems often involve reinforcing your roof surface or installing a protective deck, both of which are complicated, time-consuming, and expensive. Our system, however, is made up of only two parts, can be installed in only four simple steps, can be completed in a day, and will last as long as the warranty on your roof does. That is why our system is the best choice for increasing your roof's durability: it is extremely simple and effective. Pro-Grip 700 Walkway Coating: Our walkway system isn't a foray into a new industry for us; it's a natural extension of our existing silicone roof coatings. The first part of our walkway system — Pro-Grip 700 Walkway Coating — is a 100 percent silicone coating and is very similar to our other silicone coatings. The differences are its bright color and special high-build formulation. The coloring serves to identify exactly where the walkway is, and the high-build formulation permits thicker installation in a single application.
Pro-Grip 750 Walkway Granules: The second half of our system is PG 750 Walkway Granules. The granules are the most important part of the equation. They are essentially tiny rocks that have been given a bright yellow color to match the PG 700 Walkway Coating. Once installed, the granules provide a rigid, flat surface that increases the roof's abrasion resistance, provides a non-skid surface for all workers and improves the UV resistance of the roof surface.
RELATED CONTENT
FEATURES:
QUICK READS:
posted: 4/14/2016