« Facilities Technology Briefs Home
/
Wireless Thermostat Features Simple, Customizable User Interface - Telkonet Inc. - Facility Management Product Release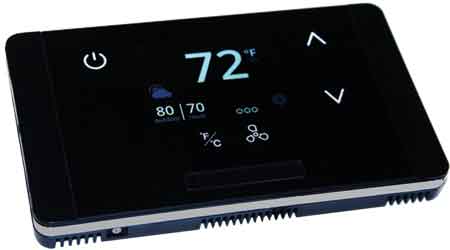 Telkonet Inc.
website | Company information
Telkonet, Inc.'s EcoTouch wireless thermostat offers a sleek minimalistic design and aesthetically simple and customizable user interface providing hoteliers a touch of class for an otherwise dated controls market and further bolstering the technology leadership of its EcoSmart room automation platform. EcoTouch introduces several revolutionary features that improve guest comfort, energy savings and room environment, including touch capacitive interface, next generation proximity sensing and dimming functionality, raising the bar for guest room aesthetics and innovation.
"We're excited to be releasing EcoTouch," says Jason Tienor, Telkonet's Chief Executive Officer. "Our CustomerFirst program for client feedback and continuous research and development has resulted in the most innovative platform available for comprehensive intelligent guestroom automation and EcoTouch is the next evolution of this technology."
Starting with size, EcoTouch has packed an enormous amount of technology into an incredibly thin device. Presenting at only 15 millimeters thick and only large enough to cover a standard single gang electrical box, it is one of the slimmest commercial energy management thermostats available today. Developed for commercial use with aesthetics as a primary priority, EcoTouch implements all of the intelligence of the EcoSmart energy management system, in the most beautifully designed manner possible.
With its touch capacitive interface, EcoTouch appeals to the most demanding of hospitality guests and utilizes haptic feedback to ensure guest interaction is friendly and obvious. Through the use of onscreen controls, and a completely flush glass design, the interface may be customized or branded as required for each deployment.
For the first time the EcoTouch introduces proximity sensing features for the hospitality industry, which minimizes onscreen lighting when no one is near the thermostat but begins to brighten when a guest approaches. This screen management reduces the illumination in the room caused by the thermostat to eliminate distractions and allow the guest to rest more comfortably.
Another EcoTouch first is the auto-dimming feature that serves to enhance the guest experience by matching the thermostat illumination to the light levels in the room. By monitoring room light levels, the EcoTouch is able to optimize thermostat efficiency by dimming the display to match the optimal viewing experience needed at any time of the day and under any conditions. Auto dimming is one more feature developed by Telkonet through its wealth of guest and customer feedback and extensive experience in the demanding industry of hospitality.
Telkonet places great emphasis on its customer support and relationships. Its internal CustomerFirst feedback program provides lifecycle communication from every customer providing an avenue for questions, assistance and product enhancements. CustomerFirst was instrumental in the development of the EcoTouch wireless thermostat and the device has integrated numerous design enhancements and device features introduced through this process. These same stakeholders have had an opportunity to evaluate the final result and have provided feedback that has been overwhelmingly positive.
"As a leading Energy Management and Automation integrator in the Hospitality market, we are very excited by the initial feedback received from our customers regarding the new EcoTouch from Telkonet," says Dominick Calciano, Principal for Smartcon Solutions. "We firmly believe the EcoTouch will position us to serve our Hospitality clients who are looking for best in class Energy Management and Automation solutions while enhancing the aesthetic value of their guest rooms."
"The sleek and modern look of the new EcoTouch thermostat is precisely what the clientele of luxury hotels have been waiting for — simple to use with a contemporary style," says David Phillips, Director of Hospitality and MDU Sales for Control4. "In today's design-led world, a product like the EcoTouch stands out from the crowd for having function as well as form, maintaining the usual high level of compatibility from Telkonet that is required in most building environments."
With the release of EcoSmart, Telkonet brought full platform automation into the hospitality environment. With its comprehensive offering of products, software and services, EcoSmart provides the greatest value possible to customers through complete management of guest room automation and energy consumption. This offering includes the EcoSmart Suite, EcoCentral Virtual Engineer, EcoCare and EcoMobile. Together, this platform provides the most innovative platform available to hospitality.
EcoSmart's Suite of controls include innovative wired and wireless thermostats, revolutionary independently monitored and managed in-wall electrical outlets and light switches, remote sensors and Zigbee networking components.
EcoCentral Virtual Engineer (VE) is the cloud-based data storage, reporting and analytics interface that enables multisite comparison and comprehensive device by device, room by room and property by property management.
EcoCare provides customers with 24/7/365 guest and customer support. By providing proactive monitoring to eliminate guest room outages and unnecessary downtime, EcoCare improves a property's return on investment.
EcoMobile provides operators with greater value by enabling staff to utilize their own mobile devices to increase efficiency and improve operations through greater access to data, analytics and system alerts.
Telkonet's EcoSmart Platform provides customers with greater guest comfort, an aesthetically pleasing room environment, extensive energy and operational savings and increased equipment lifespan in a completely integrated environment. Through integrations with blind and shade controls, door locks, room signage and other devices, EcoSmart is able to improve existing environments while increasing overall savings. The platform also integrates directly into existing Building Management Systems (BMS) and property management systems. Continuous platform development continues to enhance the platform features and capabilities through additions such as the integration with Utility Demand Response Systems and the deployment of an Over-The-Air (OTA) updating mechanism ensuring that all devices have the newest features and functionality.
"Telkonet's goal is to provide value to our customer in every way possible." says Jason Tienor, Telkonet's Chief Executive Officer. "From an improved guest experience and reduced energy expense to increased operational efficiency and reduced maintenance costs. We continue to raise the bar for intelligent automation and fulfill the vision of a commercial implementation for the Internet of Things."
For more insights on the products, technology, benefits and challenges of the Building Internet of Things, visit www.FacilitiesNet.com/IoT
posted: 11/16/2015