Facility Manager Cost Saving/Best Practice Quick Reads RSS Feed
What Is A Smart Building?
May 4, 2016 - Contact FacilitiesNet Editorial Staff »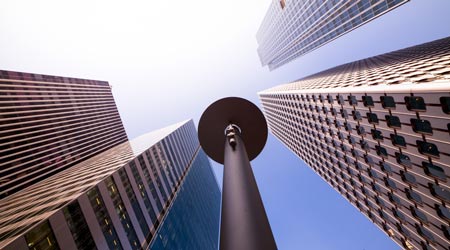 Over the last half-decade, smartphones have gone from cool new gadgets to essential tools for conducting business. Temperature and lighting controls have gone from just thermostats and switches on the walls to WiFi-controlled from a mobile app. In this competitive market, tenants are asking questions about what the cellular coverage is like or what type of control they will have to reduce the energy consumption of their HVAC and lighting systems.

It is difficult to get through a day without hearing discussion about "big data," or the "Internet of Things" (IoT) in the news. As these solutions become commonplace over the next several years, they will enter the commercial building market with its thousands of devices that are controlling and monitoring systems and are ripe for data extraction and analytics.

But what does it actually mean to be a "smart" or "intelligent" building? "Smart" is used to describe advanced sensors, actuators, and related devices. A smart device or system is operated by a microprocessor, has programming to execute a pre-defined set of actions or sequence of operation, and communicates with external systems via some form of data network. "Intelligent" is used to describe a combination of smart devices and systems, with supervisory software enabling coordination and collaboration between the smart items. True intelligence implies the ability to automatically adjust operating parameters interactively between smart items to optimize building functionality. Optimization may benefit energy savings, occupant comfort, safety and security, or operational productivity, but at the core, an intelligent building is greater than the sum of its smart parts.

Once the fundamentals of a smart building are in place, the next step is for the building to take the leap towards intelligence. An intelligent building will take all of the information from its smart building components and analyze, package, and distribute the data automatically with the goal of continuous and automatic improvement. This will make the building an adaptive, "living" organism, able to react and change gears automatically as needed without human intervention. This will promote content-driven behavioral change by optimizing the building in an integrated way. The smartest buildings of today will surely have a head start on becoming tomorrow's most intelligent facilities.

This quick read is from Kurt Karnatz, president, Robert Knight (rknight@esdglobal.com), senior associate, and Rick Szcodronski, a senior associate, technology consulting, with Environmental Systems Design, Inc. Read more from them about smart buildings.
---
Comments