You Might Like
On FacilitiesNet
« Back to Facilities Management Building Automation Category Home
Three Smart Building Technologies Offer New Energy Management Choices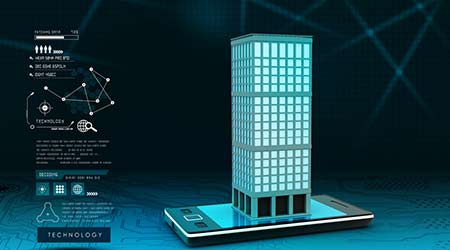 March 22, 2018 - Building Automation
By Steve Nguyen
This year, the smart buildings market is estimated to become a $50 billion industry, according to Research and Markets. This growth is being driven by numerous factors, including the falling prices of Building Internet of Things (IoT) devices, a new generation of facility managers, regional mandates, and more. As such, facilities managers will continue to seek new advanced solutions that will allow them to work more strategically and efficiently as they balance building performance and occupant comfort. Let's look at three smart building technologies that offer new energy management options.
Digitization of Physical Assets
Creating a digital version of a building's physical infrastructure, or digital twinning, can provide facility managers with useful insights into building operations. A robust digital twin will be composed of occupancy, comfort, thermal, and weather models. The information to generate these models will come from both internal variables, such as occupant behavior and building characteristics, and external variables, such as weather forecasts and energy pricing.
Once in place, the digital twin of a building can be useful in a variety of ways, including simulation, monitoring, and even the remote control of physical assets. Digital twins have the potential to transform traditional building management systems into powerful Building IoT platforms. Applying machine learning and cloud computing to a building's digital twin will create a system where the output is a reasonable prediction of a building's actual behavior.
Growth of IaaS
Building IoT infrastructure installed within a facility does not make a building smarter by itself. This has led to the emergence of Insight-as-a-Service across numerous industries. In fact, Forrester Research predicts that up to 80 percent of firms will rely on service providers for some portion of their insights capabilities this year.
Building IoT devices can create a deluge of data. Artificial intelligence can be a useful tool for sorting, organizing, and finding correlations within this data. However, human intelligence and expertise is still needed to gain a holistic view of building performance and the factors influencing its behavior. Given this, opening building data to outside vendors for insights-based services has become increasingly more common. Services can range from the identification, prioritization, and prediction of faults to energy benchmarking with insights into improving daily operations.
This strategy can help buildings of any size. For large buildings, it reduces the burden on the facility staff and helps manage operations and capital expenses. It can also be used by small- to medium-sized businesses and facilities — that don't have a dedicated, onsite team — to improve day-to-day operations. With IaaS, building diagnostics can be easily streamlined.
Prioritization of Tenant Comfort
Building automation is gaining a people-centric focus. Creating an environment that negatively impacts worker productivity is extremely costly for an organization. Leveraging Building IoT devices opens the doors to being proactive about the human factor of a building, or in other words, turning tenants into the ultimate buildings sensors to generate data points to be used for advanced modeling. Human input from different times of the day and different locations within an office can be an invaluable asset.
While, commercial buildings simply aren't built to cater to the individual, more comfort data can help refine how a building operates. Knowing when tenants are comfortable and uncomfortable will help avoid overreactions — in the form of excessive heating or cooling — in order to avoid hot/cold calls. For instance, say a facility manager receives one or two cold complaints in the morning; the natural reaction is to raise the temperature of that building zone. However, that response does not account for the building naturally heating up as midday approaches and could create an expensive demand spike; nor does it account for the impact on everyone else in the building or the energy spend. This example underlines the importance of using the human factor to feed advanced modeling and decision making.
Utilizing more Building IoT devices, mobile applications, and perhaps wearables to connect tenants with the facility manager will become increasingly more common. These solutions can provide a wealth of real-time date for the facility manager to optimize tenant comfort. While this is still an early concept, the emergence of more solutions that incorporate direct tenant feedback is quite certain.
The trends evolving in the commercial energy management space will continue to be fueled by the embrace of Building IoT devices and strategies. The commercial building industry has been slow to adopt new technologies, but the benefits are undeniable. Now all we can do is to wait and see how this all plays out.
Steve Nguyen is the vice president of product and marketing at BuildingIQ — a company that is bringing a suite of cloud-based energy intelligence service to the commercial, healthcare, education, and other building markets.
posted on 3/22/2018