« Back to Facilities Management Building Automation Category Home
Samsung HVAC / Quietside LLC: IoT Users Can Control Their A/C Through Their Phone
October 29, 2015 - Building Automation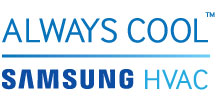 Question: Are the benefits and advantages of building IoT technology being realized today, and can you provide a specific example?
Answer: At Samsung HVAC, we realize the vastly growing usage of the word "smart" in everyday life, which is why we have incorporated the word into a product that is considered mundane yet essential to modern day comfort– "Air-Conditioning". Samsung HVAC aims to break the concept of A/C and comfort by bringing a new level of control and "personalized comfort" in the palm of the users' hands.
By incorporating "Smart WiFi" capability into Samsung's mini-split systems, users are now able to control their A/C through their phone application whenever, wherever. One's psychological debate as to whether the A/C was turned off on the way out to a week-long vacation is no longer a matter of worry and stress.
Also, Samsung's Smart WiFi allows users to control an unlimited number of indoor units through their phone application, offering the capability to set desired temperatures (along with power on/off) in each room and areas in a home, catering to every individual's comfort level.
With additional capabilities like Energy Consumption History, Energy Consumption Threshold Notifications, Filter Replacement Reminders, Fan Speed Adjustments, and Error Notifications, energy savings no longer comes at a cost of sacrificing one's comfort.
Samsung HVAC has re-invented the way users interact with their A/C unit; the thermostat is no longer a box in the end of a hallway, lonely and deprived from attention, but a versatile and powerful tool that gives users the ability to control comfort on a whole new "smarter" level.
Source: David Yu, Marketing Coordinator, Samsung HVAC / Quietside LLC
For more insights on the products, technology, benefits and challenges of the Building Internet of Things, visit www.FacilitiesNet.com/IoT
posted on 10/29/2015