« Back to Facilities Management Building Automation Category Home
IoT: Making Green Buildings Smart
October 31, 2016 - Building Automation
By Sudhi Sinha

Built environments that are environmentally responsible and resource efficient in design and operation are referred to as green buildings. Sustainable building practices have been in vogue since ancient times; current green building initiatives have become very popular in the past 40-plus years — since the 1970s' energy crisis. Today, this space has evolved in terms of policies and practices.

But there are still some challenges in making buildings green:
• Integrating different building equipment and systems to get a holistic view of energy and other green factors in order to do three things. One is to monitor and react to any performance or resource (like energy or water) use degradation. The second is to predict potential issues in building systems leading to energy leakages, diagnose them, and then proactively address them. The third is to respond to changing environmental factors and energy prices.
• Costs associated with improvements needed to make buildings more green.
• Measurement and verification of policy compliance and the impact of various green initiatives.
• Effectively communicating tangible benefits of green buildings.

The adoption of technology and best practices has been helping alleviate these challenges. Recently, there have been a lot of new technological developments, like inexpensive sensors, miniaturized and affordable electronics, very low computing and data storage costs, and pervasive connectivity; these have contributed to the growth of the Internet of Things (IoT). Now we can make products and systems smart, and enable new business/social models.

IoT is enhancing green buildings in several ways:
• Enabling edge analytics — greater instrumentation and sensing, embedded computing and storage in various building devices and equipment, and embedded fault detection and diagnostics in connected systems.
• Creating adaptive building systems — self-optimization of building equipment and systems, responsiveness to changing environmental and other factors, and the ability to implement multiple outcome-based strategies, like model predictive controls or "extreme seeking controls," machine learning, and artificial intelligence.
• Life and reliability modeling of various building equipment and systems.
• Predictive maintenance and operations — earlier predictive interventions were more schedule- and issue-based; now they can be more event- and model-based due to real-time data monitoring and analytics.
• Easily solve previously difficult integration issues between different building devices and management systems.
• Bring better security and privacy to building technologies.

Historically, sustainability actions and technology adoption in buildings have progressed simultaneously but somewhat independently. Green building principles have been more focused on the design of buildings and systems; building automation and technologies have evolved more to simplify operating the building. Saving energy through better sensing and control has been the common overlap. Clearly one has enabled the other, but incrementally.

The intersection of IoT and green buildings is creating new possibilities for innovation and improvement in the buildings industry, leading to smart buildings.

Here is a model to address this new paradigm.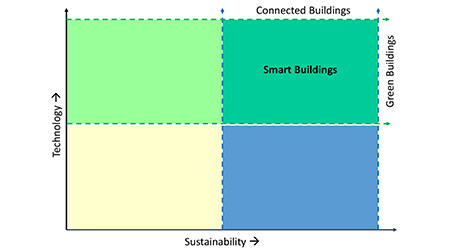 Building systems are increasingly becoming interdependent to achieve the desired outcomes around safety, comfort, and sustainability, leading to more connected buildings. At the intersection lie smart buildings, which optimally use technology and connectivity to significantly reduce environmental footprint. Buildings operate in a context of usage, which evolves over time. So any static implementation of sustainability or technology initiatives will become sub-optimal over a period of time. Smart buildings address this conundrum.

There are several characteristics of smart buildings. They are:
• Self-aware
• Self-regulated and optimized
• Adaptable

All of these changes are resulting in a significant growth of building technologies. The commercial building systems market is expected to grow beyond $75 billion in the next five years. Of this, 39 percent will come from automation, metering, and lighting control systems. Building energy management systems (BEMS) — which comprise software, hardware, and services — is an intersection point in this space. Traditionally, the buildings industry has transformed slowly. Rapid changes in technology, stakeholder expectations, and environmental concerns will drive much faster changes. Social media has created more engagement between people and their environments, which is also impacting the industry. IoT will provide the foundation for the next big-step change in making green buildings smart.

Sudhi Ranjan Sinha is vice president, product development, building efficiency, for Johnson Controls. He leads the global engineering and product development for the controls business of Johnson Controls. Johnson Controls first introduced the concept of the Internet of Buildings more than two years ago.
posted on 10/31/2016