Wireless Options Becoming More Prevalent with BAS
Part 2 of a 4-part article on FMs staying up with BAS options to ensure their buildings are '2025-ready'
OTHER PARTS OF THIS ARTICLE
Pt. 1:
Know the 3 Technologies Reshaping BAS
Pt. 2: This Page
Pt. 3:
Understanding Benefits of Virtualization in World of BAS
Pt. 4:
Big Data Helping BAS Operate at Peak Performance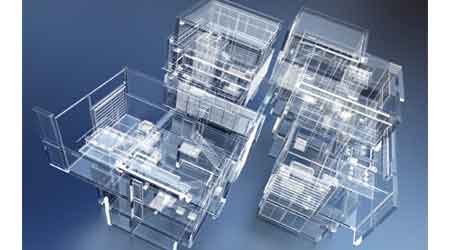 Buildings today rely on a combination of end-point technologies (sensors, controllers, management tools, etc.) using wired and wireless communications platforms. Although wired solutions are preferred in the majority of cases, wireless devices are becoming more prevalent due to the great advances made in speed and security. That, complemented with battery technology that has improved both in size and longevity, makes wireless a great option. Wireless sensor batteries today have average life spans of five to six years and can be a viable and convenient solution, especially for hard-to-reach spaces. Common wireless technology options include WiFi, ZigBee, Z Wave, and Bluetooth.
WiFi is a well-known wireless standard used for high-bandwidth applications and is ideally suited for wireless network access using broadband access points. As WiFi consumes a little more power than other technologies, devices must be carefully manufactured to be highly efficient to conserve battery life. WiFi is also widely used in commercial buildings for support services, allowing the engineering/support teams to effectively use laptops, tablets, and smart phones for connectivity and communications. WiFi routers can be set up in mechanical equipment spaces to access off-site and building data including functional test script documentation, factory equipment data, and historical trend logs, facilitating HVAC start-up, testing, and commissioning activities.
ZigBee is a low-power-consuming, low-latency, self-healing meshed wireless network standard and can be used in horizontal floor HVAC terminal equipment, control, and space thermostat applications. ZigBee technology minimizes power consumption, making it very suitable for battery-operated devices. The wireless mesh network comprises access points (network controller), repeaters, terminal controllers, and space sensors, etc. The "self-healing" attributes allow the network to re-configure itself to circumvent broken paths and operate when a node fails or becomes unreliable.
Z Wave is another low-power-consuming wireless communication standard that also utilizes a mesh network architecture. It allows home automation devices, including lighting, access control, entertainment systems, and household appliances, to communicate with one another. Commercial applications using Z Wave wireless technology generally are limited.
Bluetooth is a wireless technology standard for exchanging data over short distances and exists in many products such as telephones, tablets, laptops, and mobile phone headsets. Applications include wireless communication with PCs, mouse and keyboards, and printers. Due to Bluetooth's low power consumption, it is also suitable for personal area networks (PAN) with proximity sensors and some lighting control applications. As distance is a concern, careful design is required to ensure good communications between devices.
Continue Reading:

BAS

Know the 3 Technologies Reshaping BAS

Wireless Options Becoming More Prevalent with BAS

Understanding Benefits of Virtualization in World of BAS

Big Data Helping BAS Operate at Peak Performance
---
---
---
Related Topics:
Comments