What Can a Smart Building Platform Do For You?
Answers to the questions of what constitutes a smart building platform and how it can work in your building are as diverse as the massive digital data they manage.
OTHER PARTS OF THIS ARTICLE
Pt. 1: This Page
Pt. 2:
Understand the Benefits and Limitations of Smart Building Platforms
Pt. 3:
Custom Built vs. Marketplace Smart Building Platforms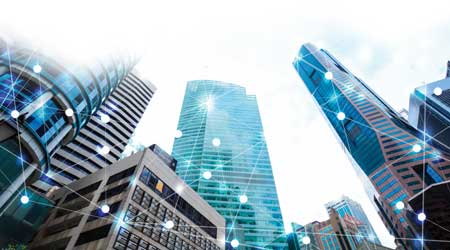 Veteran facility managers remember when a software platform was simply where software operated on their desktop computer.
But then came web services, WiFi, cloud operations and hosts of specialized software applications, not to mention a Building Internet of Things (B-IoT) plethora of devices. Newer services, such as fault detection and analytics, offered improved operations and maintenance options. But their massive requirements for data storage, not to mention computational space, meant these functions needed to happen outside the building automation system (BAS).
So what are these new so-called smart building platforms? How do they differ from a sophisticated BAS? What benefits and challenges do they offer, as more organizations attempt to smarten their buildings and respond to the demands of tenants and building occupants used to IoT residential and mobile applications? What are the possible drawbacks of taking the plunge into these expansive platforms that are offered in multiple options, from fully customized to proprietary digital solutions?
Broadening concept
Answers to the question of what constitutes a complete smart building platform are as diverse as the massive digital data they manage. The problem is that the broadening concept is still leading edge technology. Even those with current digital solutions concede there are few early installations of what may become genuinely intelligent building platforms in commercial applications. However, given how rapidly information technology advances, plus the use of this technology in manufacturing and residential operations already, some experts believe those new B-IoT solutions could sprout from infancy to adulthood for the commercial sector in as little as five years.
To understand what a building platform is, it's worth considering definitions from a variety of sources.
Dictionary.com defines software platform as a "major piece of software, as an operating system, an operating environment, or a database, under which various smaller application programs can be designed to run."
According to Wikipedia, a computing platform or digital platform is "the environment in which a piece of software is executed. It may be the hardware or the operating system, even a web browser and associated application programming interfaces, or the underlying software, as long as the program code is executed with it."
Adrian Bridgwater of cloudpro.co.uk is a journalist specializing in cross-platform software application developments. He says a software platform has the "ability to interconnect with other software streams, therefore, it's a platform that you can do other things with that were not originally envisaged at the time of its initial design — and this is the important point."
That definition appeals to Rebecca Reel, a building performance engineer at Switch Automation. "A physical platform is a raised surface to stand and view things," she explains. "Similarly, a smart building platform should be the place portfolio owners and building managers go to gain a greater view into their buildings' performance and operation."
Steve Nguyen, vice president of product and marketing for Building IQ, explains a platform as being "a set of software tools, often operating in the cloud," where a massive volume of raw data points is gathered and managed so that it can undergo computation. Software at this level massages that data, looks for issues and unusual changes. The managed and manipulated data then proceeds to services such as fault detection or analytics.
"A platform is a central server, often cloud-based, used to collect, normalize, trend and analyze data related to the operating conditions of a building," says Drew DePriest, digital solutions and strategy lead for CBRE's Host service. "Smart building platforms can also be used to write to disparate building systems to facilitate control, perhaps as part of a predictive mechanism."
The reason there are as many definitions as there are experts is that the technology platform has become an "overarching term to describe multi-services," says Mo Fahim, practice leader intelligent building technologies with Environmental Systems Design. "That's because there is no specific definition, no code or standard."
Fahim defines platform as "basically a solid foundation or framework that is intentionally planned on which a group of services in a technological ecosystem operate in a symbiotic relationship to provide and add value to end users."
Data, data, data
Information for the platform can come from virtually any digital device, both internal or external to the building, explain the experts. Internally, that could include not only multiple building systems monitored by BAS, but also data from people, processes, sensors, B-IoT devices, internal movement sensors and Bluetooth. External data such as car sharing, food and beverage services, weather details and even community activities also could be handled from the platform. In other words, data can come from anywhere inside and outside of traditional building operations.
To use analytics, a platform should be able to store several years of live data and even more in archives, says Nguyen. That allows analytics room to run machinery algorithms in the cloud on a specific piece of equipment, a computational function that requires massaging such massive data that the legacy on-site BAS could do nothing else well beyond its seven-day storage limit.
Continue Reading:

Building Internet of Things

What Can a Smart Building Platform Do For You?

Understand the Benefits and Limitations of Smart Building Platforms

Custom Built vs. Marketplace Smart Building Platforms
---
---
---
Related Topics:
Comments