Two Case Studies: Evaluating Pneumatics vs. Direct Digital Controls
Two Chicago buildings illustrate how facility managers must weigh several factors when choosing between controls systems.
OTHER PARTS OF THIS ARTICLE
Pt. 1:
5 Advantages of Direct Digital Controls (DDC) for Tenant Buildouts
Pt. 2:
Weighing Pneumatics vs. Direct Digital Controls in Existing Buildings
Pt. 3: This Page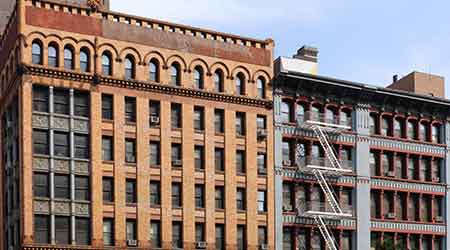 Two projects illustrate the factors that come into play when tenants are choosing between DDC and pneumatics. One case involved a non-profit located in a historic downtown Chicago building constructed in 1930. The 1.3-million-square-foot building's base infrastructure was already upgraded to DDC. Building operators offered the non-profit organization a financial incentive to upgrade to DDC during their tenant renovation. Unfortunately, the organization couldn't justify the additional capital expense and ultimately declined.
The project goal was to maintain as much of the existing HVAC systems and duct work as possible to minimize cost. The mechanical system was laid out just as on any other project, but the existing pneumatic terminal boxes on the floor were reused.
What can the tenant do from here on? One option for the non-profit is to upgrade only specific boxes serving special conference rooms or an executive office. This would ensure optimal comfort and control in important office locations. Since as many as 20 to 30 boxes are on each floor, reuse of existing terminal units with targeted upgrades is an option to stay within budget while providing the desired control to prioritized areas. If desired, the non-profit could slowly upgrade one or two boxes at a time until all are completed.
On a second project, the tenant was a high-tech programming company in a 60-story, 1.9 million square foot high rise in downtown Chicago, built in 1969. The company was working on a phased restack project. The base building infrastructure had previously been upgraded to DDC but pneumatic controls for terminal units remained on each floor. When the company moved out of a floor, the pneumatic controls were demolished and all terminal units were replaced with upgraded digital controls. Given the planned use of the floor in the new build out, it was apparent that DDC controls would align with their need for a highly-efficient and productive space.
One lesson from this project is that buildings that have not upgraded their floor terminal units to DDC have the opportunity to do so in between tenants. Because the planned tenant was already looking for a highly efficient space, their vision aligned with the base building's desire to upgrade to DDC controls. While this is not always the case, base buildings should take advantage of tenant vacancies to facilitate a DDC upgrade.
What's Next?
DDC controls are not only better and more efficient — they are also future-ready. DDC controls currently collect an immense amount of building performance data, but only a small portion is actually utilized. The next step for DDC controls will be deciding how to harness this wealth of data. Modern buildings currently have a multitude of existing automated system components such as fire detection and control systems, security and surveillance systems, elevator systems, intelligent lighting control systems, HVAC, and more, all operating in their own "silos" without integration. With the data collected by these systems, the Building Internet of Things, cloud computing and analytics, and mobile communications, a truly intelligent building is possible. Intelligent buildings not only operate more efficiently and consume less energy but also improve the overall occupant experience.
Justin Ward is a mechanical engineer with Environmental Systems Design, Inc. in Chicago. He focuses on commercial office space. He has been engaged in large projects with a number of high-profile clients, from Motorola Solutions to Zurich North America.
Continue Reading:

Controls

5 Advantages of Direct Digital Controls (DDC) for Tenant Buildouts

Weighing Pneumatics vs. Direct Digital Controls in Existing Buildings

Two Case Studies: Evaluating Pneumatics vs. Direct Digital Controls
---
---
---
Related Topics:
Comments