Maintenance Management Systems: Managing the Business of Facilities
A robust, easy-to-use maintenance management system that grows with the facility program is a necessity for any facility department. Here's how to get it right.
OTHER PARTS OF THIS ARTICLE
Pt. 1:
Understand the BAS's Role in Facilities Management
Pt. 2: This Page
Pt. 3:
Mobile Technology Offers Efficiency for FMs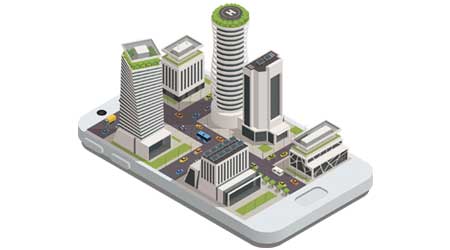 Maintenance management systems come under many names. Computerized maintenance management systems (CMMS), computer-aided facility management (CAFM) systems, integrated work management systems (IWMS), and even enterprise asset planning and resource management systems — these overlap functionality to the point of almost being synonymous. Although each type of system has its own nuances, strengths, and weaknesses, let's focus on their common deliverables.
A robust, easy-to-use maintenance management system that grows with the facility program is a necessity for any facility department. Experience across hundreds of facility organizations has shown that, without a maintenance management system, the facility team will be relegated to perpetual reactive firefighting, always begging for more resources and funding. If a facility manager is supposed to manage the business of facilities, then it is imperative to have business management software.
A CMMS/CAFM/IWMS provides a centralized repository to store all facility- and equipment-related documentation, such as drawings, construction documents, O&M manuals, warranty information, standard operating procedures, methods of procedure, emergency operating procedures, insurance certifications, etc. This also includes maintaining asset information, such as maintenance and cost history, hierarchical/system relationships, nameplate, service responsibilities, and parts, all of which should be made available to maintenance staff and contractors in the office and in the field.
Receiving, creating, dispatching, completing, and managing work orders is a given when it comes to functionality of a maintenance management system. However, the true value resides in the data collected as part of these transactions; thus, stout querying and reporting is also a necessity. Most systems have the ability to auto-generate reports at set frequencies and many can forward them via e-mail to stakeholders, feeding them the desired information on a regular basis, without them having to fumble in the system once a month to find the one report they want.
Correctly prioritizing and assigning work to ensure that preventive or predictive maintenance work orders are completed is essential to migrating from being predominantly reactive, which is extremely costly and ineffectual, to a more proactive program. The end goal should be a preventive maintenance to corrective maintenance ratio of 80 percent/20 percent, if not 90 percent/10 percent. (The preventive maintenance to corrective maintenance ratio is defined as the number of preventive, scheduled, or planned work orders compared to the quantity of corrective or unplanned work orders; it is a primary key performance indicator used in the industry and a great metric for benchmarking to justify headcount and value of investing in the program.)
Successful migration to a scheduled, proactive department will increase staff efficiency, as reactive maintenance is very inefficient and costly. For example, reactive maintenance often requires a technician be dispatched to investigate the issue. The technician troubleshoots the issue, identifies the needed part, drives to the supply house to obtain the part, then returns to complete the repair. Unfortunately, such a process often consumes the worker's entire day, inhibiting him or her from completing any preventive or proactive work, leading the organization to more reactive repairs. Contrast that approach with one of an organization that is predominantly scheduled (that is, with a preventive maintenance to corrective maintenance ratio of 80 percent/20 percent). The preventive maintenance work order is prioritized and assigned to the appropriate staff in the most efficient route. Required parts have been ordered, picked up by a runner (an employee who costs considerably less than the skilled laborer) or delivered by the supplier, are grouped by work order, and are ready-to-go for pick up by the technician. This allows the technician to maximize time in the field, completing multiple work orders.
All work performed by staff and contractors should be captured in the maintenance management system, so that utilization can be demonstrated. Ideally, 100 percent of staff's hours are tracked against work orders, including time spent in meetings, training, etc. Additionally, this allows for better visibility into processes and workflows, so that inefficiencies can be identified and remediated.
Integrating or seamlessly sharing data with other company systems will improve department transparency and mitigate double and triple entry of data into multiple systems. For example, a purchase order could be listed on a work order, if not created in the CMMS/CAFM/IWMS directly. The costs could be entered on the completed work order, along with the attached invoice. The costs, purchase order reference, and invoice can then be automatically forwarded or imported into the company's financial system, eliminating the need to enter the same data into the financial application.
Operations budgets and capital/replacement forecasting can be more accurately and readily obtained from the comprehensive asset, work order, and maintenance data stored in the maintenance management system. For example, service contract costs can be easily extracted from the CMMS/CAFM/IWMS. The estimated staff labor hours for preventive and corrective maintenance can be reported from the software and fed into the operations budget, which will, in turn, provide a means to substantiate budgets and personnel count. Capital replacement forecasts can be tracked in a CMMS/CAFM/IWMS with three simple fields and a couple of reports.
As the second largest expense for a typical organization, facilities is often the first stop when budgets get tight. Too many good people and programs have been cut due to the lack of fiscal data to deliver a sound business argument. Facility managers must be equipped with the best tools and data to help them and their team be successful. A CMMS/CAFM/IWMS should be that central tool.
Another key benefit to a CMMS/CAFM/IWMS is improved customer relationship management. Most customers want to know their request has been heard and that they are going to be taken care of; they also want to know when the job is finished. Most maintenance management systems can automatically notify requesters of work order status changes and updates, keeping the customer apprised of progress and potential hold-ups. This increased communication will improve customer satisfaction, increase feedback from the customer (especially if surveys are included with completion notification), and provide a mechanism for relaying the value of facilities.
Lastly, a maintenance management system should be incorporated into the facility department's marketing plan, leveraging all interactions with customers and stakeholders as opportunities to sell the value of services provided by the team. This on-going, passive and active marketing will aid in the solicitation of required funds and resources and promote the department as a business-minded entity that positively impacts the bottom line.
Continue Reading:

Facility Technology

Understand the BAS's Role in Facilities Management

Maintenance Management Systems: Managing the Business of Facilities

Mobile Technology Offers Efficiency for FMs
---
---
---
Related Topics:
Comments