How to Realize the Promise of a Smart Building
Leaders need an integrated, organizational-wide adoption and deployment model.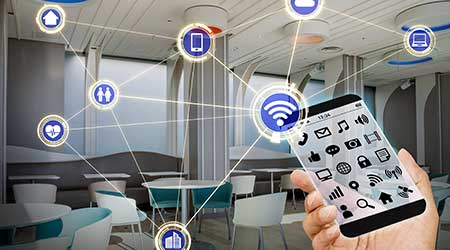 I wouldn't call the first building I worked in very smart. My desk was in a low walled cube in the middle of the "cube city" surrounded by cinder block walls. The air quality depended on what section you were in, and the temperature varied every 20 feet. There were no crowd-based thermostats to keep everyone happy. Almost every air vent had a custom deflector taped on it to personalize the comfort of the one who applied it. If you were cold, your best option was to put on a sweater.
Times have changed. Today, buildings are required to deliver secure technology services and engaging, productive, personalized experiences to occupants, all while making sure the facility is efficient, reduces costs, and has a lower environmental impact. Going beyond that baseline, a smart building uses an integrated set of technology, systems, and infrastructure to optimize building performance and occupant experience. The key concept is "integrated," as it applies to technology, systems, and infrastructure.
A widespread mistake with smart property technology or "prop-tech" deployments is that they are selected with a single purpose in mind and applied in a silo. The systems are deployed without the consideration of the existing connectivity capability, interoperability, management, or infrastructure impact. The problem is referred to as "linear thinking." For example, a software solution dependent on WiFi will not be trusted or used optimally if the existing WiFi network is not robust enough to provide the needed speed and capacity. This lack of bandwidth will create mistrust for the software, and can lead to finger pointing for the perceived failure of deployment.
Facilities leaders need to consider how systems in their building work together as an interconnected ecosystem. Without this "systems thinking" perspective, smart building technology deployments will be resigned back to silos with minimal, if any, value add.
Smart building implementation model
Before beginning any type of technology selection, consider using a smart building implementation model to guide you through a process to take the right steps to plan, design, and deploy a smart building. The first step is to develop a clear awareness and vision of smart building objectives. These objectives should include input from an interdisciplinary stakeholder team of IT and facility management/operational technology members as well as business leadership, human resources, occupants, and more. Typical objectives include improvements focused on financial performance, occupant experience, sustainability, safety, talent attraction, and employee retention. Once the goals are clear and well understood, an evaluation of the building's existing systems and infrastructure — as well as the skills and cultural aspects of the organization, employees, and occupants — needs to take place. This evaluation will help identify the gaps that exist between the current environment and where it needs to be. Most organizations won't have everything they need to create a smart building, and that's okay. The important part is identifying the gaps before beginning the technology selection process.
Then it's time to select technology. The first step seems simple enough: Pick a system that satisfies the objective. Let's say a facility has experienced recurring damage due to leaks, and the goal is to reduce the cost of the cleanup, repair, and reduce the insurance premium with technology that will provide an early warning system. So you jump on the internet and purchase a leak detector system with remote sensors. Not so fast — remember the linear vs. system thinking? You need to ask, is the method of getting the data from the sensor to the management system compatible with the existing network? Is this interoperable with the current system? Can I send the data to my existing analytics platform? Is cybersecurity built-in, and does it meet our IT requirements?
There many more considerations to review:
Function. This is the basic feature you are looking for to help you meet your objectives. In the scenario above, the goal is to find water leaks quickly to reduce or eliminate property damage; however, the leaks could involve gas, oil, or any other chemical. You can buy point moisture detectors and place them at every sink, toilet, faucet, and water main as an example. You may need a "water rope" if you need to cover a larger area or a water-depth sensor to measure the level. You can also go with a flow-meter type detector that can alert you to leaks that are both visible and invisible. In many cases, technology systems can be identified that satisfy not only the main objective, but also impact other tangible objectives. For example, quickly finding a leak will not only save cost; it will also improve occupant experience by eliminating property damage repairs that would inconvenience the occupants. Understanding the options and the applications is vital to selecting the optimal solution.
Communications backhaul. The new technology will need a way to communicate with the management system. The goal should be that the new technology is compatible with an existing network to save project costs. Of course, the current network should also be evaluated to make sure it can handle the increase in data, latency requirements, and unique design needs, as described earlier. In many cases, remote sensors communicate with a gateway device, which compiles the data from multiple sensors to send to a management system. For example, a leak detector sensor can use LoRa wireless to talk to the gateway, and the gateway uses Ethernet to talk to the management system. Some sensors communicate directly to WiFi, bypassing the need for a gateway. Communications protocols can vary drastically and include LoRa, WiFi, BLE, ZigBee, cellular 4G/5G, OnGo/CBRS, Ethernet, BACnet, and Modbus as well as proprietary protocols. The communications backhaul methodology can have a significant impact on overall deployment cost if not carefully considered.
Systems interoperability and integration. As noted, it is very beneficial if the new technology is interoperable with the existing network. Interoperability and integrations with other technology should also be considered. Let's say you already have or plan to add a sensor network for monitoring refrigeration and HVAC performance. Is the leak detection system mentioned above interoperable? Can it use the same management system? If not, you may find yourself having to pay for and manage separate licenses, networks, and monitoring systems. Considering a typical building management system, does the new technology support BACnet or Modbus? Can existing copper, wireless, or fiber infrastructure be used? Will this impact the performance of the existing network and applications? If the new system being added does not have an open API, you will discover that integrating it with other systems can be a big challenge and, in some cases, not feasible. Understanding the existing system and network is key to figuring out if the new technology is interoperable and how it can be integrated.
Physical. Pay attention to the physical attributes of new property technology. First consider how it is mounted, whether it is an indoor or outdoor application, and its size and weight. As more sensors enter the built environment, they are sharing the same space as the occupants, therefore aesthetics become more important. When talking about how a sensor looks, of course, something sleek and pleasing is desirable. Some sensors can cause fear and suspicion simply by the way they look, especially if the occupants are unaware of the sensor's purpose. Organizational culture and type of building occupants can also determine if the sensor should be mounted in the open, hidden, or kept in a vandal-proof enclosure. For example, with a restroom cleaning and occupancy detection system deployed by one organization, the sensors used magnetic relays to determine if the doors were in the open or closed position and to track stall use and cleaning frequency. The data was used to guide an efficient on-demand cleaning process and determine bathroom availability. In one installation, rumors started, and complaints escalated to senior leadership. Employees thought that management was tracking their bathroom behavior and felt their privacy was being violated. The sensors began to get vandalized, rumors continued to spread, and in the end adoption of the system failed. The lack of early training on the system's purpose, failure to understand that company culture lacked trust in the leadership, and a physical sensor installation that made it easy to tamper with sensors all led to a failed project.
Cybersecurity. As with any new connected technology, cybersecurity should always be a key consideration. Most technology vendors have cybersecurity integrated into their equipment, but for some it is still a work in progress. Some system manufacturers require the sensor data to be sent to their private cloud before it can be directed to your analytics platform. Many IT organizations do not allow this sharing as it adds additional security risk. Compare the built-in device security with your corporate IT requirements. If it does not meet the requirements, then keep evaluating or add external security. Wired versus wireless technology is another consideration since some industries, such as the government, do not allow wireless sensors due to increased security risk. You don't want to be the next headline because cybersecurity was not a consideration in your technology selection.
The ultimate goal for selecting new technology is to gather the right data to be used to make informed decisions that enable you to meet your smart building objectives. While the examples above were simple, real-life applications can get complicated very quickly. With the correct data, you can begin to understand the "why" of your operations, not just the "what" that is happening. Data enables informed decisions to be made in real-time based on thousands of sensors from a highly interconnected system. It's pretty clear why building data has been called "the new gold."
Selecting the right technology is not something to be done in isolation. The use of systems thinking is needed to truly understand the "relationships of things" for better prediction of outcomes and to ensure the built environment is efficient, cost-effective, and has a lower environmental impact. The promise of smart buildings is here. The technology exists today, and powerful innovations will continue to come to market to transform the built environment. Utilizing a smart building implementation model that supports the interdisciplinary stakeholder's objectives helps organizations take the right steps to plan, design, and deploy a smart building.
Bill Moten (bam@ledesigngroup.com) is smart buildings practice leader at Leading Edge Design Group.
---
---
---
Related Topics:
Comments