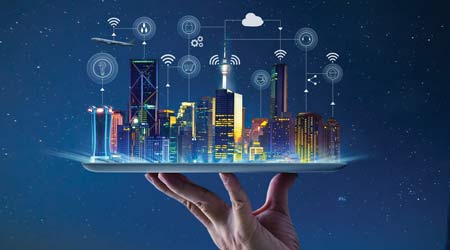 Building Internet of Things Makes Greener, Smarter Buildings
Delivering an attractive ROI by uncovering unseen opportunities in HVAC, energy loads, lighting, water, and renewables, the Building IoT is an essential part of any smart, green building.
The Building Internet of Things (IoT) has quickly established itself as an essential feature of any smart, green building. IoT refers to the connection of devices to the Internet. As the power of Building IoT increases, the power to track building performance parameters of interest in real time has grown as well. From cloud-based analytics to continuous metering and monitoring, the integration these systems into facility management has proved its value, allowing building owners to maximize profitability, streamline reporting, increase efficiency, address tenant comfort, and more.
Identify unseen opportunities
To achieve the highest returns on building improvements, prioritize these improvements in correlation with the largest operating expenses. For commercial spaces, energy consumption is typically the most significant cost. Engineering with Building IoT capabilities such as HVAC calibration, lighting replacement, plug load adjustment, indoor air quality monitoring, and plumbing leak detection can eliminate the daily inefficiencies in your space and the monthly spikes in your utility bills. Smart buildings recognize when they are occupied, increasing building systems' reliability. Unnecessary systems shut down automatically, conserving natural resources. Believe it or not, this win-win for operators and occupants is possible.
HVAC: Analyzing the energy required for heating, cooling, and ventilation requires a complicated set of analytics, but sifting through that data is now easier than ever. When all usage is monitored, irregularities can be recorded, and actionable items prompted for staff. Without accurately calibrated sensors or adjusted set points, your equipment and appliances could be severely underperforming. Technologies that are designed for fault detection and diagnosis are able to harvest results on single pieces of equipment or entire areas, explain the issue (valve leak, set point issue, sensor failure), and establish its priority level and potential savings.
Advanced HVAC monitoring systems are even capable of integrating weather forecasts to program for maximum efficiency and savings. Building IoT provides augmented intelligence from building behaviors and systems, but also learns from external factors, such as weather forecasts, occupancy levels, calendar data, and seasonality. All of the data is consolidated, stored, and analyzed. This data can then be displayed in dashboards, enabling facility managers to see energy consumption analytics and diagnostics, augmented intelligence models for energy prediction, and energy waste cost avoidance. Leveraging machine learning allows software to detect anything that appears outside of ordinary operations, and alert facility managers for corrective action.
Energy loads: Ensuring HVAC efficiency from 9 a.m. – 5 p.m. is extremely important; however, metering the consumption of energy during non-peak hours is a close second. Sensors and advanced algorithms work together to suggest optimal sequence of operations based on the typical schedule of your facility, providing the most cost efficient and comfortable system settings to meet your building's needs. Vital information can be gathered on the building envelope, from infiltration to air loss, and used to alert engineers to building leaks or indicate filters in need of replacement. According to one Building IoT vendor, simply correcting infiltration problems can save about 5 percent of energy used in heating and cooling a commercial building.
Lighting: Many significant returns are available from the integration of Building IoT with the lighting system. Organized data from electricity usage can offer teams simple insight for adjustment of regular maintenance schedules to replace lamps, clean fixtures, and detect faulty controls. Intelligent window designs supplemented with Building IoT have the ability to recognize natural lighting or temperature parameters, automatically closing louvers for energy conservation.
Water: Metering water use and plumbing fixture efficiency is extremely effective. Innovative machine learning software allows digital utility algorithms to quickly detect leaks of any size or water main breaks as well as monitoring safe water quality levels.
Renewables: Another major solution offered by Building IoT software is the stabilization of renewable energy sources. Whether it's solar, wind, or other renewable options, green buildings constantly struggle with the fluctuations in the amount of power generated as a result of the environment's natural variability. Syncing solar PV panels with cloud-based software can indicate whether your solar station is delivering sufficient energy levels in real time, allowing you to maximize grid usage and load. Having central control devices makes problems easily identifiable, and a single panel can be replaced before it disrupts the entire system.
Continue Reading:

Building Internet of Things

Building Internet of Things Makes Greener, Smarter Buildings

Building Internet of Things: Minor Challenges, Major Benefits
---
---
---
Related Topics: