5G is Coming: Here's What FMs Need to Know
The next generation of wireless technology is a revolutionary step forward.
OTHER PARTS OF THIS ARTICLE
Pt. 1: This Page
Pt. 2:
How FMs Should Prepare for 5G
Pt. 3:
How to Future-Proof Buildings for New Technology
Pt. 4:
A Brief History of Mobile Technology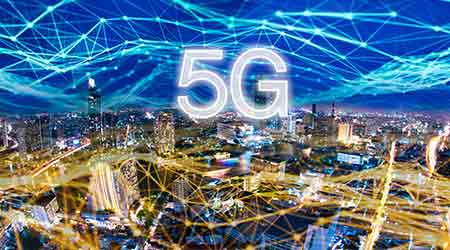 You've probably heard the term "5G," but perhaps you dismissed it as yet another technology buzzword. Ignorance can be dangerous, however: 5G is a significant development for not only the world of technology, but also the world of real estate — and it's coming soon to a neighborhood near you. For some people, it's in their neighborhood already. Building owners (and their asset and facilities managers) who want to stay competitive should be prepared.
5G stands for fifth-generation wireless technology. It is a revolutionary leap forward in terms of speed, response times, network reliability, and energy efficiency. 5G is expected to provide speeds from 400 Mbps to more than 10 gigabits, with wireless network latencies (delays in data transmission) of one millisecond. These capabilities are likely to be of great interest to both commercial and residential tenants because they substantially enhance the user experience in video streaming, virtual reality, augmented reality, Internet of Things, and other applications that were introduced in the fourth generation.
Unlike the one-size-fits-all 4G core networks, the 5G core network will be flexible and adaptable, and will provide optimized support for diverse uses. Although 5G will operate using broadcast technologies, it will also support the setup of peer-to-peer connections between subscriber devices and base-station antennas. These connections, which use beam-forming and multiple-input and multiple-output technologies, focus the bandwidth and signal, and, in the process, promote efficiency. The configuration of the wireless service provider network will also change to reduce latencies on both wireless networks and in so-called edge computing, which streamlines the flow of information by removing some applications from the cloud.
5G is on schedule to be deployed within the next 24 months. AT&T, Verizon, T-Mobile, Qualcomm, Samsung, Ericsson, and Nokia are among the wireless service providers and manufacturers conducting field trials. It is likely that by 2020, these companies will be well on their way to providing ubiquitous coverage in the macro-cellular markets. Most noteworthy for property owners and asset managers: We expect that in-building 5G coverage will be deployed at a faster pace than previous technologies.
Why Building Owners Should Pay Attention
5G is not just a high-tech perk; it is something that tenants are going to demand in the near future. Already, consumers display an insatiable appetite for instant Internet access wherever they are, along with transformative applications.
The statistics are striking: Smartphones have become the primary platform for accessing the Internet, at 61.9 percent share, versus desktops at 29.3 percent, and tablets at 8.8 percent (as of the end of 2017, according to comScore).
The underlying network technology enhancements, convenience of small size, user interface, and always-on features all have influenced subscriber preference for the smartphone as the go-to device at home and in transit. And today, with many employers implementing BYOD (bring your own device) policies, it's the preferred device on the job, as well.
In 2016 alone, about 1.5 billion smartphones were sold. The overwhelming majority of Americans (95 percent) now own a cellphone of some kind, and 77 percent own a smartphone — compared to 35 percent in 2011, according to the Pew Research Center's survey of smartphone ownership that year.
As the popularity of smartphones and mobile devices continues to rise, so will data usage. Qualcomm forecasts that measurements of mobile data traffic in 2020 will be 30 times those of 2014. Specifically, the firm projects that by 2020, eight billion gigabytes (a gigabyte is roughly one million bytes) of mobile data traffic will be handled globally on a daily basis, and that multimedia streaming will constitute 75 percent of this traffic.
Cisco predicts that by 2019, 80 percent of global Internet consumption will be video content. This equates to about 90,000 petabytes per month. (A petabyte is one quadrillion bytes, represented as 10 to the fifteenth power, or 1,000,000,000,000,000!) These numbers provide a startling sense of the immense scale of data consumption that income-property owners must be prepared to accommodate, even before the arrival of 5G.
It's interesting to note that, in tandem with this surge, adoption of traditional broadband service (desktop computers) has slowed in recent years. Today one in five American adults is a "smartphone-only" internet user — meaning they own a smartphone, but do not have traditional home broadband service.
Continue Reading:

5G

5G is Coming: Here's What FMs Need to Know

How FMs Should Prepare for 5G

How to Future-Proof Buildings for New Technology

A Brief History of Mobile Technology
---
---
---
Related Topics:
Comments