3 Roadblocks to Getting to Smart Buildings
Don't let these hurdles hinder your road to an intelligent building.
OTHER PARTS OF THIS ARTICLE
Pt. 1:
5 Steps on the Road to Smart Buildings
Pt. 2: This Page
Pt. 3:
Long-Term Benefits of Smart Buildings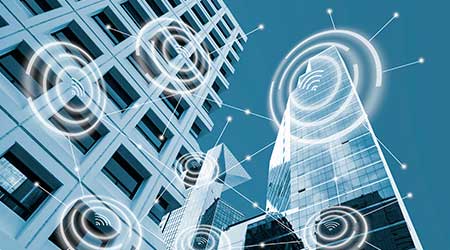 No road worth traveling is without roadblocks that can hinder success. While there are many roadblocks to creating a smart building, the three most significant are: lack of an internal champion to carry out the plan for a truly integrated, intelligent building, managing IT and cybersecurity, and space constraints.
1. The first potential roadblock is the lack of an internal intelligent building champion. The intelligent building is at the cutting edge in both its vision for the future and the technology required to achieve real intelligence. It is also all-encompassing, as a truly intelligent building will touch all aspects of a facility. To implement such a great undertaking requires an internal champion.
This internal champion will field contracts that change scope, building team issues, coordination, and budget with a clear vision to push forward and ultimately achieve intelligent building integration. The champion must also have insight and visibility into multiple aspects of the business' mission and desired integration, including energy consumption, occupant comfort, security, operations, and productivity.
During the design of the intelligent building infrastructure for one Midwest insurance company, the company's internal intelligent building champion helped position the company to finish construction on time, on budget, and on target with all intelligent building goals. Unfortunately, during a critical time of the new building's construction, the business went through a restructuring and their internal champion was let go. Ultimately, while the building's IoT equipment is all connected, the facility did not attain its potential to connect building features to the intelligent building platform. Having an internal champion can be the difference between reaching and falling short of the full — and future — potential of an intelligent building project.
2. A second common roadblock has to do with IT and cybersecurity. When it comes to network support for the intelligent building, it is common for organizations to put their intelligent building system and individual IoT components on the same network as the company's enterprise network. While this is certainly the most cost-effective option, it may not be ideal. The biggest challenge to utilizing a single network is the inherent cybersecurity risk. Take, for example, Target's 2013 data breach.
More recently, businesses are opting out of this configuration and choosing to create a dedicated network for their intelligent building components. For example, a financial services company wanted to keep its intelligent building system on a separate network from the enterprise business network. Although this proved to be the right choice for the client and their heightened security, it did require an additional expense and design changes. Thanks to the early engagement of the intelligent building consultant, the changes were completed during the design phase, minimizing the costs and maintaining the desired schedule.
3. Space constraints are a third potential roadblock. In both new and existing buildings, sufficient space will be required for successful IoT and intelligent building implementation. Prior decisions will ultimately determine how "intelligent" the building can be — day one and over time. For example, to create a second, more secure network, additional back-of-house space will be necessary, in a separate location than the building's main network. This will include space for cabling infrastructure, power, and metering equipment necessary for true intelligent building integration.
Steve Brown (sbrown@esdglobal.com), CAP, is operations director, automation, for Environmental Systems Design, Inc., Chicago.
Continue Reading:

Building Controls

5 Steps on the Road to Smart Buildings

3 Roadblocks to Getting to Smart Buildings

Long-Term Benefits of Smart Buildings
---
---
---
Related Topics:
Comments