3 Emerging "As-A-Service" Offerings for Facility Managers
The as-a-service model has many advantages for facility managers. Check out these three emerging offerings.
OTHER PARTS OF THIS ARTICLE
Pt. 1:
As-A-Service Model Moves Beyond Software
Pt. 2:
Building Internet of Things: Boon to As-A-Service Model
Pt. 3: This Page
Pt. 4:
Is the As-A-Service Model Right For You?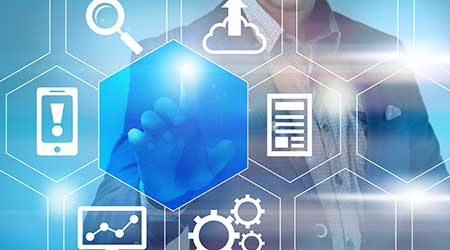 1. Workplace-as-a-service
A number of vendors now are offering office space for a flat monthly fee. This has advantages over a lease, which typically requires a long-term agreement, and does not provide much beyond the physical office space itself. Organizations in a traditional lease still need to furnish their space and buy office equipment, among other things. The flexibility provided by the as-a-service model, along with the lower total cost for the office, initially attracted small startups, entrepreneurs, and freelancers. These firms have less money to spend on offices and have less certainty of their office needs in the near future. Now, larger corporations also see the workplace-as-a-service model as advantageous. For example, satellite offices of a corporation may see the same advantages as a small startup. And, within a larger office, a co-working space can be used to attract talent and encourage staff to come to the office (instead of working remotely).
In addition, a number of industry-specific workplace-as-a-service models are emerging. There now are conference space-as-a-service providers, simplifying access to event facilities. There also are some indications that retail-specific models will emerge, which will enable retailers to more easily set up retail space without securing a lease and conducting a build out.
In general, the cost for a shared office space usually is lower than a comparable lease. On the other side, the co-working space provider can use its scale to balance out changes in occupancy, enabling it to provide more flexible terms. Additionally, most co-working spaces focus on increasing the utilization of the space by seating more people in an office. That increases revenue per square foot, even if each tenant pays less.
2. Energy efficiency-as-a-service
The energy service company (ESCO) performance contract model is well-established. In such a scenario, a building owner enters into a long-term agreement with a service provider, which reduces energy consumption and takes a share of those savings to fund its work. Because energy retrofits are typically capital-intensive, there is value in avoiding the upfront costs. In many cases, these contracts offer guaranteed savings but last for 25-30 years. This may be attractive to public entities, like municipalities and schools, who likely will still own the buildings that are being retrofitted. But, for corporations and commercial real estate firms, a long-term contract presents some difficulty. For example, most commercial real estate entities will sell their assets within 10 years, and do not want to enter into a contract that will exceed this period.
In recent years, a more flexible offering has emerged, which enables a building owner to pay an ongoing fee to achieve energy savings through operational and physical changes to the space. These agreements can last for as little as 5 years and still accomplish some of the same goals as an energy performance contract. The overall outcome of this model is the same as with a performance contract: A building reduces its energy spend and sees a portion of this reduce its own operating expenses.
But there are some differences in the details. For one, most performance contractors do not provide capital; a third party does. And the energy efficiency-as-a-service model typically is more operational, rather than focusing on equipment upgrades. These as-a-service players spend more time collecting and analyzing data about the building to understand how they can change operations without buying a lot of new equipment (or they look to spend less money overall on the equipment). The energy efficiency-as-a-service offering, like a performance contract, gives building owners access to knowledgeable experts who can monitor energy consumption and take steps to reduce it. Given the significant funding that some of these emerging players have received (Carbon Lighthouse and Redaptive are two examples), it is likely that this model will continue to grow in adoption.
3. Facility maintenance-as-a-service
Like energy efficiency-as-a-service, building owners also can enter into ongoing agreements to provide facility maintenance. In this model, a vendor may charge a flat, ongoing service fee for a set of facility maintenance services. The vendor typically has enough experience and uses technology to reduce the costs required to provide this offering. This technology can include sensors to monitor critical assets, or simple mobile apps that enable staff to request services as they are needed. The goal is to prompt a request for service, rather than requiring a service provider to check in and spend time trying to determine if something is broken or needs attention. Additionally, by aggregating facility services through a single master vendor, there are efficiencies of scale. Facility management-as-a-service vendors seek to reduce the overall costs to deliver the services. This reduction in cost increases the margin for the as-a-service vendor.
So far, this model has been deployed primarily in retail and restaurant applications. These buildings typically are small and do not have complex building systems that would require full-time, on-site expertise. But the aggregated energy and facility costs for a given retail or restaurant firm's portfolio is significant. There is value in reducing these costs, but it must be done in a labor-efficient way. Technology-enabled as-a-service models can provide better outcomes and address these previously hard-to-serve buildings. For example, an as-a-service vendor may deploy HVAC mechanics only after a particular unit has exceeded a certain number of runtime hours, instead of performing maintenance on a schedule.
Currently, a store manager (even of a large retailer) may have a list of key vendors to call when some type of facility service is required. This could include HVAC repair, landscaping, or even snow removal for the parking lot. This store manager may have limited visibility of how competitive vendors' prices are, and also may have a non-standard approach to paying invoices (and it likely is paper-based). With a facility management-as-a-service vendor, this store manager can request these services more easily through software, and has some certainty that the vendors are vetted and priced competitively. The FM-as-a-service vendor can manage scheduling and payment, leaving the store manager to focus on more mission-critical tasks.
These are only three as-a-service offerings in building and facility management. More will emerge in the coming years. The focus on delivering outcomes, rather than just a hardware or software solution, should resonate with owners and operators that have limited capital and seek innovative ways to upgrade and maintain their properties. Especially as the industry struggles to attract technology-savvy workers and the next generation of talent, this model may fill the gap with an outsourced solution.
Continue Reading:

Building Internet of Things

As-A-Service Model Moves Beyond Software

Building Internet of Things: Boon to As-A-Service Model

3 Emerging "As-A-Service" Offerings for Facility Managers

Is the As-A-Service Model Right For You?
---
---
---
Related Topics:
Comments