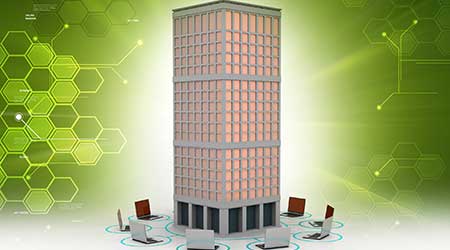 4 Questions To Ask Before Buying a New BAS
An obsolete building automation systems can cost you time and money, but make sure you know what you want and what you'll get when you're ready for an upgrade.
It's the central nervous system of the building. The brains of the operation. Call it what you will, a facility's controls can make the day-to-day decisions when it comes to matters ranging from energy efficiency to comfort to security. With today's quest to streamline and integrate building systems and their operations, understanding the pitfalls and weaknesses of a building's controls systems is more important than ever.
One example is Target's 2013 data breach. Hackers penetrated the retailer's network through the HVAC contractor's credentials, ultimately resulting in as many as 110 million compromised customer credit and debit card numbers. While this example is extreme, it illustrates the power of the controls system, and the potential damage that can be caused, when it isn't properly implemented and secured.
Building controls come in different flavors. There are proprietary systems, open systems, and a wide spectrum in between. A simple building automation system (BAS) can provide basic on-off scheduling and if-then functionality, while a more sophisticated controls system can provide extensive energy analytics, automated fault detection and diagnostics, and integration of lighting controls, security, and more.
Facility managers have a duty to maintain and constantly upgrade new and existing controls to ensure optimal energy efficiency, reliability, integration, and security across any facility, all the while avoiding pitfalls that can stand in their way of success.
One of the biggest questions facing facility managers is about the interconnectivity and maintenance of their controls system. Facility managers have to decide just how "open" and integrated the controls architecture should be, and weigh the impact to first costs, service contracts, and the procurement process. The following questions can help facility managers find the best-fit BAS.
1. Is it safe to kick the can a little longer?
A new building owner inherits an existing, antiquated controls system. Or a long-term owner's legacy controls system is now a ticking time bomb. Maybe the system is still functioning well enough, but the vendor is no longer able to source necessary replacement parts, or the technician versed in the old system needs to fly in from another city, or the vendor simply won't support the system anymore. Whatever the reason, software, equipment, or vendor obsolescence are all common occurrences in the 10- to 15-year life-cycle of a controls system.
Kicking the can down the road is okay when the controls system is functioning well and can be supported. But, as soon as the options narrow, it's time to consider the next controls move. Postponing a BAS upgrade to the point where essential BAS components are unserviceable poses risks to the building's operation. Without a master plan in place, expensive and temporary repairs may be required. Modern building HVAC systems are increasingly difficult, if not impossible, to operate in-hand.
Once a timeline has been determined for the controls system's end of useful life, it can take up to a year to complete the retrofit. Consider the season, as it is more optimal to upgrade heating controls in the summer and cooling in the winter.
Develop a plan for how the retrofit will be financed. For some organizations, it is a clear capital expenditure project. For others, it can be advantageous to classify the upgrade under the operations and maintenance budget. Many utilities offer incentives for BAS upgrades when certain energy saving measures are implemented. These rebates may have specific budget and timeline requirements, which should be evaluated in the planning stage.
2. Does open protocol mean open competition?
There's a lot of talk about "open systems" and "open protocols." Not all "open systems" are created equal. What many facility managers don't realize is that BAS products that list "open" on the brochure often have hidden, proprietary features that don't allow other vendors or contractors to service the systems. The result is that compatibility is still propriety.
While the equipment is open protocol, the main interface/front end or the software may still be proprietary. For example, a BACnet variable air volume (VAV) controller from any manufacturer could be wired into the system, but the proprietary vendor would still need to be contracted to program the unit and add it to the graphic user interface. For this reason, you can find many buildings with multiple automation systems, running on separate networks and computers.
Full integration is certainly available from proprietary vendors; however, facility managers often find themselves facing uncompetitive pricing from a vendor that has locked in a building. As a result, the facility manager is faced with either paying far more than market value for an integrated, single-vendor system, or running two parallel automation systems.
Depending on the equipment purchased, or if an existing contract is already in place, facility managers could find themselves locked to a specific vendor for the life of the controls system. This becomes a pitfall when the vendor delivers poor service, pricing, response time, or quality of work. Some of the proprietary systems have their own network of authorized contractors that add an element of competition. Before you choose one of these systems, make sure there is more than one authorized contractor in your area.
For some, the single vendor isn't a pitfall, but instead an opportunity to truly integrate systems and streamline control and analytics across a campus, single building or portfolio of buildings. This approach typically champions integration in a way an open system cannot. Larger and with more resources, vendors that offer proprietary equipment and maintenance may also be at the forefront of innovation.
3. Is the system's scope clearly defined?
An existing building's true sequence of operations is something that lives and breathes. While there may be a sequence dating back to the original design, or even an as-built document, buildings change over time with space use changes, equipment upgrades, operational tuning, and energy conservation measures. It is rare that all the details of these changes have been documented in one place, if they are documented at all. The original sequence of operations can certainly be useful in communicating scope, but can present a costly pitfall in lost opportunities if new features and 20 years of learning are not implemented when an upgrade is installed.
During the BAS upgrade pricing stage, it is important to clearly communicate what existing controls sequences are known, and which the contractor will be responsible for developing. Will a consultant be hired for new and missing sequences, or does that responsibility fall to the contractor?
Prior to demolition of the old system, it is important to document as much as possible about the existing operation of the controls system. Bidding contractors will need to make a best guess on what is required to close the gap if a consulting engineer is not hired to complete a comprehensive sequence of operations. Sequences and set points can be reviewed during the submittal process in a working session including the operating engineer/owner, contractor, and consultant.
4. Are you ready for the wild, wild west?
It is possible to achieve truly open protocol with the latest open protocol controls systems. But there's a pitfall to them, too. While BAS systems are more cost effective and there is more potential for innovation than ever before, finding the optimal service provider is a gamble.
Because it is possible to use any licensed open protocol vendor to install, set up, and design an open architecture control system, the hardware, software, and systems integration may not have the same level of testing that comes with a single manufacturer product line. This could be because of the use of multiple vendors, or the lack of high-level technical expertise of the chosen vendor.
BAS vendors are increasingly including "converged systems" in their product offerings. The value proposition of converged systems is that the same infrastructure including the BAS front end server and communication backbone can support security systems, access control, lighting controls, fire alarm systems, and emerging Building Internet of Things connectivity. While there is opportunity here, there are also challenges. For example, implementation of a converged system would require a higher level of trade coordination than normal. Operationally, the shared infrastructure is more complex and requires more sophisticated IT capabilities. With the complexity, there is an inherent increase in risk to security and reliability.
As with all major building decisions, consider all you know and all you don't. Consider having a specifying engineer working in controls review current building-wide controls equipment, interview the facility manager to determine necessary functionality and operations goals, and create an analysis of the building and recommendations.
David M. Brooks, PE, is senior vice president, McGuire Engineers, Chicago. He can be reached at dbrooks@
mepcinc.com. Daniel F. McJacobson, PE, CPMP, LEED AP BD+C, is senior energy engineer with the firm. He can be reached at dmcjacobson@mepcinc.com.
Email questions to edward.sullivan@tradepress.com.
---
---
---
Related Topics: