Getting the Benefits of BACnet
Along the path OF the past 17 years, BACnet has helped transform interoperability from an idea into a reality. It is so well-established that facility managers might think that simply asking for BACnet in the systems being installed or upgraded would be enough to ensure interoperability. But in reality the facility manager has a crucial role in ensuring that the benefits of BACnet are fully realized.
That role is increasingly important as BACnet comes to encompass more and more building systems. BACnet originally focused on HVAC systems, but soon attracted the attention of the energy management, lighting, security and fire safety industries. Currently, the elevator industry is further extending BACnet to meet its needs.
"This encompassing standard now supports most sub-systems in commercial buildings, allowing customers to have single-seat access to all the disparate equipment within the facility," says Jerry Martocci, lead staff engineer of wireless communications for Johnson Controls.
What's more, after being approved as an ANSI standard in the United States, BACnet was later approved as a worldwide standard through ISO. "The BACnet protocol is playing an increasingly larger role in the HVAC and building automation marketplace and is involving more and more players," says Andy Kaiser, senior product marketing manager for the drives business of Yaskawa America Inc.
BACnet brings many benefits. For example, BACnet capabilities can reduce the labor component of a building's day-to-day operation. Those capabilities include ease of startups, cloning of replacement BACnet devices and making changes to a building's configuration.
A common protocol, such as BACnet, makes it easier to maintain a trained facilities staff, troubleshoot issues with building operations and provide meaningful information to the facility manager.
Another primary benefit of BACnet is the fact it can operate on many levels: within a single device, as a master controller with multiple devices connected, or within a turnkey building automation system, incorporating components from multiple suppliers.
"With the support, infrastructure and leadership from recognized automation companies, the buildings industry has benefited from having skilled use of BACnet throughout the world," says Dan Halvorson, North American controls director with McQuay International. "Regardless of vendor, if a facility executive selects BACnet-communicating equipment, it minimizes the complexity of the installation, startup, commissioning and operations for the contract installers, commissioning agents, controls contractor or automation companies."
Because BACnet is an open system, facility managers no longer are tied forever to the manufacturer or installer of the system. They can go to another BACnet provider if service or costs are not in line with their needs or expectations.
"Customers are no longer 'locked' into a single vendor for equipment as used to be the case with proprietary interfaces," Martocci says. "Many bid requests now require BACnet interface support. This gives customers the ability to later mix and match devices and subsystems in a building, while assuring overall communication compatibility."
Another benefit is the ability to easily connect an installed system to HVAC equipment that comes with BACnet-based controls on board. "Other subsystems, such as lighting controls, access controls and even fire control systems, are now coming with BACnet controls that provide much easier connectivity and allow for sharing of information," says Larry Haakenstad, director of sales for Alerton.
How It Works
As Yaskawa's Kaiser explains it, a typical BACnet communication scenario, with a "master-slave/token passing" (MS/TP) interface in a local area network (LAN), works like this: "To facilitate communications on the network, a node will pass a token, a small packet of information, to another node across the network," he says. "Master devices are allowed to have the token, whereas slave devices are allowed only to respond to requests from master devices."
Typically master devices in a BACnet system would be controller devices that speak to other system components, or the slave devices, that perform the required action — i.e., adjusting the HVAC system, turning on or dimming lighting, etc. BACnet is the communication protocol used by the system, not the control system itself.
Through BACnet's open communications protocol, however, control systems also can be integrated to provide key operational and benchmark data to the facilities team, helping them make decisions about their building's efficiency goals and operations.
"Because a BACnet system and its subsystems can communicate data more effectively than one using a variety of protocols, the controls solution provider can design a system that provides the facility executive with the data he or she needs to run a building most effectively for desired financial outcomes," notes Todd Cowles, sales director — Americas for Trend Controls.
Control Systems in Existing Buildings
In your existing buildings, which of the following are used in at least one application: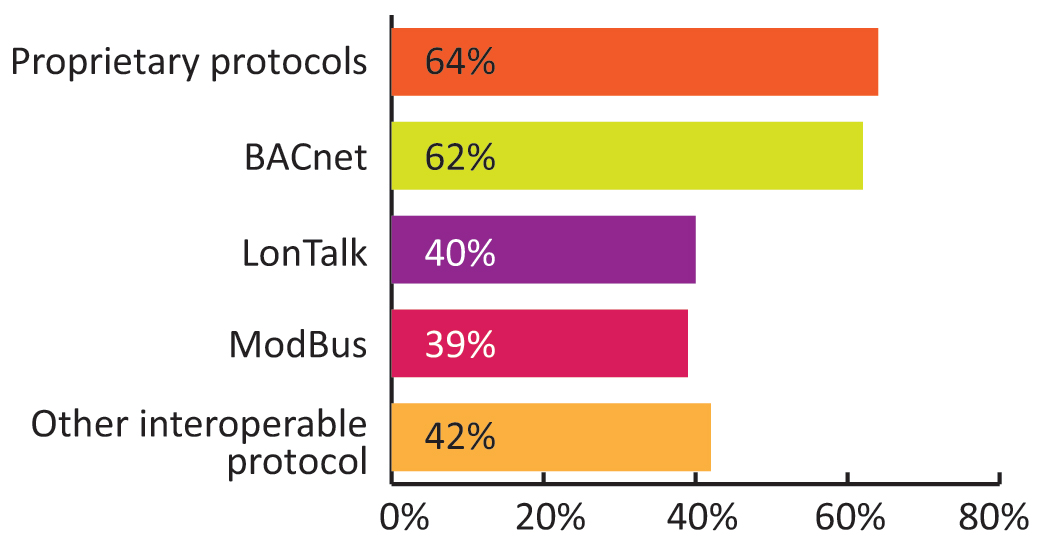 Source: BOM survey
About BACnet International
Simply put, BACnet International provides support for the BACnet community of users, suppliers, specifiers and integrators. BACnet International promotes the use of the BACnet standard in a variety of ways, including:
Operating the BACnet Testing Labs, which certify that devices have implemented features of the BACnet standard correctly.
Maintaining a global listing of BACnet products that have been tested for conformance.
Providing a range of educational material, including sessions at leading conferences, webcasts, a journal, a newsletter and white papers.
Organizing annual Plugfest to enable manufacturers to test and demonstrate the interoperability of their products.
Highlighting successful implementations of BACnet.
For more information, visit the organization's website at www.bacnetinternational.org.
Continue Reading:

Sponsored by BACnet International

Getting the Benefits of BACnet

The Facility Manager's Role in Planning BACnet

How to Avoid Missing BACnet Opportunities

Future-proofing a BACnet System
---
---
Comments