Facility Manager Cost Saving/Best Practice Quick Reads RSS Feed
30 Years Later, Schools Struggle with ADA
July 30, 2020 - Contact FacilitiesNet Editorial Staff »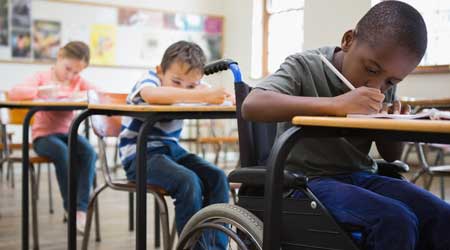 The nation's K-12 public schools are under intense scrutiny as facility managers and other district officials implement plans to protect returning students and staff from the coronavirus.
Despite these issues, accessibility challenges in schools have not changed. Thirty years after the Americans with Disabilities Act became law, most of the nation's public school districts remain inaccessible to students with disabilities, government investigators say.
A new report from the U.S. Government Accountability Office (GAO) finds that in 63 percent of public school districts, at least one-quarter of facilities are not physically accessible to those with disabilities, according to Disability Scoop. Problems at the schools included steep ramps, inaccessible playgrounds and restrooms and door handles that are difficult to use. And in 17 percent of districts, some schools typically do not serve students with physical disabilities because of the barriers in their buildings.
In site visits to 55 schools across 16 districts, the most common issues cited by GAO investigators were related to restrooms, interior doorways and classrooms. Barriers existed in all of the schools regardless of the age or condition of the facility, they found, but were most prevalent in buildings that were over 25 years old.
About 70 percent of school districts have plans to improve the accessibility of their facilities in the next three years, the report indicated. That includes everything from large-scale renovations to small upgrades like changing door hardware or signage. Cost issues were frequently cited by school officials as a challenge to ensuring accessibility.
One issue GAO noted is that the U.S. Department of Justice has not issued technical assistance specific to physical accessibility in schools as it has for other settings like stadiums.
Dan Hounsell is editor of Facility Maintenance Decisions.
---
Comments