Restroom Retrofits: Boosting Performance Webcast

Log In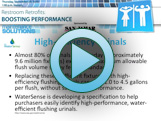 Few areas in commercial and institutional facilities generate as much traffic as restrooms. Regardless of the type of facility - K-12 and higher education facilities, hospitals, hotels, or commercial office buildings - maintenance and engineering managers are paying close attention to restrooms and their impact on issues such as water use and utility costs, hygiene, and the user experience for occupants and visitors.

Due to the vital role restrooms play in facilities, managers should focus on a range of issues when undertaking retrofits. Restroom design, product specification, and the maintenance and operation of the completed project are top of mind for managers looking to improve the performance of restrooms, as well as limit their impact on the environment.

This webcast will discuss:

- Key considerations for managers specifying products for restroom retrofits, including upfront and life-cycle costs, maintenance requirements, and staff training

- The manager's role in all phases of the retrofit project to ensure effective and efficient maintenance

- The challenge of tackling restroom retrofits to minimize disruption to facility operations

- The impact of paper products, dispensers, and hand dryers on hygiene, maintenance requirements, and operational costs

- Managers' specification options for plumbing fixtures, including high- efficiency water closets and urinals, waterless urinals, sensor-operated faucets, and low-flow aerators

- The role state codes and green building programs, such as LEED, play in restroom retrofits and fixture specification.