Big Data Analytics: How Automated HVAC Diagnostics Can Save Time, Money and Energy

Log In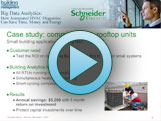 Research shows that 80% of facility managers and building owners only use 20% of their building management system (BMS) capabilities. That means there are lots of opportunities to achieve additional efficiency and savings: in energy, money and time. But building owners and managers don't need more data – what they need is actionable information. Cloud-based advanced analytics leverage valuable building data to identify faults and patterns of inefficiency that result in recommendations to improve performance and return on investment.

This webinar, featuring experts from Schneider Electric and its EcoStruxure Technology Partner KGS Buildings, will include these learning objectives:
Learn about the issues building owners and facility managers face today: why the time is right for continuous monitoring-based commissioning (MBCx)

Discover how applying data analytics to existing building management systems can maximize energy efficiency and minimize operational costs.

Find out how other organizations have acted on automated diagnostics to prioritize maintenance resources and save energy by finding inefficiencies that would have otherwise gone unnoticed.