Achieving accurate energy efficiency ratings with AHRI Certified HVACR and water heating equipment

Log In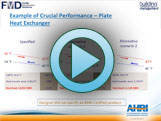 Learn why it is critical to specify and install AHRI Certified® HVACR and water heating equipment to ensure the accuracy of their energy use projections. In today's commercial construction market, heavy emphasis is placed on minimizing energy use. When you insist on AHRI Certified equipment, building owners and tenants alike can rest assured that the equipment they've paid for will perform as advertised by the manufacturer. Participants will learn how this 75-year-old, third-party testing program works and how to find AHRI Certified products using the AHRI Directory of Certified Product Performance.

After this webcast, you will:
Learn how AHRI's certification program works
Understand how to use the AHRI Directory
Analyze how "certified" equipment can be differentiated from "rated" equipment.