4

FM quick reads on plumbing

---
1. The Benefits of Water Audits
I'm Dan Hounsell, editor of Maintenance Solutions magazine. Today's topic is, water audits.

Beyond simply identifying problems in plumbing systems, a water audit also can point maintenance and engineering managers toward the most appropriate actions to minimize water use. Among the basic measures that can produce savings in this area are proper maintenance and the repair and replacement of existing fixtures with newer, more water-efficient fixtures.

When updating fixtures to comply with water-use standards, managers need to be careful about possible unintended consequences. For example, if replacement takes place throughout a building, technicians also should review the waste system. Over time, oversized waste lines can back up because of the inadequate flows produced by newer, lower-flow fixtures.

To ensure an adequate return on the investment in an upgraded plumbing system, managers need to evaluate other opportunities for savings based on the cost of capital improvements. Higher costs might be more acceptable if an organization has committed to making its facilities more environmentally responsible.

Finally, managers planning plumbing-system upgrades must consider costs carefully. It is difficult to buy a new fixture that does not meet current codes for flow rates, but some go above the minimum requirements, often at an additional cost. Managers will need to evaluate new-equipment purchases from different vendors, with an ultimate goal of reducing water use.
2

. Making Plumbing Retrofits Work

I'm Dan Hounsell, editor of Maintenance Solutions magazine. Today's topic is, plumbing retrofits.

Institutional and commercial facilities tend to reprioritize their activities regularly, but occasionally, organizations retain one priority for the long term. One such organization is the Northside Independent School District in San Antonio, where the top priority for years has been to save water and energy.

A key step in the district's conservation efforts came four years ago, when it completed large-scale plumbing retrofits, which have generated significant savings in utility costs and water use.

The school district has 119 facilities encompassing 12.8 million square feet. New schools feature water-efficient plumbing fixtures, but when the district began performing large-scale plumbing retrofits, the focus remained on the district's older facilities, says Bernie Morin, the district's director of maintenance and operations.

In addition to working with utility companies and taking advantage of rebates, managers taking on such retrofit projects also need to think about scheduling and maintenance. In Northside's case, many retrofits took place after hours or on weekends, and because extracurricular activities occur during non-school days, strong communication with each campus to schedule the retrofits was important.

Making sure technicians are equipped to maintain the new technology also is crucial when bringing new technology online. Morin has a handful of experienced plumbers on his staff, and they worked closely with the contractors because the plumbers have the inherent knowledge of the buildings a contractor does not possess.

"(The plumbers are) very experienced; they're very knowledgeable," Morin says. "They attend workshops. There are training seminars. Anything that we see is going to be sponsored by somebody, we try to send (employees) to continue the education process. That's really paid off a lot."
3

. Plumbing and Water Conservation

I'm Dan Hounsell, editor of Maintenance Solutions magazine. Today's topic is, plumbing and water conservation.

Even as the sustainability movement has gained speed, the concept of saving water largely has been a regional concern. And while water-efficient fixtures are available, they have not been used nearly as extensively as energy-efficient products.

Maintenance and engineering managers might have thought the options for water efficiency were either to go completely zero-water-consumption (in the case of urinals, for example) or implement operational strategies to reduce consumption (in the case of chillers). Now, the U.S. Environmental Protection Agency's WaterSense label is elevating water-efficiency awareness to a national level. The label, like Energy Star, will give managers a seal of approval for water-efficient products.

As part of its efforts, the WaterSense program offers these actions managers can take to curtail indoor and domestic water use in institutional and commercial facilities:

Install high-efficiency dishwashing equipment, and run units only when full. Also, install high-efficiency pre-rinse spray valves.
Install a garbage strainer instead of a garbage disposal.
Use air-cooled flake ice machines.
Retrofit restrooms with high-efficiency toilets, urinals, lavatory faucets and showerheads.
Install high-efficiency clothes-washing machines in laundry operations, and run them only when full.
Ensure steam sterilizers are equipped with tempering water-flow controls.
To curtail water use related to cooling and heating:
Optimize cooling tower performance to achieve the maximum cycles of concentration.
Consider alternative sources of water for cooling tower makeup.
Eliminate the use of single-pass cooling.
Return steam condensate to the boiler.
Finally, to curtail water use in outdoor areas, WaterSense suggests:
using a weather-based irrigation-control or soil-moisture sensor for automatic control of irrigation systems
choosing native, drought-resistant plants for landscaping
auditing and optimizing irrigation systems to achieve maximum distribution uniformity of water.
4

. Plumbing and Water Conservation

I'm Dan Hounsell, editor of Maintenance Solutions magazine. Today's topic is, plumbing retrofits.

Among the biggest challenges facing maintenance and engineering managers overseeing plumbing retrofits is product compatibility. For example, older toilets can have flows as high as 6 gallons per flush, or gpf. And the bowls on these toilets were designed for that flow. But if a retrofit calls for an upgrade to fixtures that use 1.6 gpf or 1.28 gpf, the manager will need to check with the bowl's manufacturer to ensure its design operates with the new, lower flow.

If not, it might be necessary to replace the bowl as part of the retrofit to prevent back-ups and overflows. Even so, the savings of 4.4 gpf or 4.72 gpf — multiplied by the number of flushes per year and again by the number of toilets, plus trouble-free operation and lower maintenance costs — are worth the upgrade cost.

Other product options for managers to consider incorporating into retrofits are dual-flush, auto-flush, and waterless urinals.

With dual-flush valves, moving the handle in one direction allows a lower flow for flushing liquid waste. Moving it in the opposite direction allows a higher flow for flushing solid waste.

Auto-flush valves flush when the user moves away from the fixture. This design uses only the amount of water needed to keep the fixture clear, as opposed to a periodic, scheduled flush, whether a visitor uses the fixture or not. Managers also can specify auto-flush valves that operate on solar energy, using only the lighting in the restroom to maintain sufficient energy to operate the valve.

Waterless urinals do not require valve upgrades, just the addition of the liquid seal and an insert to hold it in the existing urinal drain. While waterless urinals eliminate water use and generate savings, managers need to consider their maintenance requirements before specifying them for retrofits, as they might demand more specialized maintenance compared to their more traditional, water-using counterparts.
RELATED CONTENT: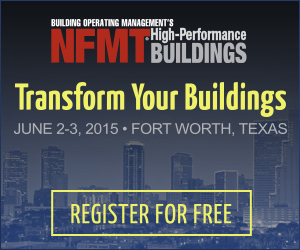 ---
QUICK Sign-up - Membership Includes:
New Content and Magazine Article Updates
Educational Webcast Alerts
Building Products/Technology Notices
Complete Library of Reports, Webcasts, Salary and Exclusive Member Content


All fields are required.


click here for more member info.

---
---
---