4

FM quick reads on Restrooms

---
1. Supplies Costs Are Overlooked in Restrooms
For restrooms that use paper towels, avoid installing the traditional, folded towel dispenser. Too often these dispensers are improperly loaded or are overstuffed, making it difficult to get the product out of the dispenser, or resulting in users getting more towels than they actually need. Large roll dispensers, particularly those that are touchless and dispense product automatically, can cut supplies costs while reducing the chances that towels will be dropped on the floor. Large-capacity dispensers also decrease the frequency with which they must be restocked.

The same holds true for tissue dispensers. Large capacity dispensers will reduce labor requirements by requiring less frequent restocking of the dispensers.

If you are about to undertake a major renovation project, don't cut corners. Make certain that the specifications and details presented in the design are sufficient to result in the finished project meeting all design requirements for reducing long-term operating and maintenance costs. Require that all fixtures to be installed are third-party certified in meeting the required flow rates.

Some of these measures are best implemented at the time of a major restroom renovation project. Others can be implemented at any time, although costs may be higher if they are added in a piecemeal manner. Even then, the benefits and cost savings typically will outweigh the additional first costs.
2

. Facility Design Important Facet of Maintaining Cleanliness of Restrooms

Too many facility designs ignore the implications of that design on cleaning requirements. To be effective, all elements of the restroom must be considered, from the ceiling to the floor, including fixtures, surfaces, and finishes. Every design decision made must consider its impact on cleaning labor and materials, or a restroom that is difficult to clean won't be clean.

For example, fixtures such as waste containers and paper and soap dispensers should be positioned to minimize cleaning requirements. Soap dispensers positioned over counters rather than sink bowls tend to leave material on the counters, which increases both cleaning efforts and frequency.

Even something as simple as selecting the right colors and finishes can reduce cleaning requirements. Light color countertops are better at hiding water stains than dark countertops. Similarly, surfaces and fixtures with a high polish finish show dirt and stains more readily than satin or dull finished ones. Medium- to dark-color ceramic floor tile will require less frequent cleaning. Selecting larger size floor tile will reduce the frequency and the difficulty of cleaning grout.

Restroom floors should have a positive slant towards multiple floor drains to ease the task of cleaning the floor. Fixtures, partitions, and trashcans that are attached to the walls or ceiling rather than the floor also reduce cleaning requirements.

Don't forget the custodial closet. Closets should be conveniently located within individual restrooms or within one of a cluster of restrooms. Wet closets must include the necessary plumbing systems, including a boxed-in floor drain to contain spills. Other equipment installed in the closet should be selected to match the specific cleaning requirements of that restroom or restrooms. Closets also should be properly sized in order to store an adequate supply of consumables for the restroom.
3

. Restroom Image: The Maintenance Connection

Restrooms are one area of facilities that most people never notice — until they do. When managers notice a restroom, it is usually because someone has complained about it. Even though restrooms frequently go unnoticed by managers, they are one of the most visible and memorable areas within any facility for both building occupants and visitors. Paying close attention to maintenance can pay major dividends when it comes to improving the image of restrooms.

While cleaning is the most significant maintenance cost, there are other issues that should be addressed during the design phase that will have a major impact on maintenance costs. One of the biggest complaints of maintenance crews is the lack of isolation valves on restroom fixtures. Without isolation valves, a problem with one fixture takes the entire restroom out of service. Each fixture must be installed with its own isolation valve.

During the selection process, particularly for fixtures and their controls, attention must be paid to the maintenance requirements of different options. While the rated service life of the fixtures may be very similar, the actual service life of individual components, such as seals, may differ widely. And the time and ease of getting to components that must be periodically replaced also varies widely from unit to unit. Components should be evaluated in part on how difficult it will be to maintain them.

Selecting dispensers for consumable supplies that are adequately sized for the level of use in a particular restroom will reduce the number of times that dispensers must be re-supplied, reducing maintenance costs. Touchless controls on these devices will limit the quantity of product dispensed, which also reduces the frequency with which they must be refilled.

Even something as simple as selecting the right lighting fixture can impact maintenance costs. A well-designed lighting fixture will require no special tools or disassembly of the fixture in order to replace the fixture's light sources. Similarly, the fixtures should be selected in part based on the cost of the lamps that they require.
4

. Tips for Managing Water Systems in Existing Buildings

Problems in drain lines are no justification for wasteful consumption. Instead, consider these tips for managing waste systems in existing buildings:
When replacing fixtures with lower-flow models, inspect drain lines for corrosion and other conditions that obstruct the flow.
Clean waste lines when replacing fixtures.
Consider using toilet paper with lower tensile strength for lines prone to clogging.
Carefully consider reduced fixture flow rates for toilet fixtures located at the beginning of long horizontal runs.
During product specification, consider the placement of high-efficiency toilets and other nearby fixtures within the system.
Discourage building occupants from flushing paper towels and other items not meant for the sanitary system.
Consider the suitability of the waste-pipe material and maintenance procedures before connecting waterless fixtures.
From a sustainability perspective, we need to think more broadly about conserving the water facilities use daily, as well as about maintaining existing buildings so they provide long-term value for the resources they require during construction and operation. For plumbing systems, this means considering water-conservation measures, as well as the way decisions are inherently tied to waste systems and their ability to operate efficiently.
RELATED CONTENT: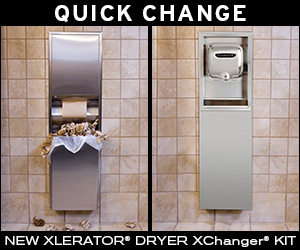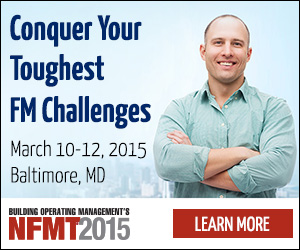 ---
QUICK Sign-up - Membership Includes:
New Content and Magazine Article Updates
Educational Webcast Alerts
Building Products/Technology Notices
Complete Library of Reports, Webcasts, Salary and Exclusive Member Content


All fields are required.


click here for more member info.

---
---
---