4

FM quick reads on Plumbing

---
1. Easy Cleaning Key to Restroom Savings
One essential measure of efficiency for managers seeking savings in restrooms is ease of cleaning. The less time spent cleaning a restroom, the better. To minimize cleaning times, managers should give careful thought to restroom materials and fixture selection.

Tile is a tried-and-true restroom material that has a long life span, but managers should not view tile as low-maintenance material because cleaning grout lines between tiles can be laborious. Managers specifying tile for floors or walls should consider installing large-format tiles to minimize the amount of grout requiring periodic maintenance.

Vinyl floors and wall coverings also deserve a second look. The lack of seams in sheet vinyl makes it easier to maintain than other options, and it is easier to replace. Manufacturers produce vinyl in many attractive styles, and the cost of vinyl flooring makes it one of the cheapest options available.

Managers should be aware that the production of vinyl comes with an environmental cost: It is manufactured using chlorine gas and phthalate plasticizers.

For large expanses of walls, moisture-resistant gypsum board and paint suitable for the wet, humid conditions of a restroom might be the simplest solutions. Housekeepers can wipe painted walls, and repainting these surfaces generally is fast and cheap.

Managers also should consider installing a backsplash behind sinks, and tiles might be suitable when used in small amounts. Alternative materials to consider include glass, mirror, marble, and waterproof wall panels. These materials can come in large panels and, unlike tiles, have few joints, which can lead to leaks.

To ensure more efficient and effective restroom cleaning, managers should consider specifying wall-hung fixtures instead of floor- or surface-mounted fixtures. Also, replacing a floor-mounted water closet in a restroom retrofit can be an expensive and, therefore, impractical undertaking because it will involve rerouting drain lines.

Managers also can replace counter-mounted lavatory faucets by relocating water pipes to the wall. This eliminates faucets on the counter, which are obstructions to efficient counter cleaning.
2

. Minimizing the Need for Drain Cleaning

I'm Steve Schuster, associate editor of Maintenance Solutions magazine. Today's topic discusses drain cleaning.

Drain cleaning in institutional and commercial facilities presents maintenance and engineering managers with challenges that are especially tough in health care and education. The challenges in health care facilities include the need for preventive maintenance to head off clogged drains, as well as ensuring a sterile environment for patient health and safety.

Perhaps the biggest challenge in education facilities is the need to stay one step ahead of students who create major headaches for departments' efforts to keep sinks, urinals and toilets clog-free and operational.

By understanding the most pressing drain-cleaning challenges related to both equipment and processes, managers and front-line technicians can develop solutions to prevent and detect these problems.

Using correct, measured amounts and types of chemical cleaners, along with effective methods, ensures health and safety while minimizing product use. Experts warn against using acid-based cleaners because, in addition to eating away iron pipes, they dissolve the grease but simply move it farther into the drain, where it re-solidifies and can cause a worse clog. Bleach cleaners turn grease into carbon dioxide and water, and are much safer.

Discussing drain cleaners with several vendors helps managers get the right combination for their drains, as well as advice on application training. Education courses offered by vendors ensure that supervisors know problems to watch for and that custodians know proper amounts for dilution rates to achieve the desired strength, and application methods.
3

. Plumbing Systems: Setting Retrofit Goals

I'm Dan Hounsell, editor of Maintenance Solutions magazine. Today's topic is, setting plumbing upgrade goals.

When maintenance and engineering managers make the decision to upgrade restrooms in institutional and commercial facilities, they typically are motivated by one or more common goals.

They might want to reduce water use in restrooms in an effort to curtail utility costs. They might want to implement a design that reduces maintenance costs by making it easier to keep the restrooms clean. In some cases, user complaints might motivate them to seek a new restroom with improved hygiene. Or they simply might want to bring the image of the restroom projects in line with the rest of the facility.

How well managers achieve their desired goals depends on the care with which they approach the process of planning upgrades. Managers should start the restroom upgrade process by clearly identifying the goals of the project. Forget cookie-cutter approaches. Most likely, they are the cause of the restroom's current problems. Instead, managers should approach every decision with a clear understanding of the way it will affect the desired goals of the upgrade.

For example, if one of the primary goals is to reduce cleaning costs, managers will need to evaluate the impact of every element in the new restroom design — including ceilings, floors, fixtures, surfaces and finishes — in terms of its relative cost to maintain its cleanliness.

Perhaps the most common error managers make when planning restroom upgrades is focusing on first costs. Over the life of a restroom, first costs in most applications are small, relative to operating and maintenance costs.

Focusing too heavily on an upgrade project's first costs also can result in a restroom design that does not allow managers to achieve long-term savings and hygiene goals. In many cases, even slight increases in first costs can result in very significant decreases in long-term operating and maintenance costs.
4

. Plumbing: Water-Conservation Strategies

I'm Dan Hounsell, editor of Maintenance Solutions magazine. Today's topic is, water conservation strategies.

Maintenance and engineering managers already have begun to master the ins and outs of energy efficiency. But energy isn't the last word when it comes saving resources and operating a greener facility. Water efficiency is quickly growing as a green building and operations strategy.

A comprehensive water-management plan is the key to using water efficiently. Managers can start by gathering stakeholders in the organization to develop a list of water-management goals, incorporate water efficiency into long-term facility operation objectives, and address the resources necessary to achieve water-saving goals.

Understanding the price of water and wastewater is important when evaluating project cost effectiveness. Managers can determine costs by checking water bills and contacting utilities. They can collect data from waters meters — or submeters, if available — to calculate the facility's total annual water use and identify seasonal trends or abnormalities.

Restrooms, locker rooms, and other areas with plumbing fixtures offer obvious options for water efficiency. Besides regularly checking these areas for leaks, retrofitting restrooms with more water'efficient plumbing fixtures can produce significant water savings, as well as reduced energy costs from heating the water for sinks and showers.

WaterSense labeled models of tank'type toilets, flush urinals, and showerheads are independently certified to use at least 20 percent less water, and they perform as well as or better than standard models.

WaterSense labeled faucets and accessories use about 30 percent less water than conventional lavatory faucets. As with all WaterSense labeled products, each model is certified to meet strict criteria for efficiency and performance. A 100'employee office building that installs WaterSense labeled flushing urinals could save 26,000 gallons of water per year based on an average of two flushes per day.
RELATED CONTENT: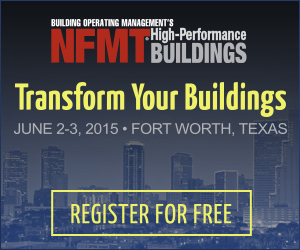 ---
QUICK Sign-up - Membership Includes:
New Content and Magazine Article Updates
Educational Webcast Alerts
Building Products/Technology Notices
Complete Library of Reports, Webcasts, Salary and Exclusive Member Content


All fields are required.


click here for more member info.

---
---
---