4

FM quick reads on inventory

---
1. MRO Storerooms: How to Avoid Lost Profits
This is Chris Matt, Managing Editor — Print & E-Media with Maintenance Solutions magazine. Today's tip is inventory-management strategies. Most organizations continue to overlook MRO parts storerooms as sources for overall savings, but time is money, and unscheduled equipment downtime often means big money. Facilities that spend money improving the organization and efficiency of MRO storerooms actually are investing to prevent lost profits.

An MRO parts storeroom should look and operate like a retail facility. It should be clean, organized, labeled, well-stocked, and well-run. There is a place for everything, everything is in its place, and the owner controls the cash flow. The storeroom must have a clean, professional-looking appearance that generates confidence through good customer service.

By focusing on several strategies, managers can ensure their departments' MRO storerooms generate savings for the organization. Focusing on organization, among other things:
• eliminates the need for costly expansion or the construction of a new storage facility
• maximizes the effective use of existing space through efficient design and set-up
• leads to the replacement of old, homemade, or barely functional storage fixtures with modern, efficient units that increase the density of parts storage
• results in sorting parts generically, by specific machine, or by process, expediting their location and retrieval
• allows for more prompt location of parts, resulting in less equipment downtime

Focusing on automation, such as bar-coding technology, enables storeroom supervisors to:
• make managing parts and tools faster and more accurate
• record all aspects of every transaction accurately
• eliminate manual data entry and mistakes for parts checkout, receipt and reorder
• eliminate inefficient, time-wasting parts checkout using paper and pencil
• conduct physical inventories and cycle counts more efficiently because the parts are bar-coded
• provide a variety of useful reports.
2

. Inventory: Proven Management Strategies

This is Chris Matt, Managing Editor of Print & E-Media with Maintenance Solutions magazine. Today's tip is proven inventory-management strategies.

The flow of spare parts and replacement equipment into institutional and commercial facilities is constant. But in too many cases, maintenance and engineering departments manage these materials inefficiently. The result is wasted money and time.

One proven strategy for streamlining inventories involves placing vending machines strategically throughout a campus or facility. The machines store commonly used items, such as gloves, tape, lubricants, and batteries. Studies show that by placing these items in vending machines, managers can cut storeroom inventories by an average of 20 percent, and labor costs drop by up to 40 percent.

If managers can optimize the use of a computerized maintenance management system, or CMMS, and improve materials management, they can look more strategically at opportunities and technology to help them successfully manage daily activities.

For example, a more sophisticated approach to inventory management involves the use of radio frequency identification (RFID) technology, which uses electromagnetic waves to exchange data between a terminal and an object, such as equipment, materials, or a person. The goal in using RFID is to capture and allocate time and materials to a piece of equipment, asset, or facility.

The challenge for managers seeking greater efficiency and productivity in inventory management is to identify the greatest opportunities and prioritize activities accordingly. Is the department optimizing its CMMS to make the right business decisions? Are technicians using storerooms as managers intend them to be used? Answers to these questions will go a long way in determining the level of success a department will achieve.
3

. Plumbing Maintenance: Focus on Efficiency

I'm Dan Hounsell, editor of Maintenance Solutions magazine. Today's topic is, successful plumbing maintenance.

During product specification for plumbing system upgrades, maintenance and engineering managers need to consider the way technicians will maintain products and equipment they have installed in restrooms. Effective maintenance is a primary factor in limiting life-cycle costs and extending the product's performance life.

For example, technicians should know the location of every shut-off valve because, inevitably, fixtures wear and require replacement. If managers pay adequate attention to shut-off locations and ensure workers have easy access to them, labor costs will remain low every time workers have to inspect or repair the plumbing.

Managers also should specify shut-off valves for their ability to operate maintenance-free for long periods and, when needed, operate easily and close completely.

If managers fail to take valve materials into consideration, they will end up with valves that have a low first cost but freeze up or leak after closing, resulting in higher long-term costs. In such cases, closing or replacing the shut-off costs much more than simply replacing a faucet washer, and job time is greater, driving up the cost and causing greater inconvenience to occupants.

Managers also need to track advances in a host of other restroom products that will affect maintenance activities. For example, noteworthy advances in dispensers include: automatic soap dispensers; automatic toilet-tissue dispensers; sanitizers that require no operation, no electricity and no batteries; and automatic aerosol-spray units.
4

. Plumbing Retrofits: Setting Standards for Success

I'm Dan Hounsell, editor of Maintenance Solutions magazine. Today's topic is, successful plumbing retrofits.

One proven strategy for maintenance and engineering managers to successfully specify plumbing and restroom products is to develop a manual of standard practices related to these products by searching trade literature and online resources, as well as talking with vendors. This approach can benefit managers in several ways.

First, referring to this manual when specifying products ensures the specifier selects a compatible product, technicians install it according to code, and inventory costs remain low. Also, the manual provides a ready reference when comparing and evaluating new products, and keeping the plumbing and restroom equipment up to date.

One key feature of the manual is the standard source list. This list describes each restroom component group and the authorized suppliers, and it provides supplier contact information. Examples of component groups are baby-changing stations, door hardware, dispensers, electrical equipment, hand dryers, partitions, urinal screens, plumbing fixtures, tile, and trash receptacles.

Specification standards generate savings because they limit duplication of parts, assemblies and services, and they ensure predictable costs and timely delivery.

One final benefit is a limit on so-called attic stock. Management sets a dollar limit on the amount of spares and leftovers from earlier construction projects that can accumulate, thereby keeping a cap on inventory costs and required storage space. Managers often can sell the excess back to the supplier.
RELATED CONTENT:
inventory , inventory management , mro parts , storerooms , mro storerooms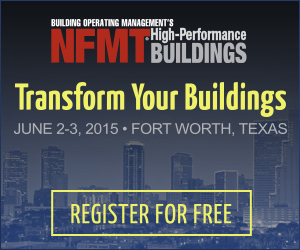 ---
QUICK Sign-up - Membership Includes:
New Content and Magazine Article Updates
Educational Webcast Alerts
Building Products/Technology Notices
Complete Library of Reports, Webcasts, Salary and Exclusive Member Content


All fields are required.


click here for more member info.

---
---
---