4

FM quick reads on

---
1. University's Planning Yields More Funds For Replacement
Today's tip comes from the University of Texas at Austin, one of the largest public universities in the United States. The school needed an efficient, objective, and repeatable method of prioritizing facilities projects, as well as creating its annual budget and 10-year plan.

After an initial facility condition assessment of the entire campus in 2002, the university completed a second assessment in 2005 and a third in 2010. Recently, the facilities team wanted to find the best method to maintain the integrity of the data, while implementing a schedule of detailed condition assessments each year for 20 percent of the approximately 19 million square feet of facilities.

The university has a large maintenance and facilities staff, making self-assessments a feasible solution to complement the five-year professional assessment cycle. Using a Web-based guided self-assessment tool from VFA Inc., the staff can gather current data for critical buildings.

One benefit of gathering accurate facility data is that the true condition provides a metric to analyze the effect of investing in facility improvements. Industry-wide, this benchmark is known as the facility condition index (FCI).

When gathered in a software database, as UT-Austin did, FCI provides a complete view of the necessary and recommended maintenance items and their cost for the selected portfolio, as well as the expected replacements for the major building systems. It can then serve as the basis of strategic facilities plans.

By using the software to evaluate the condition of its buildings, UT Austin's capital planning program has helped to demonstrate a need for more funding to support renovation and renewal projects, resulting in annual budget increases. The old spending trend of 80 percent funding for repair work and only 20 percent for system replacement and renewal has been inverted to 15 percent funding for repair and 85 percent for system renewal.
2

. ESCO, Energy Audit Can Raise Efficiency

Today's tip is to consider an audit by an energy service company to reduce energy costs through retrofits. For managers to make the most of the opportunities ESCOs provide, they must understand the savings they can achieve by undertaking all suitable projects for their facilities.

One of the most important steps is identifying the program's goals. Common issues include:

Are rising energy costs putting a squeeze on the energy budget?
Have billing changes occurred that will result in significant increases in energy costs, even though energy use might remain constant?
Has energy use risen to the point that costly upgrades are required as a result of limits on capacity?
Does the facility need to replace HVAC components due to equipment age and simply be sure that replacement equipment is the highest efficiency possible?
Each of these goals requires a different approach. For example, if the goal is to reduce electrical demand, the program should focus on such tasks as peak-load reductions and load-time shifting. Improving the operating efficiency of HVAC units in this case might reduce energy use but might not have a significant impact on electrical demand.
To identify the most cost-effective way to meet goals, work closely with the ESCO on an energy audit. An energy audit is a detailed survey of the facility that determines where the potential exists for energy savings. Typical audits have four targets: lighting systems, HVAC systems, building controls, and building envelopes.
When looking to improve the operating efficiency of HVAC systems, managers must evaluate a range of options, such as replacing existing components with higher- efficiency units, closely matching system capacities to needs, performing neglected maintenance, or balancing air and water systems so they provide optimal levels of heating and cooling.
Audits should also consider other issues, such as the energy and cost benefits of on-site generation of electricity from conventional or renewable sources, particularly for facilities looking to reduce their peak electrical demand.
3

. Talk With Tenants About Security Needs

Today's tip is to remember that one key to security in multitenant buildings is also the oldest, lowest-tech option available: Talking. One reason communication is so important is that different tenants often want different levels of security, says David Duda, associate partner at Newcomb & Boyd.

"Some may want significant screening of visitors and deliveries prior to their entry onto the property; others may have little concern for the screening that takes place," he says. "Some tenants may feel that the act of screening is too invasive and may drive off clients or customers."

Face-to-face communication can go a long way toward alleviating problems. Government buildings frequently contain several departments or agencies, says Duda, and these tenants may well have different needs and require different systems. What's more, the tenant systems often communicate with different locations off-site.

On one project, says Duda, the solution was a "security summit meeting" that pulled together representatives from each government department and agency involved in the project. "We mounted floor plans for each area on the walls of the conference room and went from tenant to tenant and floor by floor through the building until we had reached a consensus as to the specific security measure to be implemented in each area," says Duda.

Once tenants had bought into the conceptual aspect, specific technologies could be chosen.

Another important step is to delineate building procedures and security systems with the tenant. One frequent issue, according to Fred Miller, president of Security Resources Group, is that a building owner's procedure for adding or deleting people to and from the lobby security database is not kept up-to-date.

Suppose an employee leaves a tenant firm but the tenant never updates the database. "There might be 3,000 people in the building but 5,000 people who have access to the building because their access privileges weren't removed promptly," Miller says. "It's a common problem."

Situations like that show why it's so important that owners stipulate security system expectations from their tenants. Informing tenants and clearly spelling out lease requirements — terms and conditions, too — is part of the owner's obligation.
4

. Ceilings gain more visual interest

Today's tip is to be aware of new choices in ceilings. White, square, perforated ceiling panels that have characterized commercial ceiling products for decades served their purpose to covere up the mechanics, says Jeremy Verstraate, product marketing manager for acoustical ceilings with USG Corporation.

Now, manufacturers are offering panels in a range of shapes and sizes, such as four-by-four or two-by-eight panels, along with less common shapes, like triangles. Some companies also offer panels with patterns and other design details. For example, the newer panels can lie flush with the suspension system. Some forego the perforated surface for a smooth one. These changes give variety, freshen up the space and take away the visible suspension system, Verstraate says.

The expanded variety is a result of improved technology in the machines that manufacture ceiling tiles, says Ron Rice, national sales manager with Hunter Douglas. Larger or unusually shaped panels tend to be somewhat higher in price than conventional panels because they cost more to manufacture, Rice notes, but the cost of the material itself remains about the same.

Building owners can also find ceiling panels in which color and patterns are designed and manufactured into the product. The coloring agent used in the manufacturing process is much less than the amount needed for on-site paint methods. In addition, no VOCs are introduced into the environment and the range of colors and patterns is greatly expanded. As a result, the percentage of commercial ceilings that feature colors and patterns is likely to keep growing.

The enhanced looks don't stop at the installation. Some manufacturers are offering ceiling systems that can withstand stronger and more frequent cleanings, so that they stay looking good for a longer time, says Robert Marshall, manager of marketing technical services with CertainTeed Ceilings. That makes them particularly well suited for use in cafeterias and health care facilities, as well as in laboratories and clean room applications. For instance, one system can be cleaned daily with either disinfecting chemicals or high-pressure wet washing.

As more new ceilings are installed, they're likely to begin capturing the same level of attention that floors and walls currently do.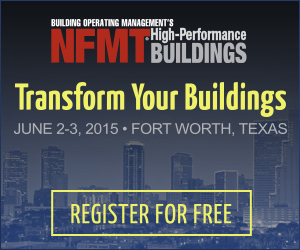 ---
QUICK Sign-up - Membership Includes:
New Content and Magazine Article Updates
Educational Webcast Alerts
Building Products/Technology Notices
Complete Library of Reports, Webcasts, Salary and Exclusive Member Content


All fields are required.


click here for more member info.

---
---
---