2

FM quick reads on Social Media

---
1. Social Media For Facility Managers
Today's tip is about how facility managers can use social media to big beneft.

Mention social media to most facility managers, and chances are, you'll probably be treated to an eye-roll and a proclamation along the lines of "I have enough to do without carving out time to goof around on the Internet."

Tell a facility manager that using social media can help his or her organization be green, and the reaction will probably be closer to overt scorn. But, believe it or not, that is happening more and more these days — facility managers taking to Facebook, Twitter and LinkedIn to disseminate information about sustainable (and other) initiatives.

Say, for instance, a facility manager at a university is working on a new recycling plan. What better way to keep students informed about the plan — and therefore get them to help — than to post information about the plan on either the university's Facebook page, or better yet, the FM department's own page? How about a using Twitter to let students and faculty know when a demand-response event is in effect? Or setting up a Facebook event page to help get attendees to a meeting explaining a new energy efficiency initiative? Really, the possibilities are endless.

Twitter and Facebook may have the most impact among younger "occupants," but that doesn't mean facility managers in other types of organizations can't use social media effectively, as well. Many professionals are using LinkedIn these days to network — to make contacts with similar professionals and to share information. LinkedIn is also a great tool for keeping abreast of industry news — green and otherwise.

Indeed, keeping on top of news is one of best uses for Twitter, as well. Even if you don't tweet yourself, simply subscribing to top media resources, and important industry organizations, you can stay informed quickly and efficiently. Oh, and don't forget to follow us on our own social media feeds to stay informed of what we're up to. Here's our Facebook page. And, please swing by and check out our own social networking site, MyFacilitiesNet. It's like Facebook specially targeted to the FM industry.
2

. Focus On Communication With Facility Management Staff When Costs Have To Be Cut

Today's tip from Building Operating Management: Focus on communication with facility management staff when costs have to be cut.

During difficult periods, it is important to communicate with employees for the purpose of managing resistance and facilitating buy-in. To help with a transition to outsourcing, ADP implemented a major communication plan, including "road shows," webcasts, telephone conferences and an extensive change management program. ADP worked hard to map employee benefits structures to the new company so that employees did not experience losses. At the same time, employees had to adjust to new reporting responsibilities and more paperwork.

When belts had to be tightened at SAP, employees were given information about the need for creating a smarter, more efficient organization. "We needed education, clarity, and transparency with regard to corporate objectives," says Larry Morgan of SAP. SAP employees worked collaboratively to achieve a 4 percent cut, and participatory decision making helped achieve "buy in" on austerity measures.

The law firm of Fenwick & West has worked hard to communicate with employees about reductions and changes, often using social media techniques such as Facebook, Twitter and blogging. "We have stepped up the marketing of the department," says Julie O'Loughlin, senior director of operations and facilities. "You have to justify what you are doing. [We] highlight the good things we are doing, educate on the changes. We send a digital newsletter with an internal portal that looks like a Facebook fan page."

Digital marketing has been a great success and has allowed a lot of interaction with employees, which creates buy-in about cost-cutting strategies, says O'Loughlin. For example, in the past, every kitchen on every floor used to have a selection of 20 teas and multiple kinds of coffee. Since many of these choices were not used, and since these products have a limited shelf life, the company was wasting a lot of money. An on-line survey of flavor choices eliminated about 60 percent of what was being offered in the kitchen, which was a significant cost savings for the company. "There was no pushback," says O'Loughlin.

This has been a Building Operating Management Tip of the Day. Thanks for listening.
RELATED CONTENT: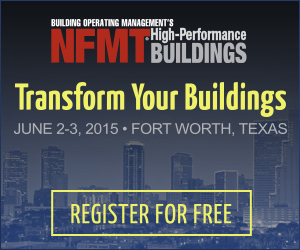 ---
QUICK Sign-up - Membership Includes:
New Content and Magazine Article Updates
Educational Webcast Alerts
Building Products/Technology Notices
Complete Library of Reports, Webcasts, Salary and Exclusive Member Content


All fields are required.


click here for more member info.

---
---
---