4

FM quick reads on communication

---
1. Good Communication Is Essential to Facility Management Success
Today's tip from Building Operating Management: In facility management, as with any leadership position, good communication skills are essential.

That might not have been true in the past, but it certainly is true today. "The old days of the facilities person being the one who took care of the heating and cooling stuff, sort of being a mystery behind the scenes, that's long gone," says Richard Christiano, assistant professor in the facilities planning and management program at Wentworth Institute of Technology.

One of the big complaints facing facility managers, Christiano says, is occupants wondering why they didn't know about a change before it happened. This occurs because someone in the facility department thought the change was so minor that notification would just be a nuisance and they should just go ahead. But taking that approach may well have unintended consequences. The facility manager could be making the situation that much more difficult because people are going to be on the defensive if they haven't been brought into the process.

It's almost always better for facility managers to overcommunicate rather than risk undercommunicating, say experts on communication. "I think people would rather get what they consider to be an unnecessary memo if there's some validity to it, than to not be told about something even if it's relatively minor," Christiano says.

In the end, good communication is about never making assumptions. Don't assume a message has been received just because you sent it. Don't assume that information has been understood without soliciting feedback. And don't assume that communicating is not important in the first place.

"I think, when it doubt, communicate," Christiano says.

This has been a Building Operating Management Tip of the Day. Thanks for listening.
2

. ADA: Communication for Success

I'm Dan Hounsell, editor of Maintenance Solutions magazine. Today's topic is, clear communication for enhanced accessibility.

The remedies for barriers to accessibility in institutional and commercial facilities might seem complex, given the systems, equipment and materials that often are involved in renovations and remodeling. But tactics for improving access outlined in the Americans with Disabilities Act, or ADA, need not be complicated. In fact, in some cases the remedies are surprisingly straightforward and practical.

For example, involving building occupants and visitors in the planning process will result in an accessibility plan that thoroughly addresses the access needs of all involved. Among the steps managers should consider are these:

Make the self-evaluation and transition plan available for public inspection.
Post a policy or statement of nondiscrimination that includes members of the public and employees.
Develop an ADA advisory committee that includes individuals with disabilities and other members of the public.
Maintain a library of staff-development resources that can be checked out or made available, including videotapes, presentations, and audiotapes.
Provide ADA materials and staff-development sessions for managers, administrators, supervisors, maintenance and operations staffs, and other departments as appropriate.
Adopt or develop procedures for grievances or uniform compliance that include members of the public, recipients of services, and employees.
Disseminate and post information regarding the organization's compliance procedures.
3

. Capitalize on Fire Alarm Systems Advanced Communications Capabilities

As fire alarm system technology continues to advance, facilities that rely on older systems may miss opportunities to improve important aspects of fire/life safety performance or to solve problems that older systems cannot address.

One benefit of new fire alarm system technology is improved communication. Combine the powerful information provided by field detection devices with the ability to capitalize on high-speed data transmission provided by fiber optic transmission media, wide-area and local-area networks, and you have fire alarm systems capable of sending very detailed information via Internet-based digital alarm communicator transmitters or direct networks to emergency responders or off-site monitoring locations with device specific detail.

Because the fire alarm industry knew little of professional sound and communication principles, early generation voice communications systems provided unintelligible notification messages that were solely used for fire alarm functions and fire department operations. The voice communications component of fire alarm systems has evolved to the point that specifically routed messaging can deliver clear emergency and non-emergency messages, including music. This change required the fire alarm industry to realize that redundant voice communications systems, like PA systems and music systems, could be replaced by fire alarm voice communications systems. Codes in place require the industry to supervise speaker circuits for integrity in the active state. In other words, while music is playing, the fire alarm system must be capable of identifying that a circuit has been damaged or broken. Today this capability is now commonplace for the major fire alarm system manufacturers.

Over the last 10 years, fire alarm systems have begun to evolve into multi-faceted mass communication platforms, largely as a result of terrorist events and government or military needs. These mass communication capabilities include fully intelligible voice messaging systems that can integrate textual signage. Multi-faceted mass communication plans can now draw on the fire alarm system to provide message outputs via text messaging, paging and email. Additionally, fire alarm systems can be seamlessly integrated with wide area mass notification systems that use high-power outdoor speaker arrays that can reach large geographical areas with highly intelligible messages.
4

. Reduce IAQ Complaints Through Communication

In the past, the prevailing characteristic of new and more sophisticated controls was to reduce the influence of the occupants. Thermostats controlling individual spaces and operable windows were removed. The result was that customer needs were reduced to standards. The customer was left with other no means to control his or her environment than to complain.

In the absence of individual controls, facility managers should try to create ways for occupants to still influence their environment. Providing opportunities for occupants to set the quality agenda for their work environment through surveys, focus groups or interviews will go a long way to minimizing indoor air quality complaints. They are ways to replace individual controls with communications.

Facility managers can show a link between what the customer wants in the way of environmental quality and the operating strategies they employ. This gives control back to the occupants, reduces complaints and creates a partnership in environmental quality management. It is a no cost way to improve satisfaction and complements any planned capital improvements over time you may have in place that will return some control to occupants over their environment.
RELATED CONTENT: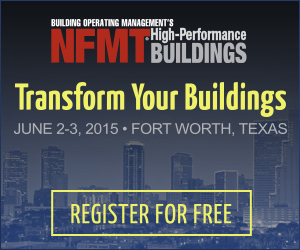 ---
QUICK Sign-up - Membership Includes:
New Content and Magazine Article Updates
Educational Webcast Alerts
Building Products/Technology Notices
Complete Library of Reports, Webcasts, Salary and Exclusive Member Content


All fields are required.


click here for more member info.

---
---
---