4

FM quick reads on Facility management

---
1. Facility Managers Can Help Win Funding By Building Relationships With Top Management
Today's tip from Building Operating Management: Facility managers can justify funding by building relationships with senior executives.

Long before you even consider putting pen to paper on a formal proposal for a facility project, there are several steps to be taken that can help stack the deck in favor of getting the money you need. Basically, success or failure comes down to credibility. Stormy Friday, president of The Friday Group, gives a succinct summary of what needs to be done to begin earning that credibility: "Be out and about. Build relationships. Be visible. Build bridges. Know who the upper managers rely on and trust, and go to them first. Campaign. Get friendly with their administrative assistants — they'll be the ones who get you on the calendar."

At first blush, that may sound overwhelming, but if you really think about it, those are all strategies that should be standard operating procedure for facility managers, regardless of whether or not they're about to ask for money.

Friday says she thinks the key to stacking the deck in favor of a "yes" is simply having a personal relationship beyond presenter/listener. "I really believe in the 'accidental bump-ins,'" she says. "Have a sense of when executives will be in the elevator, and literally have your one-minute elevator speech ready."

The "accidental bump-in" is a good time just to plumb their top managers' opinions, says Cooke. In other words, you shouldn't even mention you're about to propose something formally. "Talk to them just to get their opinion without any pressure," he says. "Ask them, 'Hey, what do you think about renewable energy?' Find out what they're passionate about. Try to understand them. Find out what makes them tick."

Friday suggests finding out if senior executives have their own role models or organization they've modeled parts of the company after. And then research what those other organizations are doing and how you can incorporate some of those strategies into your own plans.
2

. Changes In Health Care Bring Leaner Facility Staffs

Changes in health care bring the challenge of leaner facility staffs. That means doing more with less.

At Crozer-Keystone Health System in Pennsylvania, Brian Crimmins, vice president, facilities planning and development at operates with a lean team. There are three facilities directors over the five hospitals and 40 satellite facilities. There is also a director of real estate and a team of five in property managers that report back to Crimmins.

"For the most part, we all wear several different hats," says Anthony Salvatore, director of facilities services at Taylor Hospital and Springfield Hospital. Twenty years ago, there might have been a director each for facilities, environmental services, and safety and security. Not anymore. It's harder because there's more work. But, he concedes, "it's easier in that you can't have a disagreement between three different departments if one person is running the three different departments. There's more directed vision. You see it one way."

As services move out from the centralized hospital campus to smaller, often less complicated, facilities in the community, it creates more moving parts for Crimmins' team to track and dilutes available resources for operations and management. Recently, on a committee related to Joint Commission standards, all of the off-campus sites and who is doing what were put on one spreadsheet, which was an eye-opening experience. "It's no longer one hospital and you know what you have. We've got stuff all over the place now," Crimmins says. And with 40 and growing off-campus sites, the trick is to know who is responsible for what, especially when the Joint Commission or the Department of Health comes calling.

The number of off-campus sites presents a sheer physical logistics challenge. Currently, the set up is that each hospital's director is also responsible for the sites generally in the hospital's geographic area. For example, Salvatore has eight in his zone. "It's a challenge to give them the time and energy they deserve," he says.

When Crimmins looks to the next five to 10 years, he sees a continuation of tuning the health care facilities portfolio to meet the needs of the customers. As inpatient numbers continue to fall at the hospitals, some of the spaces might be converted to outpatient purposes. Some of the smaller ambulatory sites will be consolidated into larger sites, where you can get more critical mass and gain some staffing and operations efficiencies.

"It all goes towards finding the most cost-effective way to deliver the highest quality of care," he says.
3

. Making The Decision To Outsource Facility Management

When ADP began outsourcing its facilities management, the company retained six people in-house. Previously, more than 200 decentralized staff worked in ADP's U.S. buildings, where each facility was fairly independent.

"The good news is that for our associates who work in our buildings, [the transition] was almost invisible. To the people who got outsourced, it was major," says Art Elman, vice president of corporate real estate and facilities at the time that outsourcing began. The employees, as well as outside service providers — for example, the window washing company — switched their employer from ADP to the outsourcing firm. "Our first thought had been to consolidate [FM] within our own organization," Elman says, "but we didn't have the tools in house, and it wasn't our primary expertise." ADP instead decided to look for a company with better tools to manage facilities operations. Putting all of FM under the outsourcing provider's umbrella has improved management, consolidated purchasing and provided access to intelligence on a broader scale. The staff cuts, together with outsourcing, allowed ADP to reduce facility management expenses by 7 percent over two and a half years.

Not surprisingly, opinions on the "new normal" were mixed. For "shining stars," the change has created an additional career path within the outsourcing firm and allowed managers to become part of a group that specializes in what they do. But everyone had to stretch a little more, and there were a few who opted to quit or retire. "Some people bought into the fact that it was a career move, but some others said 'it's time for me to go,'" Elman says.

Because of outsourcing, facility management became more tightly controlled, with more sophisticated tools to purchase and better metrics to determine staffing.

ADP's communication strategy included "road shows," webcasts, conference calls and an extensive change management program. ADP attempted to map employee benefits structures to the new company so that employees did not experience losses.
4

. Focus On Communication With Facility Management Staff When Costs Have To Be Cut

Today's tip from Building Operating Management: Focus on communication with facility management staff when costs have to be cut.

During difficult periods, it is important to communicate with employees for the purpose of managing resistance and facilitating buy-in. To help with a transition to outsourcing, ADP implemented a major communication plan, including "road shows," webcasts, telephone conferences and an extensive change management program. ADP worked hard to map employee benefits structures to the new company so that employees did not experience losses. At the same time, employees had to adjust to new reporting responsibilities and more paperwork.

When belts had to be tightened at SAP, employees were given information about the need for creating a smarter, more efficient organization. "We needed education, clarity, and transparency with regard to corporate objectives," says Larry Morgan of SAP. SAP employees worked collaboratively to achieve a 4 percent cut, and participatory decision making helped achieve "buy in" on austerity measures.

The law firm of Fenwick & West has worked hard to communicate with employees about reductions and changes, often using social media techniques such as Facebook, Twitter and blogging. "We have stepped up the marketing of the department," says Julie O'Loughlin, senior director of operations and facilities. "You have to justify what you are doing. [We] highlight the good things we are doing, educate on the changes. We send a digital newsletter with an internal portal that looks like a Facebook fan page."

Digital marketing has been a great success and has allowed a lot of interaction with employees, which creates buy-in about cost-cutting strategies, says O'Loughlin. For example, in the past, every kitchen on every floor used to have a selection of 20 teas and multiple kinds of coffee. Since many of these choices were not used, and since these products have a limited shelf life, the company was wasting a lot of money. An on-line survey of flavor choices eliminated about 60 percent of what was being offered in the kitchen, which was a significant cost savings for the company. "There was no pushback," says O'Loughlin.

This has been a Building Operating Management Tip of the Day. Thanks for listening.
RELATED CONTENT: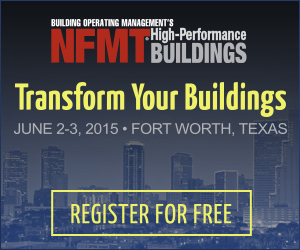 ---
QUICK Sign-up - Membership Includes:
New Content and Magazine Article Updates
Educational Webcast Alerts
Building Products/Technology Notices
Complete Library of Reports, Webcasts, Salary and Exclusive Member Content


All fields are required.


click here for more member info.

---
---
---