2

FM quick reads on work order

---
1. Effective Work-Order Schedule Pays Dividends
Today's tip is to set up an effective system for scheduling work orders. It takes time, energy, inventory-management system, work-order planning, structured leadership, routine discussion meetings, and long-range planning.

All organizations should have a written work schedule. Planners should complete this schedule each week with discipline. The weekly schedule-planning meeting, which is held toward the end of the week, is icing on the work-schedule cake because the schedule already is complete. The goal is to be as accurate as possible as early as possible to plan and coordinate with customers and other involved parties, including contractors.

All work on the schedule needs a complete, detailed work plan that includes and identifies all parts, special tools and equipment, and special steps technicians need to properly complete the job. Once you have a work order with those components and an accurate estimate of the time required, it is easier to efficiently schedule the work with customers.

Never overschedule your maintenance team. When you continually overschedule, customers think nothing is a high priority for the department. Nothing is more important than anything else, so workers just plod along, moving on to whatever they believe is the next most important assignment.

To determine the appropriate level of scheduling, take total available hours and subtract the normal amount of reactive work and lost hours, such as personal time, vacation, and meetings. Planners then should schedule 95-100 percent of the remaining available hours.

The difference between 95 percent and 100 percent depends on the complexity of the work. If the task is extremely complex and involves other work sources, such as contractors, perhaps schedule at 95 percent.

No matter the amount of work scheduled, you should always have some work in your back pocket to fill gaps in the schedule. Fill-in work is defined as tasks technicians can stop and start easily without affecting the outcome.

The keys to successful scheduling are setting goals, having a solid plan to begin scheduling work, and always having a method to measure your progress.
2

. Asset Data Management: Four Software Solutions

This is Chris Matt, Managing Editor — Print & E-Media with Maintenance Solutions magazine. Today's tip is the functionality of four asset data management systems, or ADM systems.

Four of the most common ADM systems include: computerized maintenance management systems, or CMMS; enterprise asset management systems, or EAM; computer-aided facility management, CAFM, systems; and integrated workplace management systems, or IWMS.

Maintenance and engineering managers tend to be most familiar with two types of ADM technologies:

First is CMMS. Departments that provide asset management and customer services should consider a CMMS, which supports core maintenance activities necessary to keep assets performing optimally and cost-effectively. Modules associated with CMMS technologies include: asset and equipment management; inventory parts management; work management for vendor and staff time; work-order management; a help desk; and inspections management.

Second is CAFM. This technology benefits departments that manage leases, space, building operations and maintenance. Increasingly, managers also require project controls to effectively plan, coordinate, and execute large projects. While most CAFM tools support asset management and maintenance operations, many do not provide the depth of functionality in this area of a CMMS.

Beyond CMMS and CAFM, managers can consider two additional ADM options:

The first is EAM. These applications provide more functionality to support large-scale project management, energy monitoring, reliability maintenance, planning, scheduling, and integration with building-automation systems. EAM technologies also can integrate with platforms for enterprise resource planning and human resources.

And, finally, IWMS. This application provides a comprehensive platform to manage complex relationships involving properties, buildings, equipment, space, resources, contracts, and schedules.
RELATED CONTENT: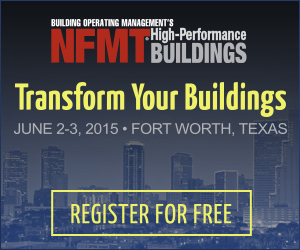 ---
QUICK Sign-up - Membership Includes:
New Content and Magazine Article Updates
Educational Webcast Alerts
Building Products/Technology Notices
Complete Library of Reports, Webcasts, Salary and Exclusive Member Content


All fields are required.


click here for more member info.

---
---
---