4

FM quick reads on Energy Model

---
1. Energy Modeling: What Happens When You Make Bad Assumptions?
Today's tip is about energy models, and the notion that they're only as good as the data put into them — that is, how close to reality the assumptions are made at the start of a project. In other words, the quality of the input data is ultimately what determines how useful the output data is. This is an especially cogent principle when it comes to an energy model, as the fewer assumptions the engineer doing the model must make, the more reliable the energy model will be.

The facility manager must have an open, honest discussion with the design team at the very beginning of the design process to make sure everything and everyone is on the same page. The information derived from this meeting - or more likely, these meetings…plural - will improve the quality of data input into the model. Inputs include window to wall ratio, tightness of air infiltration, thermal wall and roof insulation, performance criteria of glass, type and efficiency of mechanical system, lighting type and expected watts per square foot, plug loads watts per square foot, and occupancy.

Of course, there will always be some variables that are impossible to predict. The occupancy of the building may be greater than expected. The building's operating hours may be longer than expected. Equipment may not interact as expected. Even so, an energy model is still an essential (and if you're doing LEED, required) part of the construction process.

How many times have you heard that a LEED building is supbar because it used slightly more energy than its energy model predicted? That doesn't mean it's a bad building! After all, an energy model isn't intended to be a totally accurate predictor of the precise amount of energy used. That's what measurement and verification are for after the building opens. After building systems are commissioned, facility managers must measure and verify from the second the door are open in order to find anomalies and fix issues that may arise.
2

. Energy Model Shows Economic Value of High-Performance HVAC

Today's tip from Building Operating Management comes from Jeffrey L. Heiken of KlingStubbins: An energy model shows the value of high-performance HVAC systems.

An energy model is a design tool that goes beyond basic computer calculation needed to select equipment sizes. Many energy modeling software packages are available. The model electronically captures all design elements, from building skin to chiller selections, and simulates building operation. Information on occupancy and utilization, space temperature settings, lighting schedules, ventilation requirements, and utility rates all serve as inputs to the model. The software then uses solar and thermal weather data and predicts needs for the building in its specific location for each hour all year. The model produces load profiles and energy demands as well as operating cost for each utility in the simulation. The estimates from these energy models, though still estimates, have shown high levels of accuracy and, as input to life-cycle-cost analyses, serve very well for comparative analysis of systems and options.

Using the energy model, design of high-performance HVAC systems should start with the overarching goal of efficient resource use. The first step is to rightsize the delivery systems. Oversized equipment, piping, ducting, motors, pumps, chillers, air handlers, etc., can add significant operating and first costs. What's more, there is the cost of added floor, shaft or plenum space for the HVAC system.

In the end equipment has to be selected. Unitary device energy efficiency ratings have improved, but how systems are set up can drive performance. Thus, high-performance HVAC systems also seek to maximize elements like economizer hours of operation, heat recovery and other elements such as thermal storage.

This has been a Building Operating Management Tip of the Day. Thanks for listening.
3

. Some HVAC Upgrades Are Better Candidates for EPAct Tax Deductions

Today's tip from Building Operating Management comes from Charles Goulding of Energy Tax Savers, Inc.

Facility managers planning many types of HVAC upgrades should take a close look at Energy Policy Act (EPAct) tax deductions. Although Section 179(D) deductions are not limited to specific types of HVAC equipment, and any HVAC project that meets the criteria spelled out in Section 179(D) would qualify for the deduction, experience to date has shown that most deductions are for the following types of projects:

1. Geothermal (ground source heat pumps)
2. Thermal storage
3. High-efficiency package terminal air conditioning (PTAC) units in apartments and hotels
4. Centralized HVAC in apartments and hotels
5. Energy recovery ventilation
6. Demand control ventilation
7. Chillers in buildings of less than 150,000 square feet
8. Very efficient heaters in warehouse, industrial and other spaces with no air conditioning
9. VAV (variable air volume) devices in buildings of less than 75,000 sq. ft.
10. Chilled beam ceilings
11. Magnetic bearing chillers

The maximum EPAct deduction is $1.80 per square foot. To get that deduction, the building must reduce overall energy costs by 50 percent compared to a building designed to meet the 2001 version of ASHRAE Standard 90.1. If a project doesn't reduce energy use enough to qualify for that deduction, there are tax deductions of up to $0.60 per square foot each for lighting, HVAC and the building envelope.

To qualify for a deduction, an HVAC project must reduce energy costs at least 16.67 percent below the costs for a building designed to meet ASHRAE 90.1-2001. The project must use energy modeling to show the energy cost savings.

Facility managers interested in EPAct tax deductions should act soon. The deduction is set to expire on Dec. 31, 2013.

This has been a Building Operating Management Tip of the Day. Thanks for listening.
4

. In High Performance HVAC Design, Facility Manager Plays Key Role

Today's tip from Building Operating Management comes from Jeffrey L. Heiken of KlingStubbins.

In a high-performance building design process, the owner or facility manager should be an integral part of the design team, aware of costs and benefits early and throughout the process.

The new normal for design is to continue to improve upon building performance and do more with less. Budgets need to be met and elements need to be fluid, but having the project ownership engaged and a part of the process is essential to protecting the high performance design elements. Otherwise, there's a risk that VE will stand not for Value Engineering but Value Elimination. And of course owners will have to ensure that the building is operated to continue to achieve energy savings projected by the energy model.

Another key player in the integrated design team is the cost estimator. Because of the large number of options, it is important to know the cost implications of each very quickly to streamline the decision making process. Ultimately, without accurate estimations, the payback and life cycle cost analyses lose validity.

In the effort to find the right combination of design elements that will lead to a high-performance building with a high-performance HVAC system and a sustainable design, the design team has to be able to integrate many elements. It's a complicated process that depends on interaction among members of the team when decisions are being made about high-performance curtain walls, enhanced insulation walls, or solar shading elements. It typically takes several iterations of the energy model to arrive at a decision on each element. On the most successful projects, the owner has bought into the process and has gained a thorough understanding on where and how each item is valuable to achieving the ultimate goal of a high-performance building.

This has been a Building Operating Management Tip of the Day. Thanks for listening.
RELATED CONTENT:
Energy Model , Data , LEED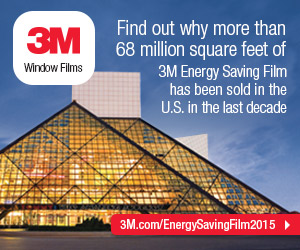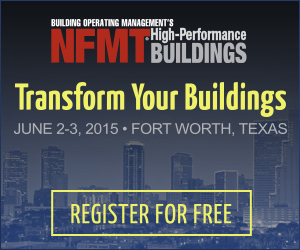 ---
QUICK Sign-up - Membership Includes:
New Content and Magazine Article Updates
Educational Webcast Alerts
Building Products/Technology Notices
Complete Library of Reports, Webcasts, Salary and Exclusive Member Content


All fields are required.


click here for more member info.

---
---
---