The Vision Awards honor innovation and excellence in products that contribute to the efficient and profitable operations and management of institutional and commercial buildings in the United States. The awards provide a stage for winning facilities industry suppliers to showcase their products to more than 200,000 facility executives.
Viracon
Viracon PLUS Smart Glass powered by Halio
Viracon PLUS Smart Glass powered by Halio is the most advanced tinting glass available. It looks just like your typical façade glass. But with this glass you can control the tint to reduce solar heat gain and glare. Best aesthetics from clear through full tint. Tints through a full spectrum of neutral gray options to block solar heat and glare. No more of the blues or yellows featured in legacy smart glass products. Fastest-tinting electrochromic glass. Full tint change in less than 3 Minutes; 10 times faster than legacy smart glass options. Most uniform tinting through transition. No more splotchy, honeycomb, halo or wavy effects. Windows in-sync with technology. Tinting can be fully automated or manually controlled with a mobile app, desktop app, wall-mounted tint selectors, and voice assistants. Better for you, better for occupants, better for the environment. With Viracon PLUS Smart Glass buildings are more energy efficient and healthier for occupants and the environment. GREAT BUILDINGS DESERVE GREAT GLASS
CENTRIA
Intercept
Revolutionizing the all-metal modular rainscreen wall panel system, CENTRIA''''s Intercept allows for design versatility by incorporating different substrates, depths, tapers, slopes, curves, and perforations. These modular metal wall panels deliver on the protection required in an architecturally imaginative system and is available in five different, yet interchangeable design schemes – Entyre, LVLZ, RZR, V-TRAC and HLZ. Entyre panels provide a classic metal exterior aesthetic, LVLZ allows for changes in panel depth, RZR showcases variations in sloped depth, V-TRAC provides curved panel options and the HLZ adds a screening effect to blend industrial applications with surroundings. Made with no plastics, the Intercept panels are highly recyclable, and are made from solid metal substrate, are non-combustible and compliant with NFPA 285. In addition, Intercept panels are also compliant with regulations for air, water, structural, High-Velocity Hurricane Zone (HVHZ) and AAMA 508. The system''''s modular design lends itself to installation in either vertical or horizontal applications and are available in the standard coal-coated aluminum substrate, as well as post-anodized aluminum, zinc, and other metals. Installation is also easy, does not require sealants and is intuitive – no rigorous complications required. Intercept panels are large and flexible, capable of creating angular shapes while providing a smooth, unbroken appearance, much to the delight of architects, designers, and contractors. Clean lines with tight corner bends provide better structural integrity while open joint design also allows for maximum ventilation and cavity drying. Intercept panels are ideal for use in a variety of industries including healthcare, pharmaceuticals, office buildings, retail and more. Website: www.centria.com
CENTRIA
Formawall Dimension Series
The Formawall Dimension Series combines unprecedented design freedom with a variety of shapes and colors with unmatched performance. This high-performance building envelope system consolidates six wall components – including batt insulation, sheathing, rigid insulation, building wrap (air barrier), sub-framing and cladding – into one product, creating distinct architectural wall profiles to match any building design. Lasting thermal and moisture protection are included with the Formawall Dimension Series. With dual metal skins, advanced integral joinery, and a robust core of high R-value rigid foam insulation, the Formawall Dimension Series allow architects to design remarkable buildings for those who will occupy and enjoy them for years to come. Ordinary exterior walls rely upon materials from multiple manufacturers, properly located within the wall assembly and installed perfectly by multiple trades at various stages of construction. Instead, the Formawall Dimension Series installs as a single component, guaranteeing quality and lasting weather-tightness. This allows for a reduction in material consumption and waste while simplifying and expediting installation. Compared to traditional wall assemblies, the Formawall Dimension Series provides superior controls for all hygrothermal loads perpetually impacting a building. The metal liner provides a built-in vapor barrier and the metal and closed-cell foam construction means water is neither absorbed nor retained. Engineered for any environment and climate zone, Formawall is available in five forms – FWDS, FWGX, DS58, DS59, DS60 – providing unlimited combinations for imaginative building envelopes with varying articulation, rhythms, and textures. Plus, these panels can be curved and installed both horizontally and vertically. Website: www.centria.com
Sherwin-Williams
SuperPaint with Air Purifying Technology
Sherwin-Williams Living Well™ collection combines a selection of colors and paints with innovative technology designed to help professionals welcome new residents to a haven of comfort, style and well-being while also delivering excellent performance. SuperPaint® with Air Purifying Technology helps improve indoor air quality by reducing VOC levels from potential sources like carpet, cabinets and fabrics. It also works to reduce unwanted odors so rooms and common areas can stay fresher for longer periods of time. The technology in SuperPaint® transforms airborne VOCs into water molecules and harmless inert gas while also deconstructing carbon molecules to reduce and neutralize common odors. In addition, its antimicrobial agents inhibit the growth of mold and mildew on the paint surface, therefore preventing bacterial odors. SuperPaint® with Air Purifying Technology has the power to break down molecules when odor or VOC molecules come in contact with the painted surface. The length of time SuperPaint with Air Purifying Technology Interior Acrylic Latex actively reduces odors and formaldehyde depends on the concentration, the frequency of exposure and the amount of painted surface area. In addition to this new technology, SuperPaint is available in 540 inspiring hues from Sherwin-Williams Living Well™ collection, which includes 11 curated color palettes to help create a variety of welcoming environments. Each palette consists of 12 stunning shades that work together seamlessly to set the tone for a variety of spaces within a property. To learn more, professionals can visit s-w.com/shop-living-well
ALEDDRA LED LIGHTING
InfectShield Self-Cleaning Film
The InfectShield Self-cleaning Film is transparent PET film coated with visible-light activatable high-density photocatalyst material, ViraPure. It can attached to any flat surfaces indoors, such as tables, desktops, countertops, computer display, touchscreens, POS screens, door push-bars, windows, etc. With regular indoor lighting, the photocatalyst material ViraPure becomes activated and would deactivate any pathogens making contact with it. An third party test shows over 99.99% kill rate against E Coli over 24-hour period under a regular indoor lighting environment, without using any UV light source. The adhesion level of the ViraPure coating is 5B, withstanding 100 scratches with a sharp knife without peeling off. For high-touch surfaces, it provide 30 days self-cleaning surface protection, and for low-touch surfaces, such as windows, up to one year. InfectShield Self-cleaning Film provides a very sustainable and cost-effective (with tremendous labor savings on cleaning) solution to facilities maintenance and operation team. It will be an integral part of re-opening buildings strategy. COVID-19 pandemic heightens the needs of providing a healthy environment regardless the facilities type. However, none of the existing solutions provides a sustainable surface disinfection. The case study with Seattle Public Schools by Dr. Chuck Gerba at University of Arizona shows pathogens can regrow seconds after the chemical based disinfectants are vaporized, and thus providing no sustaining surface protection. Similarly, UVC-based irradiation equipment only works when it is turned on, and provides not surface disinfection protection when it is turned off. Worse yet, the UVC-based equipment can''t be used when occupants are in the room due to the potential skin or eye damages by UVC exposure.
NanoTouch Materials
NanoSeptic self-cleaning surfaces
NanoSeptic skins and mats turn dirty, high-traffic touchpoints like door handles and counters into continuously self-cleaning surfaces. Powered by light, NanoSeptic surfaces oxidize all organic contaminants using technology rather than toxins. Easy to apply and replace, these surfaces provide 90 days of continuously self-cleaning action. Founded in 2012, NanoTouch provides the original, and still the best self-cleaning touchpoints. Used by 26 pharmaceutical companies, the top hotel brands, colleges, medical schools and doctors offices. And because these touchpoints are visible, hundreds of facility managers have discovered a way to provide a sense of safety and security to tenants and guests.
Yuck Old Paint, LLC
Paint recycling
Yuck Old Paint safely removes and diverts away from landfills the tons and palettes of leftover, unused gallons of oil-based and latex paint stowed away in commercial buildings and facilities. On average we remove 1-3 tons of paint cans per building, then process it for reuse for humanitarian construction projects in third world countries and theater companies along the East Coast. Commercial buildings currently have no way to get rid of their leftover cans of paint: -- Trash and waste services won't take it; -- Junk haul companies won't take it; -- Moving companies won't take it; -- Landfills are for residential households only... So they stow it away and year over year the stockpiles grow and amass. And in so doing, this renders these buildings: -- In violation of the fire code; -- Uninsurable; -- Running out of storage space. When buildings and facilities use Yuck Old Paint, they can: -- Earn up to 2 LEED points; -- Fulfill ESG requirements; -- Demonstrate their corporate commitment to being a good steward of the environment; -- Mitigate their fire code violation exposure; -- Reclaim much needed storage space. Based in Fairfax, Virginia Yuck Old Paint operates in nine states, from Virginia to Connecticut and Ohio. Our customers include commercial buildings, stadiums, federal agencies and military bases. We are the only company on the East Coast-- and possibly the country-- offering such a service to facilities management. www.YuckOldPaint.com
Energy Focus Inc.
mUVe
mUVe™ is an autonomous surface disinfection robot that enables chemical-free disinfection of mold, bacteria, and viruses, including SARS-CoV-2 and its variants with UV-C light. The mUVe™ robotic system leverages Energy Focus' patent-pending technology with an extremely powerful 475-watt amalgam lamp. And with cloud-based mapping capability, machine vision powered sensors and voice warning systems, mUVe™ can be operated easily and safely. mUVe™ enables 99.9%+ disinfection within the range of 1 meter (or 3.3 feet). All surfaces within the line of sight of the robot as well as the floor will be disinfected with a focused, powerful beam of UV-C light. Moving at an amazing speed of 18 inches per second, mUVe™ disinfects approximately 15,000 square feet of space within one hour without using noxious, time-consuming, messy, hit-or-miss chemicals. For more information including an educational video visit https://www.energyfocus.com/product/muve/.
Vata Verks Inc
VV-100 Water and Natural Gas Smart Sensor
Vata Verks has developed and patented a cheap and simple non-invasive real-time Water and Natural Gas usage smart sensor for commercial buildings which simply straps to the utility meter and measures flow by detecting and analyzing fluctuations in the magnetic field. The Smart Sensor produces an extremely high-resolution real-time data stream which is leveraged to detect anomalies and leaks, track costs, analyze and optimize building performance, improve responsiveness to tenant issues, and support investments in efficiency. While Water usage data has never been as easily available, real-time Gas usage data has never been available ever. The sensor installs without tools, specialized skills, or cutting pipes. Without disrupting plumbing, the tenants, the building, or the facility manager. It is a universal solution solving 95% of the meters in all 50,000 utility jurisdictions. It can be installed in 1 site visit, without coordinating site audits, or 3rd parties, or utility involvement. It simply straps on. There is no subscription costs, and hardware cost of less than $500 is a fraction of other solutions, 1/4 to 1/10th. As neither Vata Verks nor other 3rd parties ever have access to your data, data protection is perfect. The Vata Verks Smart Sensor is approved and deployed by US GSA, US Coast Guard, MIT, in High Schools, multi-unit apartments, commercial, and national retail and restaurant chains across the US and Canada. https://vataverks.com/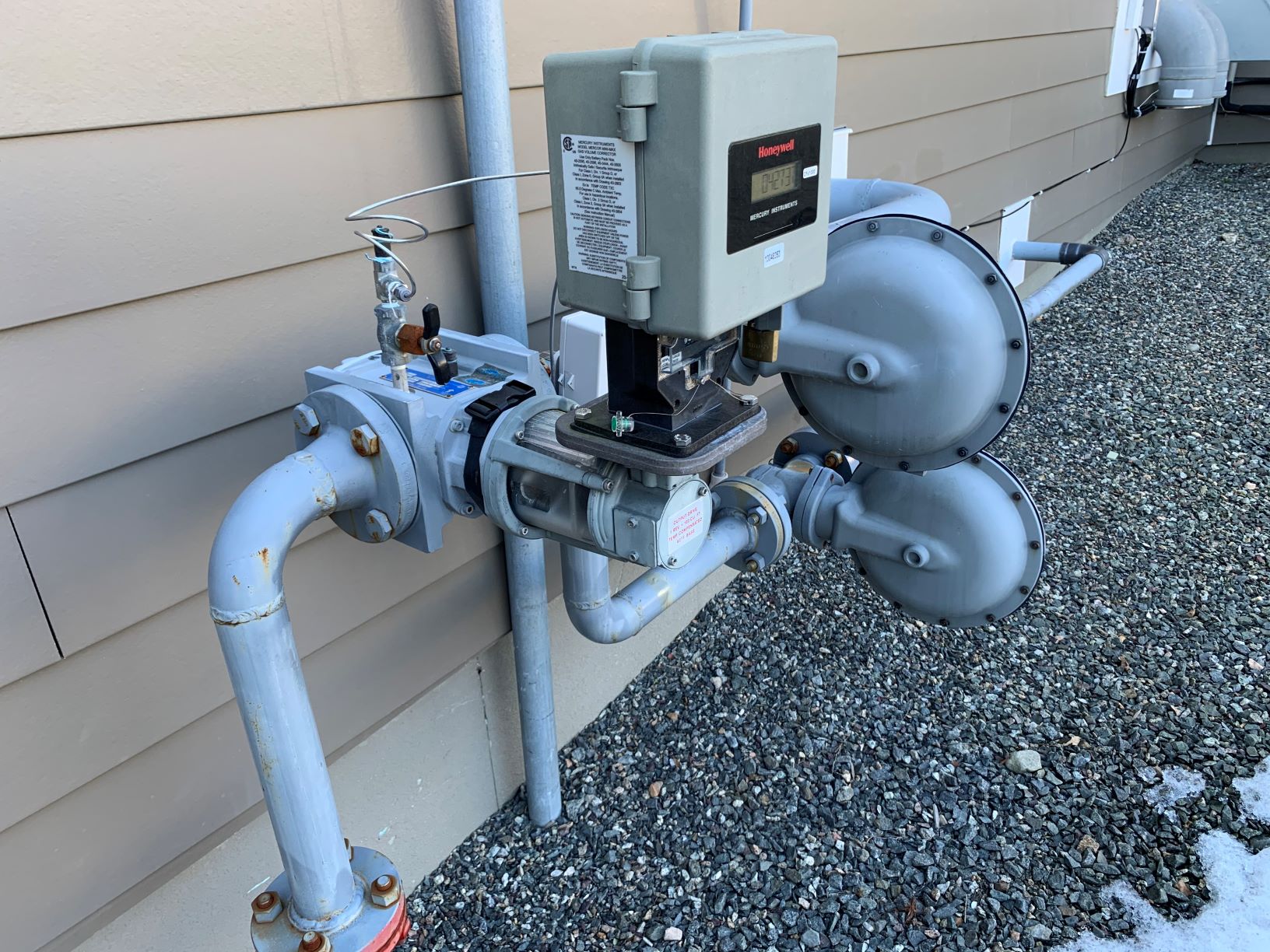 Navien Inc.
NFC-H High Efficiency Fire Tube Condensing Combi-Boiler
https://www.navieninc.com/series/nfc-h Navien NFC-H Combi-boilers patented fire tube technology that makes them a smart choice for moderately sized space heating applications that require domestic hot water. At 95% AFUE, this ENERGY STAR product can result in lowered operating costs for building owners. Heating inputs of 175,000 and 199,900 BTUs coupled with a 210,000 BTU on-demand DHW flow rate of 5.6 GPM @ 67F rise mean many applications that typically rely on a tank-type heater can be combined into one with this high-efficiency boiler. Up to 15 NPE tankless water heaters can be cascaded to the boiler. The boiler features an up to 15:1 turndown ratio which minimizes boiler cycling and improves savings The compact design offers space savings, while common venting up to 8 units results in lower installed cost. Single units can be vented with 2" PVC up to 65 feet, or 3" PVC up to 150 feet, for additional savings. Advanced controls/Setup Wizard, with the intuitive display, can save installers time by providing diagnostics and troubleshooting. Onboard connections for a boiler pump, 3 zone pumps, or 3 zone valves are included. NaviLinkTM remote access allows control of the boilers, troubleshooting, operating status, notifications, and historical performance data. The NFC-H Combi-boiler is certified for installations up to 10,100 ft. (NG/LP) while offering the highest DHW capability for both, residential and commercial applications.
Airthings
View Plus for Business
View Plus is the most comprehensive indoor air quality monitor to complement the Airthings for Business solution. View Plus monitors for particulate matter (PM), airborne chemicals, CO2, humidity, light, noise, virus risk and more to provide facility managers with complete control over their air quality, enabling them to foster healthy, productive, and energy-efficient indoor environments. Significant pressure is placed on facility managers to keep occupants safe and healthy, but achieving this while balancing a tight budget is challenging. Through intuitive monitoring that uses air quality data to gauge occupancy patterns, View Plus helps facility managers reduce energy expenditure costs immediately. The RESET-accredited View Plus is fully customizable, offering managers easy access to the air quality insights that matter most to their space, and features QR Code scanning for immediate, real-time air quality data for tenants. View Plus' most significant impact is its ability to improve health and productivity. By monitoring for dangerous air quality factors like Virus Risk; the likelihood of indoor airborne virus transmission, as well as PM, facility managers can achieve peace-of-mind knowing they have complete awareness of their air and can make immediate, well-informed adjustments to preserve occupant health. Lastly, air quality monitoring can dramatically improve employee performance, and thus, a company's bottom line. Poor ventilation can produce elevated CO2 levels, which negatively impact concentration, cognition, and energy. Conversely, companies with Airthings solutions that effectively mitigate their existing air quality issues see a proven reduction in sick leave for employees, along with significant improvements in staff decision-making abilities.
Lochinvar
CREST with Hellcat™ Combustion Technology
Lochinvar's brand-new CREST with Hellcat™ Combustion Technology features ground-breaking advancements. Available in eight models ranging from 999,000-6,000,000 Btu/hr, this unit boasts up to 96.2% thermal efficiency and up to a 25:1 turndown ratio. The true magic of this unit lies within its RealTime O2 Trim™ feature. RealTime O2 Trim includes Feed Forward, Feed Back, Commissioned Trim and Learned Trim. By using all of this information, the advanced O2 sensor combined with Lochinvar's Smart Touch™ control allows the unit to adapt to the environment the product is installed in. Seasonal changes, drastic weather shifts, and altitude are all compensated for with independent air and gas dampers allowing the boiler to perform optimally in any condition. The control platform records the optimal settings, so that as those same environmental conditions arise, the combustion system can adjust automatically with ease. Another technological improvement included in the new CREST with Hellcat units is greater vent flexibility of up to 150 feet direct vent. This feature allows customers to have expanded options for any installation. Lochinvar also developed a new separate Comfort Control Board which allows in-house operational enhancements and adjustments that result in faster updates to the field. These updates can include new Cascade logic, enhancements to the Outdoor Air Reset, and changes to the Ramp Delay feature among other feature enhancements. With these intuitive upgrades, CREST with Hellcat is not only a highly efficient unit, but it also provides tremendous commissioning and maintenance time savings for facility managers. https://www.lochinvar.com/products/commercial-boilers/crest-with-hellcat-combustion-technology
iOFFICE
Space-Right
Space-Right is a workspace planning tool developed by iOFFICE to help businesses safely and efficiently return to office while maximizing real estate. A functionality within iOFFICE's workplace experience software, Space-Right allows users to quickly and easily achieve safe workspace distancing from planning through implementation. Users can view floorplans, set the desired distance with a simple slider, and preview the impact of changes on individuals, workstation configurations, and available capacity by room, floor, or building. Depending on selected distance, Space-Right displays floorplan adjustments needed and which spaces to convert (e.g., changing small conference rooms to individual offices), and can factor staggered workshifts into seating assignments. Once the layout is finalized, the platform can automatically generate and assign work orders to move people and assets like hardware or furniture. With advanced reporting and sensor integrations, users can monitor resulting space utilization, detect trends, and adjust as needed. Space-Right gives teams control over their portfolio by comparing scenarios against their needs and real estate budget. Based on distancing work areas, they may determine they need additional space to accommodate employees. Or, they may learn they can reduce wasted space or close locations on heavy remote working days. Beyond return to office, Space-Right can help with hybrid workplace strategies for occupancy changes and moves, so organizations can scale their spaces with their business. Clients are using Space-Right to save time and money on millions of square feet, and 91% of iOFFICE customers say the platform improves space use.
Schneider Electric
EcoStruxure Building Advisor
Schneider Electric's EcoStruxure Building Advisor, a suite of analytic monitoring services, unlocks operational performance and remote management access of buildings. The solution provides real-time insights into a building's operations/identifies areas of improvement/faults to help optimize a building's inefficiencies. This technology enables managers to respond more proactively with data-driven decisions to reduce maintenance costs, improve asset value, increase occupant satisfaction, & create more sustainable/energy efficient buildings. Based on customer results, Schneider Electric reported a 20% reduction in energy cost to organizations leveraging the EcoStruxure Building Advisor, achieving over $20M in cost avoidance. The EcoStruxure Building Advisor leverages the latest technological advancements, ensuring managers are equipped with the most innovative tools to better enhance their buildings' operations, such as using Digital Twins for buildings' HVAC Equipment & Systems. Digital Twins are continuously improving/updating in real-time based on information from 200,000 HVAC equipment, connected across 8 different categories across 20 countries, which allows for superior accuracy in terms of monitoring/providing corrective actions to HVAC systems compared to human skill/rules-based software. Being BMS agnostic, enables a single maintenance platform deployed across an entire portfolio. The EcoStruxure Building Advisor helps improve efficiency/productivity. Leveraging a hybrid delivery model of remote HVAC experts/local execution teams, resulted in over 16,000 completed tasks, saving approximately over 50,000 hours of on-site service engineers needed to detect, diagnose and create a maintenance ticket/task. The EcoStruxure Building Advisor is used by organizations (Boston Scientific Corporation & City of Houston) to ensure buildings are safe, reliable, energy efficient, & sustainable. These organizations, among many others, have achieved sustainability goals/claimed utility incentives, & improved indoor air quality creating healthier buildings/establishing a safe environment for occupants. Schneider Electric is pushing building managers around the world to rethink how we solve building inefficiencies to create more sustainable/energy efficient buildings. With the implementation of the EcoStruxture Building Advisor, managers can distinguish the changes needed to achieve sustainability goals, while improving the overall experience/environment for occupants.
EagleHawk
Custom Software for Drone-Enabled Facility Inspections
New technologies, such as drones and advanced sensors, are making it easier than ever to collect data and perform inspections on the outside of buildings, however, facility management software has been slow to keep up. Most facility management software tools cater to the inside of buildings, where data is easy to collect, and lack the functionality to effectively incorporate these emerging sources of data. Over the past two years, EagleHawk has developed a custom software application that takes drone-enabled inspections to the next level. Customers can interact with their facilities in an intuitive map-based environment, prioritize repairs based on inspection results, collect additional notes and images from the field, and track the status of repairs, saving thousands of dollars in unplanned energy waste, ineffective repairs, and unnecessary replacements. The software platform automatically estimates energy losses and repair costs based on the extent of the issues uncovered in the inspection, the material construction characteristics of the building, and the geographic location. Results can be aggregated across multiple buildings to inform better decision-making across multiple buildings or sites. EagleHawk is an award-winning facility inspection service provider specializing in using drones and thermal imaging technology to find issues that are often not visibly apparent. Much of EagleHawk's business comes from referrals from existing clients, so we work hard to ensure that we are exceeding their expectations. www.EagleHawk.io
Solatube
Integrated LED System with Dayighting Sysgtem
Solatube's latest innovation, the new Integrated LED Light Kit, allows the integration of natural light and traditional electric lighting from a single fixture for a cleaner ceiling appearance and nighttime illumination. It works by harnessing the sun's (free) natural light during the day and additionally offers cost- and energy-efficient LED lighting at night. This new innovation includes a dimming option that can be paired with manual and automated dimming controls, again offering users the ability to control LED light levels in their classrooms or offices. Combined with a Solatube Daylighting System, this new solution provides even more lighting, day and night. A Solatube Daylighting System (also known as a tubular skylight or tubular daylighting device) is extremely innovative in that it harvests daylight through a dome on the roof, transfers it down a highly reflective tube of up to 100 feet and floods the commercial interior space with pure daylight without leaking or heat gain or loss. Solatube units are designed to maximize light output at any time of day. There are immediate cost savings since electric lights are not needed during the day and the LED system provides cost-effective lighting at night. There are numerous studies that point to the benefits of daylight, including higher staff performance and reduced absenteeism, not to mention the numerous health benefits. For building efficiency facts, visit: https://assets.solatube.com/wp-content/uploads/2021/02/22170052/Solatube-Facts-Figures-Building-Energy-Efficiency.pdf. The Solatube site is www.solatube.com/commercial. If you scroll to the bottom, you can see Solatube on the Scene videos that illustrate cost savings and occupant well-being.
Digital Lumens, Inc.
SiteWorx
Thousands of industrial customers worldwide rely on Digital Lumens'''' intelligent LED luminaires and SiteWorx software application suite to deliver the ability to monitor, meter and observe almost any aspect of a facility. The platform is easy to use and gives management teams the data and insights they need to reduce energy use, maximize equipment uptime, ensure product quality and employee safety, and reduce production bottlenecks and maximize throughput. Reports and alarms are customizable to meet a specific user or facility''''s needs. With an array of compatible smart devices, monitoring and metering almost any aspect of a facility is possible. The foundation of SiteWorx is Digital Lumens'''' portfolio of intelligent LED luminaires that work seamlessly with our core technology platform, Lightelligence. Lightelligence allows all Digital Lumens devices to integrate seamlessly, create robust wireless network infrastructure, and provide a stable, secure connection to the cloud. The SiteWorx suite of applications allows facility teams to understand and manage everything happening within their facility. SiteWorx Tune utilizes multi-strategy controls to maximize lighting energy efficiency, often saving customers over 90% on their lighting energy use. It also ensures light levels and lighting behavior that allow for employee comfort, productivity, and safety. SiteWorx Sense allows for environmental and process monitoring – monitoring utility consumption, controlling loads in response to occupancy, tracking environmental conditions, and setting customizable alarms. SiteWorx Area gives users the ability to understand space occupancy and utilization and track movement and location of people, equipment, and goods to ensure safety and productivity. www.digitallumens.com
Leviton
GreenMAX DRC Wireless
GreenMAX DRC Wireless by Leviton offers spec-ready and code compliant solutions for virtually any type of commercial lighting (0-10V to DMX and DALI). The system is designed to offer secure, simple and scalable lighting control for building specifiers, installers and end-users. Users can easily create lighting scenes, add lighting schedules and events, and control the lighting in any space conveniently from the GreenMAX DRC App on their mobile device. The App is the only set up tool needed to configure the entire controls system. Users can add, rearrange and reconfigure rooms and zones to change and scale their lighting controls based on evolving business needs. For example, if a room changes its initial purpose or new occupants arrive, sensors, controllers and relays can be added and grouped to reconfigure the lighting accordingly. The design also drastically decreases installation time and cost by eliminating the need to climb up ladders to physically adjust lighting. The Wireless Keypad Room Controller acts as the brain of the GreenMAX DRC Wireless mesh system enabling it to communicate with other Leviton wireless devices. Add wireless occupancy/vacancy sensing and daylight harvesting capabilities as well as wireless zonal control to any ON/OFF or 0-10V dimming or phase cut dimming devices. For wireless fixture control, add Intellect-enabled fixtures. GreenMAX DRC Wireless also works with Leviton Sapphire, GreenMAX Relay Panels, and GreenMAX DRC Wired. GreenMAX DRC is designed with security and control in mind, offering tamper-free configuration and master controls that are protected via a secure encrypted network.
Medeco Security Locks
Intelligent Key Cabinet
A facility''''s security is only as good as the control of its keys. The Medeco IKC - Intelligent Key Cabinet - is a key management system ideal for keys and other assets that require a high level of security and accountability. A complete storage and control solution, the IKC is an electronically controlled steel cabinet that restricts access to keys, and can only be opened by authorized personnel. The IKC electronically keeps a record of key removals and returns - by whom and when. The IKC improves: Security: Only authorized users are able to access keys by Biometric Fingerprint, PIN, and/or Prox Card authentication (optional). Dual authentication can be used if desired. For added security, a digital photo capture of each login can be added. Accountability: User accountability reduces lost keys. Fewer lost keys leads to lower expenses and improved security. Convenience: Allow employees to retrieve keys quickly without waiting for a manager. Upon checkout, the appropriate key is indicated on the panel by flashing LEDs. The system allows the return of any key to any location in the cabinet, and then learns the key''''s new location. Easy-to-use software shows what keys are in, what keys are out, and to whom they are issued. Productivity: No more searching for, or replacing lost or misplaced keys - always know who took which key, when. Analytics: Complete reporting suite provides multiple reporting options to provide real-time data. Reports can be automatically generated and sent to multiple users by email or SMS text.
Haws Corp.
8710 ePOD
8710 ePOD™ Indoor/Outdoor Tempered Shower And Eye/Face Wash System (the ePOD) is a paragon of job site emergency preparedness and response solutions. Designed with a customer-centric approach, the ePOD takes into consideration the user's behavioral responses in a time of extreme need, as well as the environmental challenges and variables jobsite locations might provide. The ePOD mitigates incidental exposure in the most challenging worksite environments, providing a safe and effective simultaneous drench shower and face/eyewash. All parts are serviceable from one side and maintenance doesn't require permits or scaffolding--a bonus when dealing with challenging locations. The ePOD differentiates itself from similar emergency equipment: Bright SafeSight™ illuminated doors: easily seen from a distance, giving a partially-blinded victim the best chance of finding safety in an emergency situation. The booth itself is an icon of safety in high-visibility green (also available in emergency yellow). No-guess timing: In times of duress, no one counts down the fifteen minutes required for drench showers; the ePOD illuminates white when in use, and a 15-minute timer informs the occupant when time has elapsed. Visibility: User movement is visible via translucent doors during operation, but privacy is maintained. This allows emergency response personnel ascertain the user isn't incapacitated. Designed for all environments/locations: High-density, exterior-insulated aluminum structural panels allow installation in highly corrosive, extreme environments, and are rated for earthquake and high wind areas. Based on a modular platform, the ePOD can be disassembled on-site and installed in difficult-to-reach locations (eg. mine shafts). https://www.hawsco.com/products/8710-outdoor-tempered-shower-and-eye-face-wash-system/
AGF Manufacturing
Flood Eliminator
AGF's Flood Eliminator prevents catastrophic flood damage caused by auxiliary drains that freeze and break on dry or pre-action fire sprinkler systems. When an auxiliary drain freezes and breaks, water pours out and floods the facility, causing expensive property damage and inconvenience to tenants. The Flood Eliminator is installed above the inlet of the drain. Should the drain break and trip the system, it senses the sudden pressurized flow and automatically cuts off that flow. By eliminating the flooding, the Flood Eliminator provides a large cost savings for facilities from a simple piece of technology. It also doesn't hinder normal operation of the system and resets itself when the system is reset after activation. The Flood Eliminator is a simple and cost effective way to prevent extensive flood damage from unexpected freezing temperatures in a facility.
CLOCworks, Inc.
Data Wrangler
CLOCworks has developed software that autonomously manages onsite generation and optimizes power delivery. Our "Data Wrangler" SaaS saves our clients on energy consumption and demand charges. We use sub-meters, sensors, and HVAC controls to capture the needed data. The CLOCworks software then optimizes energy use through the deployed systems. This enables commercial businesses, schools and manufactures to reap the benefits of onsite generation such as: lower energy costs, onsite back-up power, and reduced carbon footprint. We focus on helping customers answer high value questions "What may happen in their building?" or "What action(s) should be taken in the future to save energy and cost?". These high value questions require advanced data analysis and often leverage machine learning, two areas in which our technical team excels. We are extremely proud of the savings we have create for many Wisconsin schools. Money the schools can put back into the classrooms. We are so confident that our Software Solutions will provide energy optimization and cost savings to our users that we are offering a "No Risk Shared Savings" program to qualified clients. Typically, we can save the average consumer 14% to 20% or more on monthly energy costs. Under our "No Risk Shared Savings" CLOCworks will pay the upfront cost for installation of hardware needed to capture specific energy data for your building. The data is analyzed using CLOCworks proprietary machine learning software to predict and prescribe building optimization and cost savings. We are Green with Energy.
Cummins Inc.
PowerCommand X-Series Transfer Switches
Cummins, Inc. has introduced power transfer equipment for mission-critical, life-saving applications: the PowerCommand® X-Series Transfer Switches! The X-Series is highly versatile with current ratings from 40A – 3000A, with service-entrance options, and carries the highest UL1008 time-based and short-time withstand and closing ratings in the industry. Utilizing the innovative High Endurance Mechanism with patented blow-on technology only available from Cummins, the X-Series technology vastly improves product reliability, enabling the switches to withstand extreme fault current conditions. And, with the best in class time-based and short-time WCR, they can simplify selective coordination: minimizing the risk of unintended power-loss due to a poorly coordinated system. This enables the selection of any generic UL breaker, therefore simplifying electrical distribution designs. With the Cummins PowerCommand® 80 control, operators receive a fully integrated, high accuracy power quality metering, load management, power sensing, and networking solutions that do not require add-on modules. Offering a powerful, cost-effective way, to monitor the characteristics of loads. The control is designed for a variety of applications. An easy-to-navigate colored-HMI features information such as voltage, current, load, and harmonics enabling operators to easily stay in-touch with the system. With a suite of adjustable protective functions and a sophisticated set of fault-codes and alarms it can help detect, troubleshoot, and resolve potential problems quickly, preventing costly downtime. The X-Series complies with the latest applicable codes and standards (UL, CSA, NFPA(70, 110, 99), IBC, and OSHPD) and backed by the Cummins brand, it offers unrivaled value in the power industry. https://www.cummins.com/transfer-switches/x-series-transfer-switch-series
CPower Energy Management
CPowered Demand-Side Performance Solutions
Energy markets are weighing the priorities of balancing electricity supply and demand, delivering cost-effective resilience for ratepayers and staying on target to achieve climate goals. Comprehensive demand-side energy management is a key piece of the puzzle, and CPower's suite of advanced solutions consistently delivers reliability, cost savings and tenant satisfaction. When big electricity consumers from CPower's portfolio—data centers, universities, and large commercial buildings—are called upon to participate in demand response and curtail their electricity use, it can make a huge difference to energy capacity on the grid and cost savings for the customer. In a partnership with the University of Massachusetts Amherst (UMA), CPower was able to incorporate a 4MWh battery into the local utility's demand management program, giving the campus flexibility in how it dispatches the battery when events are called. In terms of grid reliability, UMA helps reduce what needs to be built in the future to meet growing and changing peak needs. Within the system's first four month of operations, UMA generated over $200,000 in electric bill savings and demand response revenue. CPower's technology and demand-side energy solutions can also help customers cut carbon emissions by curtailing energy use through demand response. CPower is helping enroll and manage Sunnova's residential solar portfolio into the New England Independent System Operator's forward capacity planning (ISO-NE). The generated solar energy will support the utility by supplying clean energy to end users and removing strain from the grid during peak usage hours. www.cpowerenergymanagement.com/
Sloan
Sloan Bluetooth Connected Products
Sloan faucets and flushometers utilizing Bluetooth connectivity and advanced technology make managing and tracking use easy. Sloan's updated line of Bluetooth-connected products enables facility managers to wirelessly monitor the health and status of their fixtures while helping them save time, lower costs, increase water efficiency, and reduce risk. When paired with the Sloan Connect App®, all of these benefits can be achieved directly from your smartphone. Sloan products with Bluetooth connectivity include Optima® EAF and ETF/EBF Faucets, BASYS® EFX Faucets, as well as SOLIS® Flushometers. Select models of each faucet can be customized with Sloan's sleek special finishes including graphite, brushed nickel, brushed stainless, polished brass, and polished chrome to deliver a unique and unified restroom aesthetic. When synced with the Sloan Connect App, these products provide facility managers and building owners the ability to: • View Status – See how your Bluetooth-connected faucets and flushometers are performing. Monitor water usage, keep track of the battery strength of fixtures with built-in sensors, and customize your operation settings to ensure efficient usage. • Adjust Settings – Reduce maintenance time and cost with on-demand timeout settings that manage how long water can flow, even down to the second. Set periodic line flushes to keep every faucet and flushometer clean, safe, and in proper working order, while customizing sensor activation distances. • Run Diagnostics – Access technical data and share diagnostic reports for swift and easy maintenance and troubleshooting by sending reports back to Sloan for time-saving assessment and technical support.
Bradley Corp.
Next Generation WashBar
Next generation WashBar® solves several problems in commercial washrooms beginning with infection control. By providing completely touch-free clean+rinse+dry handwashing technology, touchpoints are eliminated, reducing contamination. Next generation WashBar also keeps restrooms dryer and safer. The WashBar is engineered to work with the basin to keep water inside the bowl. This minimizes splashing outside the basin onto the floor, walls or user and improves cleanliness and safety. The fixture's self-cleaning functionality stops germs and bacterial growth in the fixture between uses, as it is programmed to purge water every 24 hours for 5 seconds if the unit hasn't been activated. An efficient one-gallon soap container requires fewer refills. When the low-level LED indicator illuminates, the soap container is simply replaced with a new full container. Since there is not a reusable soap tank, no cleaning is required and germ contamination is minimized. WashBar technology also saves on maintenance costs with fewer soap refills, the elimination of paper towels, less wet floor clean up and less time emptying waste bins. In addition to integrated mechanicals and a flat surface, its sleek L-shaped profile has only one connection point to the sink, providing more open space for easier cleaning. Next generation WashBar's stunning L-shaped profile makes this handwashing fixture highly unique. The sleek ultra-modern design instantly upgrades the look of plain institutional-looking washrooms. Its futuristic aesthetic creates the feeling that the fixture is floating above the sink, which intrigues washroom users and completely transforms washrooms. https://www.bradleycorp.com/washbar-next-gen
Saniflo
Sanicom 2
A more powerful companion to the popular Sanicom 1 simplex drain pump, the Sanicom 2 comes equipped with two, 2-horsepower, 220-volt motors for handling multiple commercial fixtures that must process large volumes of high-temperature water, grease or chemicals. The Sanicom 2 duplex drain pump can move up to 140 gallons of fluid per minute, with both pumps automatically activating simultaneously when the incoming flow rate exceeds that of a single pump. Like the Sanicom 1, the new duplex model can handle fluids up to 194°F, making it ideal for industrial-scale dishwashers, commercial washing machines, hydroponic crop growing, as well as any other commercial and industrial applications requiring wastewater evacuation. With horsepower ratings higher than other Saniflo systems, the Sanicom 2 discharges effluent through a 1.5-inch pipe vertically 32 feet, horizontally 390 feet, or a combination of both. (A vertical run of 3 feet is equal to a horizontal run of 30 feet.) The pump comes equipped with built-in check valves on the discharge of each motor. Fail-safe activation: A fail-proof sensing mechanism system detects the water level inside the Sanicom 2. This system consists of three pressure switches, each installed in its own internal dip tube. With three different switches, it is nearly impossible for the unit to fail to activate with incoming fluids. Installer-friendly design: The Sanicom 2 enclosure offers a two-inch inlet on either side, in compliance with major plumbing codes in the United States and Canada. These inlets are positioned closer to the floor than those found on conventional drain pumps, helping to speed installation by reducing the height at which floor-level plumbing fixtures must sit to achieve proper drainage. Corrosion-resistant case: The Sanicom 2 enclosure is made of rugged, high-density polyethylene (HDPE), engineered to resist corrosion from hot grease and harsh chemicals likely to be found in heavy-duty commercial applications. Easy access for servicing: The Sanicom 2 has been designed to keep maintenance to a minimum. If servicing is needed, the two motors, electrical components, pressure-level switches and dip tubes are all readily accessible and easily removed. Corrosion-resistant case: The Sanicom 2 enclosure is made of rugged, high-density polyethylene (HDPE) that is engineered to resist corrosion from hot grease and harsh chemicals likely to be found in heavy-duty commercial applications.
The CXApp, An Inpixon Company
The CXApp Campus
The CXApp, An Inpixon Company, is at the forefront of digital employee/tenant engagement and workplace readiness tools powering the future of work. As teams re-enter the workplace in phases and at reduced capacities, a mobile app is more relevant than ever as a connection point for facilities, operations, safer space management, and communications. The CXApp Campus solution provides employees and tenants with a mobile command center for nearly everything related to the workplace with anytime, anywhere, on-demand access to relevant content, multi-way communications, and contextual pathways that only an innovative mobile app platform can provide. We provide greater support for managing reduced on-site capacities with complex re-entry requirements, occupancy rates, desk and space inventory, indoor intelligence, safety alerts, etc. - in support of a healthier connection between the workforce and work environments. Our newest suite of smart campus features helps activate a connected workplace that supports building and employee health, workforce safety, and connected interactions in the work environment, including but not limited to: Desk Booking Peer-to-Peer Social Distancing Alerts Location-Based Contact Tracing Conference Room Reservations Beacon and Sensor-Based Communications Employee Density Monitoring Health Questionnaire/Assessment Contactless Interactions Real-Time Company News The CXApp helps enterprise companies combat app fatigue and reduce siloed applications by more than 50% with our one-app solution. The use cases for employee and tenant engagement are endless, with over 189 base features and more than 70 integration partners. Our SaaS model is built for scalability across people, places, and things. www.thecxapp.com/campus
Kenall Manufacturing
Dual Mode Indigo-Clean Disinfection Lighting
Indigo-Clean® dual-mode technology is a new category of visible disinfection luminaires from Kenall. Dual-mode Indigo-Clean technology is designed to be operated 12 hours in blended white disinfection mode and 12 hours in Indigo mode, providing ambient light as well as continuous environmental disinfection, utilizing a safe wavelength of visible light (405nm) to kill pathogens including SARS-CoV-2, Influenza-A, MRSA and C. diff. The 12 hours blended/12 hours Indigo-only is designed for facilities that must meet certain energy codes, such as public schools, but that still want to provide safe, continuous disinfection. Indigo-Clean dual mode technology kills 94% of SARS-CoV-2 and Influenza-A, as well as providing control of other pathogens, including staph such as MRSA. The technology is clinically proven to reduce healthcare-acquired infections (HAIs) in a manner that is safe for room occupants. The 405nm wavelength utilized does not damage materials, and it lasts for up to 10 years of continuous operation – as opposed to UV lamps, which degrade materials and have a continuous operational lifespan of as little as four months.
Airthings
View Plus for Business
View Plus is the most comprehensive indoor air quality monitor to complement the Airthings for Business solution. View Plus monitors for particulate matter (PM), airborne chemicals, CO2, humidity, light, noise, virus risk and more to provide facility managers with complete control over their air quality, enabling them to foster healthy, productive, and energy-efficient indoor environments. Significant pressure is placed on facility managers to keep occupants safe and healthy, but achieving this while balancing a tight budget is challenging. Through intuitive monitoring that uses air quality data to gauge occupancy patterns, View Plus helps facility managers reduce energy expenditure costs immediately. The RESET-accredited View Plus is fully customizable, offering managers easy access to the air quality insights that matter most to their space, and features QR Code scanning for immediate, real-time air quality data for tenants. View Plus' most significant impact is its ability to improve health and productivity. By monitoring for dangerous air quality factors like Virus Risk; the likelihood of indoor airborne virus transmission, as well as PM, facility managers can achieve peace-of-mind knowing they have complete awareness of their air and can make immediate, well-informed adjustments to preserve occupant health. Lastly, air quality monitoring can dramatically improve employee performance, and thus, a company's bottom line. Poor ventilation can produce elevated CO2 levels, which negatively impact concentration, cognition, and energy. Conversely, companies with Airthings solutions that effectively mitigate their existing air quality issues see a proven reduction in sick leave for employees, along with significant improvements in staff decision-making abilities.
SALTO Systems
SALTO Neoxx Padlock
The SALTO Neoxx padlock extends real-time electronic security to places never before thought possible: storage areas, mechanical closets, cabinets, perimeter gates, out in the field, and more. Have real time control over who enters these remote areas and get activity reports. Don't worry about harsh weather affecting the lock's performance: the tough Neoxx padlock is IP66 certified so it's protected from rain, wind, and temperatures. RFID, BLE, and NFC technologies mean the Neoxx padlock can be opened with a smartcard or smartphone. Increase security and efficiency with the power to immediately terminate user rights to these perimeter entrances and areas.
Xandar Kardian
XK300
While many sectors of the technology industry have transformed exponentially over the last 30 years, the standard PIR motion detectors that require exaggerated forms of movement to detect human presence have remained largely unchanged since inception. Xandar Kardian recognized a need to upgrade the incumbent solutions by leveraging the advanced technology available today, introducing the XK300 Autonomous Health Monitoring Solution as the world's first non-body contact smart sensor that uses proprietary radar technology to detect micro- and macro-vibrational frequency patterns from the body. Xandar Kardian has pioneered the use of impulse UWB radar technology to safely obtain continuous, autonomous measurements of resting heart rate and respiratory rate, effectively sensing occupant presence (without cameras, without collecting personal data, and without any occupant participation) with up to a 99.99% accuracy. As soon as someone steps into an XK300-installed room, for example, the sensors detect human presence, powering up energy systems such as lights, air conditioning, and ventilation, and once the room becomes vacant, the system immediately recognizes lack of cardiovascular and respiratory activity, effectively powering down and minimizing HVAC settings within 15 seconds. Once vacant, the system can also provide automatic UV-C disinfection, efficiently streamlining housekeeping duties in shared spaces. All of this provides an essential solution to the 30-minute lag time that transpires with current PIR systems, leading to widespread cost savings in a post-COVID-19 environment. The XK300 introduces a new era of energy conservation in public spaces, leading to proactive approaches in system management. Website: https://www.kardian.com/
Vata Verks Inc
VV-100 Water and Natural Gas Smart Sensor
Vata Verks has developed and patented a cheap and simple non-invasive real-time Water and Natural Gas usage smart sensor for commercial buildings which simply straps to the utility meter and measures flow by detecting and analyzing fluctuations in the magnetic field. The Smart Sensor produces an extremely high-resolution real-time data stream which is leveraged to detect anomalies and leaks, track costs, analyze and optimize building performance, improve responsiveness to tenant issues, and support investments in efficiency. While Water usage data has never been as easily available, real-time Gas usage data has never been available ever. The sensor installs without tools, specialized skills, or cutting pipes. Without disrupting plumbing, the tenants, the building, or the facility manager. It is a universal solution solving 95% of the meters in all 50,000 utility jurisdictions. It can be installed in 1 site visit, without coordinating site audits, or 3rd parties, or utility involvement. It simply straps on. There is no subscription costs, and hardware cost of less than $500 is a fraction of other solutions, 1/4 to 1/10th. As neither Vata Verks nor other 3rd parties ever have access to your data, data protection is perfect. The Vata Verks Smart Sensor is approved and deployed by US GSA, US Coast Guard, MIT, in High Schools, multi-unit apartments, commercial, and national retail and restaurant chains across the US and Canada. https://vataverks.com/