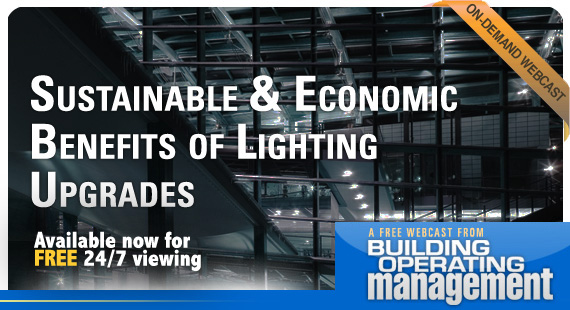 When it comes to energy upgrades, facility managers have a lot of options. So which ones offer the most bang for your buck? Which provide the biggest environmental benefit? And which ones will win management support?
Join Alan Whitson, president of the Corporate Realty, Design & Management Institute and Steve McGuire, Philips' manager of corporate environmental affairs for a thorough discussion of how lighting can impact your bottom line and how simple it is to make a switch to more energy efficient lighting products.
Click here to watch the 30 minute presentation and take advantage of a new tool that provides you with a customized energy benchmark summary, along with specific cost cutting opportunities to save your company money now.
Learn how to get more green simply by making your energy greener today.


Brought to you by asimpleswitch.com
"Sustainable & Economic Benefits of Lighting Upgrades" is available for immediate viewing following your online registration. Click here to get started.