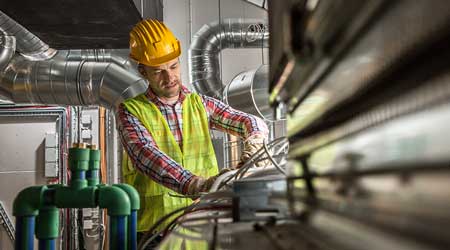 Nation's Schools Use Coronavirus Lull for Projects
As institutional and commercial facilities assess the impact of the COVID-19 epidemic, many of the nation's school districts are springing into action. For many maintenance and engineering managers, the absence of students, staff and faculty throughout their buildings means areas of facilities that are generally inaccessible are now prime targets for a variety of maintenance, repair and upgrade projects.
In Lynchburg, Va., schools are closed until the end of the school year. Mac Duis, chief operations officer for Bedford County Public Schools, says a $24 million addition at Forest Middle School will be accelerated as a result of the school closure, according to The News & Advance. And a new elevator at Brookville High School had been scheduled to be installed toward the end of the school year, but that project has been rescheduled to begin in the middle of April.
In Arkansas, Rogers School District is in the middle of major renovation projects at Westside, Northside and Lowell elementary schools, and all three are on track for completion by this fall, according to the Arkansas Democrat Gazette. And the Springdale School District is getting a head start on flooring projects originally scheduled for the summer break.
The threat of coronavirus still affects operations, however.
Megan Slocum, associate superintendent for the Fayetteville School District, wrote in an email that the district is minimizing physical interaction between employees and calling them in only for essential needs. Any facility work is focused on outdoor work that doesn't require people to be together in an enclosed space, she wrote.
Dan Hounsell is editor-in-chief of Facility Maintenance Decisions.
---