Facility Manager Cost Saving/Best Practice Quick Reads RSS Feed
ASHRAE Releases New User's Manual for 62.1 Ventilation Standard
July 7, 2021 - Contact FacilitiesNet Editorial Staff »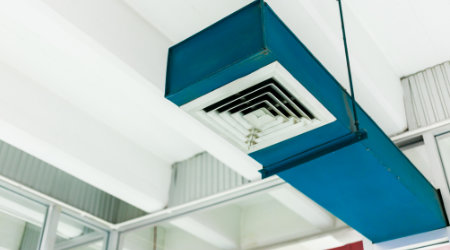 ASHRAE has released the 2019 edition of the Standard 62.1 User's Manual. The latest 62.1 User's Manual focuses on ASHRAE's primary ventilation standard, ANSI/ASHRAE Standard 62.1-2019. The publication was created to be used alongside ANSI/ASHRAE Standard 62.1-2019 and explains how to apply the criteria set out by the standard, by providing examples, sample calculations, and best practices for professionals concerned with ventilation and indoor air quality in nonresidential buildings.
The manual assists in the design, installation, and operation of buildings in accordance with Standard 62.1-2019. Standard 62.1 is written to be code enforceable, and therefore contains only mandatory language, while the user's manual paraphrases and explains the requirements, making it a resource for the architects and engineers designing the building and those responsible for constructing, operating and maintaining the building. The user's manual facilitates compliance with the performance requirements defined in the standard.
Dan Hounsell is Senior Editor, Facility Market.
---
Comments