Facility Manager Cost Saving/Best Practice Quick Reads RSS Feed
Legionnaires' Outbreak Strikes Hospital
March 12, 2018 - Contact FacilitiesNet Editorial Staff »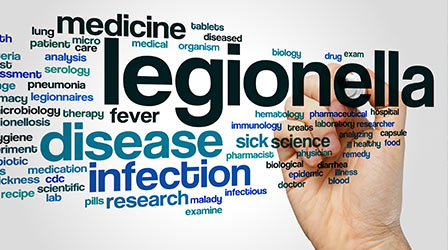 Legionnaires' disease has been a potential threat to occupants of and visitors to institutional and commercial facilities for decades, but it rarely seems to top list of building-related concerns. Few people apart from facility managers probably give much thought to the threat — until it afflicts its victims. A recent outbreak of the disease at an Illinois hospital once again has thrust the disease into the spotlight.

About 6,100 cases of Legionnaires' disease were reported in the United States in 2016, according to a 2016 report from the U.S. Centers for Disease Control and Prevention (CDC). But because Legionnaires' disease is likely underdiagnosed, this number might underestimate true incidence.The number of cases reported to CDC has been on the rise since 2000, which could be due to a true increase in the frequency of disease due to a number of reasons — including older U.S. population, more at-risk individuals, aging plumbing infrastructure — or increased testing for Legionnaires' disease.

From 2000 to 2014, the rate of reported cases of legionellosis, which includes Legionnaires' disease and a milder flu-like illness called Pontiac fever, increased nearly fourfold, from .42 to 1.62 cases per 100,000 persons, according to the CDC report.

Learn: Requirements of ASHRAE Standard 188 on Legionnaires' disease

In the recent Illinois case, state officials confirmed a fourth case of Legionnaires' disease at the Quincy Veterans Home in a week, according to Northern Public Radio. It is the fourth case announced by state officials since Feb. 13. The illness caused by Legionella bacteria inhaled from water vapor first appeared in 2015 and has returned each year since. It has led to the deaths of 13 residents at the 130-year-old home and had put Gov. Bruce Rauner under intense scrutiny about his response to the problem.

The AP reported the August 2016 engineering estimate shows replacing plumbing that likely harbors the deadly Legionella virus at the Quincy home would cost $8 million. Officials told lawmakers it would be at least $25 million.

Read: Legionnaires' disease and hospitals

The CDC analyzed outbreaks it had investigated from 2000 to 2014 that involved 415 cases, including 65 deaths. Most of the outbreaks were in buildings with large or complex water systems, such as hotels, hospitals and long-term-care facilities. The report only looked at outbreaks associated with buildings, but the disease is also found on cruise ships. About half of outbreaks examined were the result of a single failure, such as a broken disinfection system or human error.

This Quick Read was submitted by Dan Hounsell — dan.hounsell@tradepressmedia.com — editor-in-chief of Facility Maintenance Decisions.
---
Comments