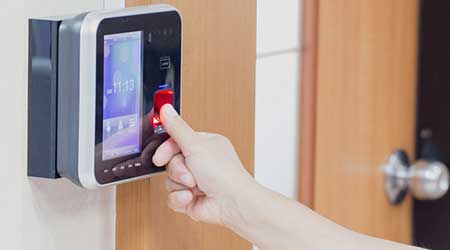 Door Hardware: Locking Down Security and Performance
Part 1 of a 4-part article on door hardware and security upgrades
Doors and door hardware are essential elements of institutional and commercial facilities that occupants and visitors tend to take for granted — until a problem occurs. When the problem disrupts building operations or compromises facility security and occupant safety, then people pay attention.
A comprehensive maintenance program can play a critical role in ensuring doors and door hardware operate as intended, protect assets and occupants, and deliver long performance life.
Assessing the situation
Managers looking to implement or update a door and hardware maintenance program need to address several questions in understanding the facility's needs related to these components and determining maintenance goals.
Among the common questions that come into play when considering the primary function of an opening are these: How many people are going to be using the opening each day? Is the opening secure or a path of egress? Does the door and its associated hardware need to have a specific rating, such as fire, STC, or lead-lined?
Division 8 of the Construction Specification Institute's MasterFormat on doors and hardware has never received a great deal of attention when it comes to construction, either new or renovations. Owners and designers tend to focus more on the fit and finish of the building and its related components, such as the door, than on its hardware.
But issues that go unnoticed during the design process can become a never-ending chore for maintenance and engineering departments that are responsible for keeping buildings accessible and secure.
Not so long ago, door security and access control were not a major concern of managers and their staffs. Their main concern related to doors and hardware was to keep the opening and its individual components functioning properly. Door and door hardware specification goes beyond simply matching components to the needs of the building and its occupants.
Builders and design engineers also need to consider the costs of properly maintaining the openings and the installed hardware.
Managers should employ the thought process they use to evaluate door options when considering other building systems and components.
Failure to consider maintenance costs and requirements will result in the maintenance staff devoting too much time and spending unneeded funds trying to keep doors and door hardware functioning as they were intended during the planning and specification phase.
Poorly or improperly functioning doors and door hardware can easily compromise a building's security, as well as the safety of building occupants, and they can cause damage to surrounding building components, including floors and walls.
Continue Reading:

Product Focus: Door Hardware

Door Hardware: Locking Down Security and Performance

Several Factors Contribute to Specification Decisions for Door Hardware

SIDEBAR: Specification Solutions for Door Hardware

PRODUCTS: Door Hardware
---
---
---
Related Topics: