4

FM quick reads on Windows

---
1. How To Decide Whether To Replace Windows
Today's tip is considerations to keep in mind when you're trying to decide if it might be time to replace your facilities' windows. Window replacement projects can be expensive and time-consuming, so facility managers will want to consider these five questions to help guide their decision:

1. Is the existing window system structurally adequate and does it accommodate building movements and structural loadings? If not, it's probably time for a replacement. This is critical from a safety as well as a performance standpoint.
2. Is the system effective at controlling water leakage, moisture migration, or unwanted air infiltration?
3. What is the condition of the system components? Check the frame, sash, glazing, hardware, weather stripping, sealants, and exterior paint or other surface coatings.
4. Is it possible that the adjacent wall system is contributing to the problems experienced? If that's the case, it may be time to do some wall renovation instead of replacing the windows.
5. Is the building historically significant? If so, there may be a few more hoops to jump through in selecting particular window products.

In general, if the following conditions exist, replacement is probably preferable to repair. One: Is there excessive deterioration of the window system? Two: Is the effectiveness of the repairs questionable? Three: Would the cost of repairs approach the cost of replacement, or does the life-cycle cost of replacement prove cost-effective based on lower energy and maintenance costs. Four: Is it impossible to do ongoing maintenance practically after repairs are made?

Deciding to replace windows isn't any easy decision, but making the right decision based on careful assessment of existing conditions can help save money in the long run.
2

. Five Tips on Preparing For a Major Event

Today's tip of the day covers five things all facility or property managers should do to prepare their facilities for a major event, like the NATO Summit or the Republican or Democratic National Conventions.

The first and most important strategy is to communicate early and often with tenants and occupants. Set up an email list or newsletter to update them, and update them daily (or more) during the event itself. The rumor mill getting out of hand is one of the worst things that can happen during a big event. By making sure tenants and occupants are informed with accurate and useful information, facility and property managers are taking a huge step to prepare for a big security event.

Secondly, especially if your building is iconic or in close proximity to the event, contact local law enforcement long before the event, and invite them to tour the building. Get them familiar with the layout and show them spaces that might make for good command posts if something happens at the event, and the building needs to be commandeered as a control center.

Third, if your building has an open lobby, make sure to implement a plan so that all visitors are identified. Hire extra security and institute a visitor management policy. One strategy property managers often use during big security events is to institute night and weekend visitor policies during the days of event - again, ensuring that everyone in the building is accounted for.

Fourth, make sure your risk assessment and scenario planning are up to date and accurate. Make sure all occupants and management are familiar with evacuation and shelter-in-place plans. Also, experts suggest having alternate evacuation plans, as well - if, for instance, the traditional muster spot is occupied with media tents, or something similar.

Finally, simply have plans in place for business continuity if the worst comes to fruition. Hire a disaster recovery firm. Make sure there is plenty of food, toiletries and sleeping arrangements in the building, in the event that it's not safe or possible for occupants to leave the building for an extended period of time. Check back-up generators and air intakes to make sure they're secure and operational.

Remember, as the saying goes, failing to plan is planning to fail.
3

. What Metrics to Look at For Exterior Energy Efficiency

Today's tip is about the important measures facility managers should be aware of when trying to quantify the quality and energy efficiency of exterior building elements. For new construction, the ASHRAE 90.1 standard is the baseline for measuring how efficient a building is. Soon, though, ASHRAE 189.1, a new green building construction code, and the ICC's International Green Construction Code, will be the standards. These standards reference several metrics for exterior building elements that exterior components must meet when choosing the prescriptive path to compliance.

For roofs, the two main measures are solar reflectance and infrared emittance. Solar reflectance measures a surface's ability to reflect infrared, visible and UV light. Generally, the higher the solar reflectance, the more energy efficient the roof will be. Infrared emittance measures a surface's ability to re-emit any energy absorbed back into the atmosphere. A so-called "cool roof" generally has an emittance value higher than .90 and a reflectance value of .65 or higher. Finally, solar reflectance index, or SRI, is a combination of the two via a standard calculation. SRI is the new standard used in LEED.

For windows and skylights assemblies, U-factor measures heat loss. The lower the number, the better the performance. Solar Heat Gain Coefficient measures how well a product limits radiant heat gain from sunlight. Visible Transmittance measures how much light, but not heat comes through. The higher the number, the more light is transmitted. Finally, Condensation Resistance indicates a product's ability to resist the formation of condensation on interior surfaces. The higher the rating, the better.

For wall assemblies, the best measure for efficiency is R-value - or the thermal flow resistance. The higher the R-value, the better the insulating effectiveness. When calculating the R-value of a wall assembly, the R-values of the wall, insulation and any other layers are totaled to arrive at the R-value of the total assembly.
RELATED CONTENT: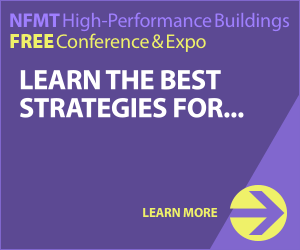 ---
QUICK Sign-up - Membership Includes:
New Content and Magazine Article Updates
Educational Webcast Alerts
Building Products/Technology Notices
Complete Library of Reports, Webcasts, Salary and Exclusive Member Content


All fields are required.


click here for more member info.

---
---
---