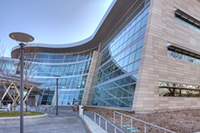 Salt Lake City Public Safety Building Reaches Net-zero, LEED Goals
Wausau Window and Wall Systems
Salt Lake City's Public Safety Building is the first public safety building in the nation to be designed as a net-zero energy building, and also one of the first public safety buildings designed to meet the U.S. Green Building Council's LEED Platinum certification criteria.
The $125 million, 335,000-square foot Public Safety Building opened in July 2013 and includes 172,000 square feet of space on four levels above ground, and 143,000 square feet of secure parking below grade. In addition to housing Salt Lake City's police and fire departments, it functions as the primary disaster/emergency operations center for the area.
The building's glass façade was a central element of the design. The northwest-facing public "face" of the building features a serpentine glass curtainwall that slopes from one wing to the other. The design also called for the curtainwall to segment and cant backward at 15 degrees and then change angle, while maintaining the cant through a reverse S curve.In addition to complementing the style of downtown's public-sector buildings, the Public Safety Building's glass exterior also needed to meet seismic and ballistic requirements, as well as contribute to the building's LEED and net-zero energy objectives.
To meet these needs, Wausau Window and Wall Systems' unitized curtainwall was selected. Every piece, dimension and angle of the 135 unique curtainwall units located at the center of this building is different. That meant each component of each trapezoidal unit required design engineering and 3-D layout, along with precise and unique machining, fabrication, glazing and even shipping provisions. More than 32,000 square feet of INvision Thermal Unitized Curtainwall were installed on the Public Safety Building's lobby and main floors, including 19,150 square feet of 7250i-UW Series and more than 13,000 square feet of 6250i-HRX Series. The selected INvision systems incorporate polyamide thermal barriers that enhance system thermal performance, condensation resistance and energy efficiency.
Along with the curtainwall, nearly two dozen 4250-Z Zero Sightline casement windows were installed on the building's upper floors to support the project's goals for natural ventilation and a connection to the outdoors for occupants. Also contributing to the Public Safety Building's net-zero energy goals are interior light shelves and sun shades to allow light to penetrate deeper into the interior spaces.
posted: 6/16/2014