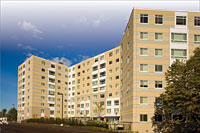 Achieving High-End Aesthetics on a Budget
Centria
Designed to have an upscale-looking exterior, The Peninsula at Columbia Point condominium project originally called for thousands of square feet of precast material. The Peninsula is located in the Dorchester neighborhood of Boston on the Boston Harbor Walk, a 32-mile landscaped bike and jog path that runs along the waterfront. Featuring 333 units between two buildings, The Peninsula was intended to enliven the Columbia Point area.
However, budget constraints put precast out of reach. An alternative with the desired characteristics was found in the Formawall Dimension Series factory foam-insulated architectural wall panel system with an applied Duracast textured finish in alternating neutral beige, white and grey tones. This permanent, non-absorbent acrylic and silica aggregate coating is applied over a polymer base coat on an exterior metal wall panel.
With 47,000 square feet of installed wall panels, this option offered the desired corrosion resistance, durability and aesthetics of precast, but with reduced structural requirements and installation costs.
posted: 9/8/2009