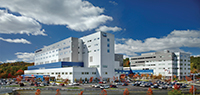 A Modern Hospital for a Rural Landscape
Centria
The Western Maryland area had two small, aging community hospitals that were not equipped to provide the cutting-edge health care that the community needed. The decision was made to create one patient-focused, comprehensive facility that would include 275 beds, along with full service inpatient and outpatient services. The project also needed to blend into the rural landscape and rolling hillsides synonymous with Western Maryland.
The resulting Western Maryland Regional Medical Center, a $268 million, 585,000-square-foot facility, gives the community access to a level of care that they would have previously had to travel to Baltimore, Washington D.C., or Pittsburgh to receive. The building team achieved their goal of creating an innovative facility that met the needs of the staff and community in part by using CENTRIA's Formawall Dimension Series, Versawall and EcoScreen Style-Rib — all while staying ahead of schedule and under budget.
Formawall Dimension Series provides thermal and moisture protection in a single panelized component, expediting installation time and minimizing jobsite waste. The panel's factory foamed-in-place core eliminates insulation gaps to offer thermal values reaching R21 in the 3-inch width. Formawall Dimension Series also features thermal breaks between the panel face and liner, eliminating conductivity to boost thermal performance. The panel face serves as an integrated rainscreen, aided by pressure-equalized and vented, dry-sealed joinery.
Formawall Dimension Series was also chosen for its possibilities in terms of form, color and texture. The project integrated four distinct colors, four distinct textures and three distinct coating systems. The combination of cool and metallic hues offers a contemporary aesthetic that blends both modern and traditional design elements and stands in quiet contrast to the green grasses, blue skies and rolling hills that mark the surrounding landscape.
Working in tandem with Formawall, Versawall Panels are strong but lightweight, with the capability to span up to 40 feet. EcoScreen Style-Rib provided a translucent effect for the parking area, while helping control light and air movement.
All three panels contain a high percentage of recycled materials, and all sheet metal products are 100 percent recyclable.
posted: 1/21/2013