GE EV Charging: Learn why it's important to deploy EV chargers with an integrated software platform

Log In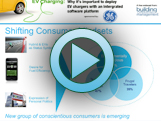 More and more of your customers, tenants or employees are now driving electric vehicles on U.S. roads, and the need to provide electric vehicle (EV) charging infrastructure at public and private facilities is growing.

…but how will you manage the deployment of your EV charging infrastructure?

It is becoming vitally important to consider an integrated, connected solution that utilizes software for remote management capabilities to monitor, maintain, allow access and set payment options for the EV charging stations in and around facilities. It is even more crucial to work with installers and manufacturers that have the skill and expertise to provide a complete solution.


When you attend this webcast you will learn about:



The electric vehicle market
EV hardware and software solutions that can support your needs
Installation requirements and how to operate EV infrastructure efficiently

Use this webcast opportunity to learn about the latest EV infrastructure developments and how to implement them at your facility.


Attendance is free, but space is limited.