Roofing: To Repair or Replace?

Log In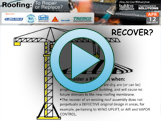 Whether you've just completed a roof inspection or just discovered a leak, you know your roof needs work. You're not sure, however, if you need a repair, a recover of the roof, or a complete replacement of the entire roof. It's a big decision that will have a major impact on the facility budget for years to come. In this webcast, you will learn the right way to assess these situations, along with the benefits of each solution.
You will discover what roof conditions dictate the best option, how to manage the project to ensure that it will solve your roof problems, and how you may be able to capitalize on a project and make the roof sustainable and efficient during its life.