Maintaining and Enhancing Reliability with Equipment Upgrade Solutions

Log In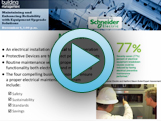 Are you faced with maintaining aging — or obsolete — electrical distribution equipment? Do you need to upgrade because of increased fault or continuous rating? Or are you looking to upgrade to newer technology?

Today's upgrade solutions bring together the latest circuit breaker technology that - when combined with engineering and installation expertise - minimizes downtime, improves reliability and extends the life of existing equipment.

Attend this webcast to learn about key components in electrical distribution equipment infrastructure. Gain insights into the decision making process and review the elements that should be considered when choosing to refurbish or upgrade the current equipment - or replace it altogether. And review the roles that various upgrade options can play in equipment life cycle decisions.