Portable Cooling Specification for Best Results

Log In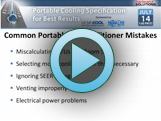 Portable cooling units can be literal lifesavers during an emergency, and just as vital to the success of a facility expansion, renovation, or any instance in which a change in operations boosts cooling demands in a building. But specifying the right unit is key to making the most of this technology, which means that maintenance and engineering managers must arm themselves with the essential facts and ask the right questions before making a final decision.

The task of gathering information about facility needs is especially important as temporary and portable cooling products evolve. Technology advances can deliver enhanced performance, but only for managers who invest the time and energy in selecting the equipment and features that best address the needs of the facility and the space.

In this 75-minute Webcast, moderated by Chris Matt, Print and E-media Managing Editor for Maintenance Solutions magazine, you will receive information on the steps you need to take to properly specify, install, and maintain equipment.