Greening Grounds: Sustainable Strategies for Landscape Management

Log In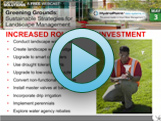 Managers of grounds are tasked with making landscapes areas as aesthetically pleasing as possible, but their staff also must maintain turf and plants without harming the environment or disrupting occupants and visitors. To meet these demands, managers are taking on expanded roles in landscape design and planning, including the specification of drought-tolerant plants, the implementation of irrigation systems and hardscape elements, and the use of alternative fuels and other environmentally responsible equipment considerations. In addition, the emerging SITES program continues to impact sustainable landscape management practices.

This webcast will help you understand:
* strategies for developing a comprehensive sustainable landscape plan, including the use of hardscape items and other initiatives to promote sustainability
* water conservation measures including irrigation controls and drought-tolerant plants
* ideas for locating and working effectively with consultants and landscape architects
* elements of the SITES program and its impact on grounds care
* the use of alternative fuels, as well as important sustainability considerations managers need to be aware of when specifying grounds equipment, including mowers and utility vehicles
* grounds managers' role in developing landscaped areas that complement new construction or the renovation of existing buildings.